4-H Clover Project Selection Guide
Dear 4-H Members, Leaders and Parents,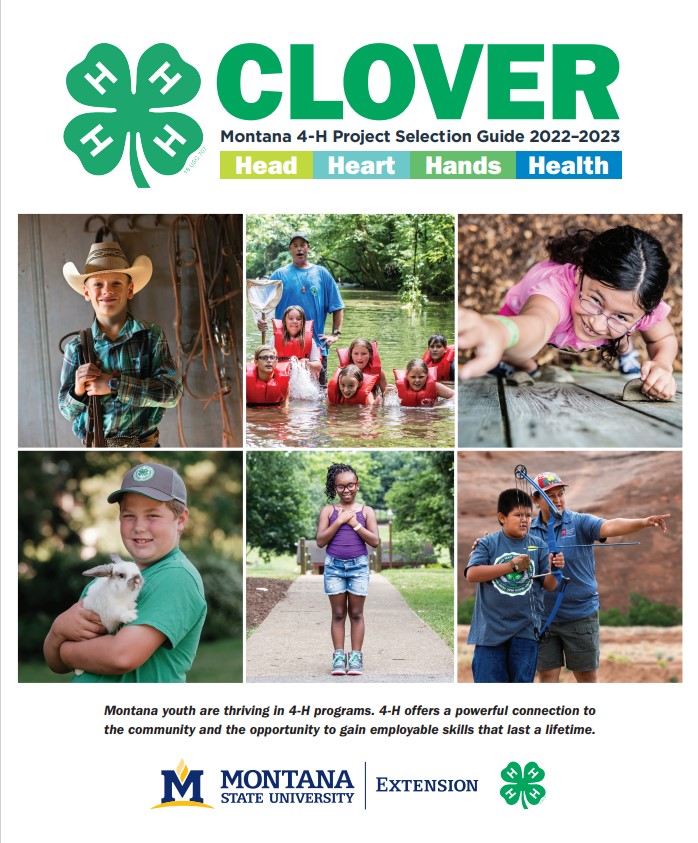 Welcome to the 2022-2023 4-H year! It feels like a new beginning as we start down the path of programming in the communal and hands-on way we are accustomed. The challenges we conquered together taught some valuable lessons. We can move forward in tough times, goals can still be met, new technology can be mastered, and our way of life cannot be taken for granted. Take an opportunity to thank your 4-H volunteers, MSU Extension office personnel, and local agents. They have worked tirelessly to provide the best 4-H experience possible despite an unparalleled disruption. Youth development is a responsibility they take seriously and we all look forward to an exciting 4-H year. We have all learned new things we can apply to improve the future.
The work of volunteer 4-H leaders is supported by the resource materials in this project guide. With over 200 projects available, nearly any young person can find the topic of interest that sparks self-motivated learning under the guidance of a caring adult mentor.
Project work is the foundation of the 4-H experience. Couple a spark with a welcoming sense of belonging and 4-H members thrive. Combine project work with enrollment in a 4-H club, and young people will learn the many life skills necessary to make a successful transition to adulthood. And that's the true goal of 4-H: increasing personal abilities and developing life skills that youth will apply to many new situations. Along the way, young people will become contributors to your community by learning caring, character, connection, confidence, and competence. The development of the five C's and the opportunity for youth to contribute to their families, their communities, their schools, and their 4-H program is the pillar of 4-H youth development.
Push yourself beyond your comfort zone, find what you do best, try something new, and don't miss out because you're afraid to fail – 4-H is a safe place. All the while, remember that youth, parents, volunteers, and MSU Extension educators play an important role in the partnership that is 4-H. It's a partnership of all working together for the benefit of youth. It is truly our hope that through 4-H we can help to build closer families, better citizens, and stronger communities.
Sincerely,
Todd Kesner, PhD, Director, Montana 4-H Center for Youth Development
National 4-H Events
Western 4-H Roundup (Award Trip): First week
of January
National Conference: Early April
Citizenship Washington Focus (CWF): mid-June
Leadership Washington Focus (LWF): Late June/July
National Congress: Last week of November
Montana 4-H Events
Legislative Breakfast: Early January 2023
Citizenship Seminar: In Conjunction with Legislative Breakfast 2023
State Shoot: First week of March
Rec Lab: March/April
Pre-Congress: Prior to Congress
Congress: 2nd week of July
State Horse Show: September/October
Ambassador Fall Training: 3rd weekend in October
(MEA Weekend)
Award Due Dates
Scholarships: April 1 (Recognition at Montana 4-H Congress)
State Awards: May 1 (Recognition at Montana 4-H Congress)
Volunteer Awards: May 1 (Recognition at 4-H Leadership)
County Ambassador: June 1 Roster Opens*
Officer Team Applications: June 15 (Officer Selection during
Pre-Congress)*

*= Youth Leadership
The 4-H Center for Youth Development serves as a resource to county faculty, local leaders, and youth in all counties and reservations as they learn by doing and make the best better. Listed below are staff members and a few of the major areas of responsibility associated with their position.
Project materials can be downloaded in the Projects area at www.montana4h.org or purchased from MSU Extension Distribution, store.msuextension.org
4-H Clover Project Guidelines
The projects listed are all state supported projects available to Montana 4-H members for 2021–2022. Each project is followed by a description and listing of the materials needed to complete the project.
IMPORTANT NOTE: Check with your 4-H leader or Extension agent to see which projects are offered in your area. Not all projects listed in this guide may be available in your community.
ADDITIONAL NOTES:
Projects should be completed in order, starting with Level 1.
Publication number is needed to order materials
Prices subject to change
Some counties offer projects in addition to those listed in this publication. These projects usually meet a specific need within the county 4-H program. If you are interested in these, contact your MSU Extension office to find out more. Many projects also have opportunities for sharing and learning about your unique skills and talents through project achievement programs. Contact your Extension office to find out how to meet these goals.
Keeping Records
Keeping records is an important part of completing each project. They help you set goals, keep track of your attendance at meetings, record your demonstrations or talks and a whole lot more.
All 4-H projects require the use of record books, Learn more about Montana 4-H record books here.
Volunteerism and Leadership involves youth and adults in significant roles where they can help facilitate the growth and success of others. Opportunities to contribute in meaningful ways to your club, your community, your country and your world can be varied and numerous. Through these projects, you can help others, serve as a mentor, tutor or coach, and fill important leadership roles that contribute to the overall vitality of your community.
Any youth who is 5 years old on Oct. 1 may join a 4-H Cloverbud group.
Cloverbuds is a non-competitive educational program for youth ages 5 to 8 years of age and is the ONLY project they can enroll in.
Youth age 8 on Oct. 1 may join a regular 4-H club as a full member who can enroll in several different projects. Given the differing maturity and ability of youth this age, a family may choose to have their child continue in a Cloverbud group even though s/he will turn 9 during the coming year. If a youth turns 19 years of age prior to the beginning of the program year (Oct. 1), s/he is not eligible to re-enroll in 4-H unless still in high school.
Individuals older than 18 years of age who have special needs are eligible to participate in 4-H provided they are still enrolled in high school.
4-H membership is open to all eligible youth. The U.S. Department of Agriculture (USDA), Montana State University and Montana State University Extension prohibit discrimination in all of their programs and activities on the basis of race, color, national origin, gender, religion, age, disability, political beliefs, sexual orientation, and marital and family status.
In recognition of the educational and developmental needs of youth, a general guideline is listed below to help determine which level of projects a youth might be enrolled in based on age.
Classifications Age Range
Cloverbuds 5 to 7 years old
Junior/ Intermediate 8 to 13 years old
Senior 14 to 19 years old
Youth who are 19 must be enrolled in high school to participate in 4-H.
County Projects: Some counties offer additional projects to members in their county, different than the state projects listed. Contact the county Extension office for a listing of these projects.
Science
For more than 100 years, 4-H has been a part of local communities trying new and innovative techniques to improve their quality of living. 4-H, with its connection to land-grant universities, has the ability to develop America's future generation of scientists and engineers. In 4-H, youth use a rich and diverse set of research-based curricula and activities that provide hands-on, real-world experiences delivered in both informal and formal settings. Delivered through the 4-H program, science curriculum offers an extraordinary range of engaging and challenging activities for youth of all ages and abilities. Some examples include Robotics, Animal Quality Assurance and Veterinary Science.
Healthy Living
A core belief of 4-H is health, as evidenced by the four H's in the 4-H clover: Head, Heart, Hands, and Health. 4-H is committed to the physical, mental and emotional health of our nation's youth so they may lead healthy and productive lives as youth and into adulthood. 4-H has become a national leader in health-related educational issues including chemical health, mental and emotional health, foods and nutrition, physical health and safety. Examples include Cooking 1-4 and Party Planning.
Citizenship
Since its inception, 4-H has placed emphasis on the importance of young people being engaged, well-informed citizens. By connecting to their communities and leaders, youth understand their role in civic affairs and are able to expand their role in decision-making processes. It's clear that civic engagement provides the foundation that helps youth understand the "big picture" of life and learn the skill sets that allow them to become wise leaders for the 21st century. Citizenship Seminar, service learning and international programs are just a few of the many opportunities to learn about and contribute to our global society.