Plant Sample Submission App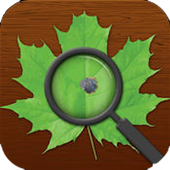 The Plant Sample Submission app is a convenient way to submit digital images to the Schutter Lab. The app allows users to directly submit digital photo samples for diagnosis and identification.
This page contains links to download the submission app, as well as instructions for configuring a user profile and submitting a photo.
The Plant Sample Submission app contains sample submission forms for plants ranging from small houseplants to large-scale agronomic crops. The user completes each form by responding to simple, customized questions. After entering a description of the problem and attaching corresponding photos, the sample submission is sent to the selected diagnostic laboratory.
Download
The Plant Sample Submission app is free to use, but please note that there is a service fee for out-of-state samples, and that the Schutter Diagnostic Lab is not able to accept samples from outside of the contiguous United States.
This application is available for iOS only (8.1 or later), and requires approximately 20MB of storage space (excluding photos); it can be downloaded from both the Apple Store and the Google Play store.
The Plant Sample Submission app is not owned or maintained by MSU, and thus we are unable to provide technical support for it. If you run into problems, simply email us your photos along with a completed submission form.
How to Configure the Plant Sample Submission App
Below are the steps that are required to get that app up and running. After setting up an app profile, users are able to submit digital images to the Schutter Diagnostic Lab.
Create a User Profile
The first time you open the app, you will be asked to set up a user profile. Follow these steps:
Go to "Selected Lab," click "Select a Lab," choose "Montana," and click "Save."
Go to "Submitter Information," enter your information as prompted, and click "Save."
Choose "Tips for Taking Photos" and scroll through all the tips, then click "Done."
Click "Finish." You are ready to submit a sample!
Submit a Photo
With the user profile completed, we can now move forward with a submission.
Open the app, and on the "Sample type" page, choose your sample type.
If this is for a client, click "yes" to enter their information (will be "no" unless you are a consultant or Extension faculty).
Answer all pertinent questions (make sure to fill in required fields) and click "Next".
Fill in the box under "Describe the problem in detail."
Click "+" in the upper right corner.
Click "Select from library"

If "Take Photo" does not work, snap photos before opening the app.

Select photo and click "Use photo."
Enter description in "Describe this photo" box.
If sending a physical sample in addition to photos, click "I am also sending a physical sample."
Click "Accept terms and submit."
The app will review your forms and photos. Then click "Send" in the upper right hand corner.
Success, the sample has been submitted.
Further Information
Use the links below to learn more about submitting samples to the Schutter Diagnostic Lab.