CALENDAR
October 6, 2019 Geyser Lucky Clovers meeting
October 6, 2019 Achievement Day - Utica
October 7, 2019 Stanford Scramblers meeting
October 8, 2019 Utica Sapphires meeting
October 6-12, 2019 National 4-H Week
October 11, 2019 S'mores at Ackley Lake
October 20, 2019 Horse Halloween Party - Erickson's Arena
November 10, 2019 Demonstration Day - TBD
November 17, 2019 Winter Livestock Judging - Stevenson's Sale Barn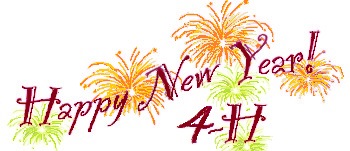 2019/2020 4-H YEAR
It's time to start another wonderful 4-H Year! We have some changes this coming year. First we would like to thank Nancy Metcalfe and Angie Boberg for all their years of helping many members throughout their entire 4-H journey as club leaders. Many of you may have only been with them for a short time and others finished their journey many years ago. Nancy will continue to be part of the JB 4-H Council. Thank you Nancy and Angie for all your hard work and many hours of enjoyment!

Next we would like to welcome our new leaders Suzanne Harwood and Kirstie Fiedler. Suzanne will now be in charge of the Geyser Lucky Clovers and Kirstie will be the new Stanford Scramblers Leader. Welcome to the 4-H team in your new positions!
NEW ENROLLMENT!
If you are new to 4-H or our clubs we use 4HOnline for enrollment. You may not be familiar with this online site. https://mt.4honline.com
On the first page you will have directions for signing up. If you have any questions you may contact your leaders or call the Extension Office: 566-2277 ext. 104 or 105. We are glad to be of assistance. Welcome!
RE-ENROLLMENT TIME!
Re-enrollment is open and we will be using 4HOnline to register again this year. Remember you may order project books when you sign up.
ACHIEVEMENT AWARDS
This year Achievement will be held at the Utica Hall, 2:00 pm. The date is set for October 6, 2019. Come play Cornhole, have Root Beer Floats, and celebrate Record Books being completed/awards, Showmanship Winners from Fair, and Carcass Awards.
AMBASSADORSHIP
Are you interested in promoting 4-H and building leadership skills? Apply for a Judith Basin County 4-H Ambassador position today! Must be 14 by October 1, 2019. Ambassadors for the 2019-2020 year will be selected in October. Return your application to Judith Basin Extension, PO Box 427, Stanford, MT 59479. Ambassadorship Application pdf
4-H CONGRESS
It's time to be thinking about 4-H Congress.
To attend you must participate in Demonstration Day. Members must be at least 13 years old as of October 1 of the current 4-H year.

This is a great opportunity that takes place on the MSU campus in Bozeman for four days. This event takes place in July.
DEMONSTRATION DAY
Can you believe it is already time to think of the next year of 4-H! Time to start planning. Demonstration Day is set for November 10, 2019. As of yet the location hasn't been set. We will let you know when it has been confirmed. Applications are due November 1, 2019. Demonstration Day Application pdf
NATIONAL 4-H WEEK
National 4-H Week is from October 6 thru 12, 2019 this year. Get ready for more s'mores! Katie will have
s'mores at Ackley Lake on Friday October 11, 2019. We will update you with more info as we confirm.
HORSE HALLOWEEN PARTY
2019/20 4-H Horse Project Kickoff—Horse Halloween Party!! Sunday October 20, 2019 at 2 pm at Erickson's
Arena. Bring your horse and dress up for a Halloween Party and games horseback. Bring a snack to share and any questions regarding horse project sign up for the new 4-H year! Younger siblings are welcome to dress up and ride. Questions or if weather is questionable call Erlonna at 366-3273.
CAMP COUNSELOR APPLICATIONS
It's time again to start planning camps for the next 4-H year! There is always a need to have camp counselors. You remember what it was like to be at camp and probably have fond memories of your camp counselor. You have the opportunity to help make memories for fellow 4-Her's. You must be 15 years of age or have completed your freshman year in high school by the time of camp to apply. Watch for applications. We will have more information for you as it becomes available.
END OF YEAR REPORTS
Reminder : Make sure the club minutes are up to date and have your End of Year Financial reports . They are due November 1, 2018 to the Extension Office. End of Year Financial Summary Report pdf