Service-Learning Advisory Committee
What is Service-Learning?
Service-learning is a means to teach problem solving skills, it assist students in learning more about themselves and their capacities, it fosters collaborative learning and civic responsibility while it enhances relationships between an educational institution and the surrounding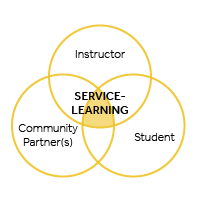 community. Definitions abound but the informed movement toward an expansion of service learning on the MSU-Bozeman campus is based on the following ideas: "Students learn and
develop through active participation in thoughtfully organized service that is conducted in and meets the needs of the community. It is integrated into and enhances the academic curriculum and includes structured time for the students and participants to reflect on the service experience." (Corporation for National Service, 1994, 12) This teaching technique positively influences student learning of course material and has proven to be an effective vehicle for the holistic development of students.
Membership
Updated September 2021
Impacts
2018-2019 Academic Year: 3,350 students enrolled in courses across 9 colleges contributed nearly 230,000 hours of service- and community-based learning. This is equivalent to over $1.9 million in contributions based on minimum-wage.
Mission
The Service-Learning Advisory Committee (SLAC) advances community-engaged learning, teaching, and scholarship at MSU. We build faculty understanding and application of service-learning pedagogy and partnerships by sponsoring workshops and symposia and sharing resources for best practices. By working with Montana Campus Compact, MSU's Office of Student Engagement, and MSU's Outreach and Engagement Council, we strive to create a network of scholars and community partners to grow community-engaged learning curriculum and impacts. We celebrate exemplary service-learning work at MSU through participation in award and grant selection.
Definitions
Service-Learning Course Design Components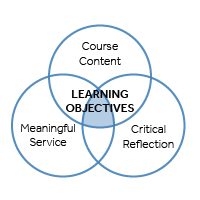 From Jacoby, Barbara. 2014. Service-Learning Essentials: Questions, Answers, and Lessons Learned. John Wiley & Sons: New York, NY.
Civic Engagement is the broader term and can be defined as acting upon a heightened sense of responsibility to one's communities through both political and non-political means. Community Service does not necessarily include reflection and may lack academic credibility, in addition, it is often used to refer to a court-imposed sanction. Some service-leaning practitioners have challenged the use of the word service, because it seems contrary to the fundamental principal of reciprocity by implying inequality among participants in service learning, with one individual or group doing something to or for another individual or group.
Volunteerism, like community service, is intended to benefit the individual, organization, or community served. Volunteerism is a form of charity; it is about providing service, with no intentional link to reflection or learning. The primary intended beneficiaries are the recipients of the service.
Experiential learning is a process through which students develop knowledge, skills, and values from direct experiences outside a traditional academic setting. Experiential learning encompasses a variety of activities including internships, service learning, undergraduate research, study abroad, and other creative and professional work experiences. Well-planned, supervised and assessed experiential learning programs can stimulate academic inquiry by promoting interdisciplinary learning, civic engagement, career development, cultural awareness, leadership, and other professional and intellectual skills.
Service-Learning or Community-Engaged Learning (CEL) is a form of experiential education in which students engage in activities that address human and community needs together with structured opportunities for reflection designed to achieve desired learning outcomes. The hyphen in service-learning symbolizes reflection and depicts the symbiotic relationship between service and learning.
Reflection is one of the most academically rigorous components of a service-learning course. Students who take the time to reflect on service-learning experiences will get more from those experiences. Reflection helps students thoughtfully process their community work. It helps them critically assess and understand what they are seeing and doing. Service-learning practitioners and researchers have concluded that the most effective service-learning experiences are those that provide structured opportunities for learners to critically reflect upon their service experience.
Committee Structure
The committee reports to the Director of the Center for Faculty Excellence. Standing meetings include two each fall and spring semesters. Additional task force meetings are scheduled as needed.
Membership
Members include one faculty member from each academic college, one undergraduate student representative, one Office of Student Engagement representative, and one to two service-learning partner representatives. A committee chair is appointed by the CFE Director.
Updated September 2021
Areas of Responsibility
Oversee process and selection for MSU's President's Excellence in Service-Learning Award. Coordinate with Office of the Provost.
Assist with activities and application for Carnegie Foundation Classification, Community Engaged Institution (received 2020; valid until 2026).
Assist with planning and participate in faculty seminars, symposiums, or other presentation formats related to service-learning pedagogy and projects.
Participate in Montana Campus Compact Advisory Committee
Organize and participate in activities to build a community-engaged learning faculty network.
Related Resources
Campus Compact

– "Campus Compact is a national coalition of 1,000+ colleges and universities committed to the public purposes of higher education."
The organization hosts a plethora of resources for community-engaged curricula, including seminars, awards programs, teacher resources like syllabi examples, a list of relevant scholarship journals, and a credentialing program for community engaged professionals.
Montana Campus Compact

– "Established in 1993, Montana Campus Compact aims to integrate civic work and learning into the curriculum and operations of its diverse network of colleges and universities, so students graduate with the determination and capacity to contribute to the public good throughout their lives—and higher education institutions are fully engaged with their communities, working together to educate citizens, solve problems, and build a strong democracy."
This is a state-level subsidiary of the national Campus Compact organization and is housed within University of Montana. MSU is an affiliate campus member. They offer several resources for those involved in advancing community-engaged work, awards programs, and administer the state's Americorp and Vista programs.
Engagement Scholarship Consortium

– "The Engagement Scholarship Consortium (ESC), a 501 (c) (3) non-profit educational organization, is composed of higher education member institutions, a mix of state-public and private institutions. Our goal is to work collaboratively to build strong university-community partnerships anchored in the rigor of scholarship, and designed to help build community capacity."
This organization has numerous resources and grant opportunities geared toward faculty utilizing community-engaged teaching and learning.
The CATS program is housed within an organization that is part of MSU's Western Transportation Institute.