Faculty Guidance, New Tools & Spaces
August 19, 2020
Dear Colleagues,
Thank you for getting us off to a great start. We are mostly wearing our masks, practicing spatially responsible behavior, and washing and sanitizing our hands and spaces. We are doing this together!
We are all role models on our campus and can help communicate President Cruzado's message form earlier today to wear our face masks more, including outdoors and to rigorously maintain 6 feet of distance between ourselves and others. These relatively small acts will help us succeed in mitigating our contact with and transition of SARS-CoV-2, the virus that causes COVID-19.
As we work through the hiccups and trying find our current normal, I want to call your attention to a few aspects of teaching and learning that have been on many peoples' minds as we begin the semester.
Faculty Supporting Students
The Division of Student Success, in collaboration with many MSU faculty and staff, developed online toolkits with actionable steps faculty and staff can take in multiple important areas critical to student success.
How to Respond if You Learn Someone has COVID-19
MSU University Health Partners has excellent information on how to respond if you learn someone has COVID-19, including detailed guidance around permissions.
Your Course Materials in Brightspace
We are impressed by the number of people using Brightspace based on the login numbers. As you work in Brightspace, please ensure you are posting accessible materials on the LMS.
Providing our students with accessible course materials is more important than ever this semester. Please take the time to use the auto-captioning tool in TechSmith. This service is much improved than previously. You can auto-caption your videos and then edit the captions easily and can find a video tutorial here.
Making your educational content accessible for all students is an important aspect of student success. To learn how and why to make all of your educational content accessible for all students please visit the Accessibility for All webpage on the ATO website, where you can learn how to easily make accessible Word documents, PowerPoints and videos.
New Brightspace Feature
Over the summer, the MSU Library and ECAT team worked together to implement a new LTI integration within every Brightspace course. This integration allows students to access subject-specific library resources directly through the Brightspace system. The link, Library Resources, can be found under the "Course Resources" drop-down in every class and it can be added into the Content area of your course.
This short video gives instructions on how to access the Library Resources page in your course and how to add a link in the Content area. For more information, contact Meghan Salsbury, Instructional Technology Librarian.
Educational Spaces on Campus
Many people have put in numerous hours and hard work to get our spaces ready for teaching and learning. We are encountering a few needed adjustments and are striving to complete those.
All rooms have been identified with a specific configuration of furnishings. The classrooms are set up in such a way as to mitigate risk of viral transition, maximize capacity within social distancing and for defined protocols to sanitize daily. Please do not move furniture for any reason. Each layout has an identified area for the instructor that appropriately restricts contact with students. It is in your best interest to use that defined layout and learn how to work within its constraints
With our early start to the semester, and with our shared interest in working in well ventilated areas, Facilities Services has placed chairs in a few outdoor campus spaces that you might find suitable for instruction in your course. A message containing a list of these courses together with instructions on how to use them was sent to you yesterday from the Office of the Provost.
As noted in the message, you are also welcome to make use of lawn areas on campus for outdoor classes, without reservation. I am heartened by seeing so many faculty and students gathered in circles in the grass across our beautiful campus. Watch for the sprinklers coming on during your class and, please, ensure you and your students wear your masks.
It is worth repeating that if you do use outdoor areas for instruction, please maintain the prescribed, six-foot physical distancing and use face coverings. You might find it handy to know that the radius of circle whose circumference accommodates a class of n (n>6) properly distanced students is ~n ft.
There is a lot to know these days and it is unusual for one person to hold all of the knowledge. It is ok to answer a question with, "I don't know, and I will find the answer." We will navigate this semester together and help one another on our quest for success. We are all doing the best we know how. Please do not hesitate to ask if you have questions or need help,
Sincerely,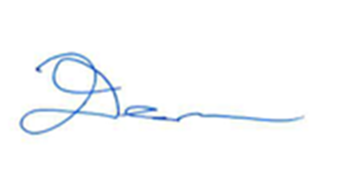 Dean S. Adams
Director, Center for Faculty Excellence