Wednesday, August 11, 2021

Sections:
Dear Colleagues,
I hope you are well and are enjoying your summer. I felt autumn in the recent fresh air and noticed the constellation Orion in the eastern sky as I walked to my studio this morning, indicators that fall and our new semester are right around the corner.
As you prepare for your upcoming classes, I hope you know that the Center for Faculty Excellence and our partners across MSU have numerous resources to assist and support you. Our institutional membership to the National Center for Faculty Development & Diversity (NCFDD) offers a webinar, Every Semester Needs a Plan, that might be helpful. Whether you are a planner or one who wants to become better at planning your semester, this recording will help you learn or remember important aspects of academic preparation.
Our Senior Diversity and Inclusion Officer, Ariel Donohue, has led the development of new inclusive teaching resources. The Guide to Inclusive Teachingprovides proven practices for creating inclusive learning spaces, teaching styles and practices. The newGuide to Facilitating Challenging Conversationsdelivers important strategies for faculty to work with challenging conversations before, during and after they occur. Please take a few moments to review these valuable webpages.
Below this message you will find a list of upcoming workshops and programs designed to help you start the semester with success and excellence. I want to call attention to a new two-part workshop, New Semester, New Challenges: Navigating the Unexpected in Your Classroom. These sessions will provide you with an opportunity to work with Ken Silvestri and Shihua Brazill, both instructional designers in the CFE, and the newly hired instructional technologist in ATO, Carter Dorsett. If you work with GTAs, please help us communicate that they are invited to participate in all CFE programming and encourage them to attend these offerings.
The CFE continues to update our website as a resource for all MSU faculty. I want to remind you of our recordings section of our website, where you will find resources to help you in most aspects of your work at MSU. We strive to organize our website in ways that will provide the best user experience possible and hope you will use it as a resource along with our newsletters and workshops. In addition to our past workshops recordings, remember to check the Teaching and Advising section of our website for great classroom tips and suggested readings curated by the CFE team.
Finally, we know many of you have overcome numerous challenges during the past 17 months. As we anticipate the start of a new semester, there are still numerous unknowns as we find our way to a post-pandemic future.
Please reach out to us if we can be of assistance. We are here to help!
Sincerely,
Dean

Orientation of new faculty at any institution is essential for creating the culture of the university. At Montana State we aim to build a welcoming and inclusive culture that spreads into classroom, research, creative and community spaces, and to equip faculty with the knowledge of how to promote student success through achieving excellence in teaching, scholarship and service. If you have someone who should be invited, please email [email protected]
Friday, August 20th and Monday August 23rd || 9 am to noon || ABB 136
Experienced faculty, new faculty and graduate teaching assistants are invited to two sessions to help prepare for the upcoming semester. We will discuss re-imagining your syllabi, building meaningful relationships with students, understanding students and technology, and effectively managing challenging classroom scenarios. In the "What Faculty Must Know to Succeed" session, Dean Adams will talk about faculty roles and responsibilities regarding policies, procedures and laws impacting the classroom.
Wednesday, September 1st || 11:00 am to 12:00 pm || SUB Ballroom B and via WebEx
***Recurring Workshop: Last offered Fall 2020***
Teaching with active learning pedagogies can move students to a deeper, more engaged learning experience where they activate higher-order thinking skills and learn from each other in an enriching, collaborative environment. In this workshop, you will actively learn about active learning pedagogies, including proven strategies and evidence-based, best practices for creating an active learning classroom.
Thursday, September 9 || 1:00 -2:00 pm || SUB235 & via Webex
Information to help faculty understand the basics of how academic advising works on the MSU campus and how to connect to resources and technology to facilitate your work with students.
Thursdays, Sept. 16, Sept. 30, Oct 14, Oct 28, Nov 4, Nov 18 || 3:00 to 4:30 pm || Room 108 Plant Biosciences Building
This series of six workshops offered collaboratively with administrators of Blackfeet Community College and other Amskapi Piikani Tribal members to prepare STEM faculty for mutually successful community-based participatory research, graduate and undergraduate student advising, and classroom teaching that includes Blackfeet Community College (BCC) and other tribal college student transfers and other Native American students at MSU.
Friday, September 24 || 10:00 -11:30 am || Library Innovative Learning Studio
New to writing grants? Join us for an interactive session that introduces you to the grant writing process, and the MSU policies and procedures. We will also cover how to find funding opportunities that fit your research program beyond searching on funding websites.
The Online Teaching Square starts Sunday, September 26th
If you are interested in participating or have questions, please contact Ken Silvestri at 406-994-7835 or [email protected].
Anytime - Complete the Teaching Online Program (TOP) Basic-Level Course
The Center for Faculty Excellence is excited to announce the opportunity for faculty to receive training and resources for teaching online through the Teaching Online Program (TOP). The basic-level course is ideal for those new to online teaching, those who want a refresher, and instructors who will be teaching an upcoming online course.
Wednesdays, Sept. 29, Oct 27, Nov 10 || 1:00 to 2:30 pm || Reid Hall 124
The purpose of the Inclusive Pedagogy workshop series is to engage faculty in creating a supportive learning environment that removes barriers for students. Participants will benefit from attending all three workshops but are not required to attend all of them. The first workshop of the Inclusive Pedagogy series is "Getting Started with Inclusive Teaching". In this workshop, participants will learn about evidence-based inclusive teaching strategies. Together, we will discuss and implement specific strategies for creating inclusive learning environments that will support all learners.

Fridays, October 1, 8, 15, 22 and November 5 || 9:00 – 11:30 am

APPLICATIONS DUE BY SEPTEMBER 10!
Go through the grant-writing process from beginning to end while working on your own grant proposal. With feedback from peers and experts, this 5-week workshop (over 6 weeks) is designed to help novice grant writers understand the requirements of a grant opportunity, collect and create the many parts of a proposal, organize and write about their project, connect with MSU resources, and submit a grant proposal at MSU.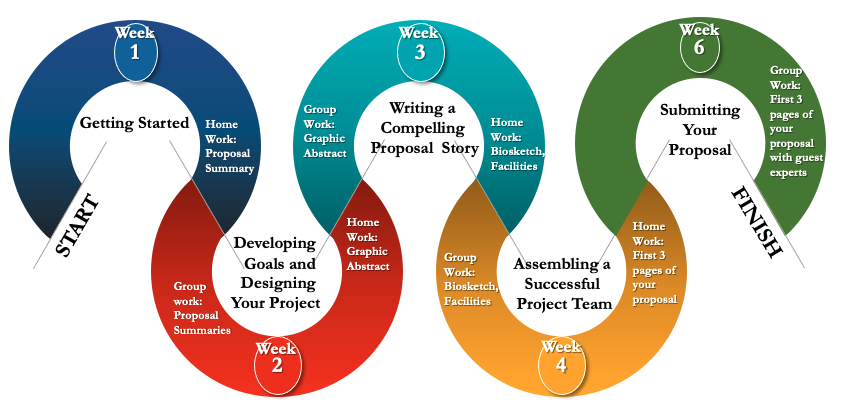 Are you new to the MSU Learning Environment Brightspace or would you like to learn more about how to use this tool? The ECAT Team is offering two trainings this fall:
Basics 1: The session will cover Brightspace login, My Home page, Course Homepage navigation and the Course Admin area. It will also include an explanation of how Banner and Brightspace work together, how course evaluations are delivered via Brightspace, details related to continuous delivery functionality and an overview of available support resources.
Basics 2: The session will detail common navigation features and related tool access/availability. Participants will learn common functionality related to:
How to create an announcement
HTML editor
Exploration of the content area
How to create modules and topics
Generating links
Understanding Learning Technologies integration
Participants will also be given a brief tour of the Manage Files area.
Learn more and register for the sessions here
Sign-up for the Early Career Faculty Mentoring Program
The Early Career Mentor Program matches new faculty starting out in their careers with a network of mentors. Mentorship encompasses all aspects of what we do at Montana State University from understanding the goals and wishes of freshman undergraduate students to guiding graduate students through their academic journey to enabling the success of early career faculty in pursuing excellence in scholarship and teaching throughout faculty careers.
As part of this continuum, the CFE Mentoring Coordinators pair early career tenure and non-tenure track faculty with experienced faculty outside of the new faculty member's college. Matches meet one-on-one two times during fall semester and three times in spring semester. Other meetings are at the discretion of the mentors and early career faculty. Several group meetings of mentees and mentors are scheduled on a variety of topics throughout the year.
Fill out the mentee survey to join the program today!

In this section, we are posting some short articles with practical teaching tips:
Access this box folder for several ideas related to generating student participation in class discussions and redesigning quizzes to be a more effective learning tool.
This short article reinforces the importance of building community in the classroom and offers some strategies for doing that.
In this article, the author makes the case for incorporating higher-order thinking into multiple-choice tests and provides a good example of a test question that assesses higher order thinking.
If you have a teaching tip related to teaching in a blended or online format to share in this section, please send a description and any related resources or examples to [email protected]

Find graduate student resources here that you can share with your students. Visit The Graduate School resources for faculty and staff website.
Writing in graduate school is a high-stakes activity. It is, in many ways, the mode through which students show they belong--in the academy, in their field, and ultimately, in their profession. Yet, despite its importance, students don't always have the experience with writing that will set them up for success. Expectations for learners to write well at the graduate level are high. At the Writing Center, we offer high levels of support for that learning process.
One-on-one appointments, both in-person and online, with graduate or undergraduate peer tutors.
Interdisciplinary graduate writing studios, a small group of graduate students working together to improve their writing.
Focus Fridays, a weekly "write with us" time during which grad students work alongside each other. Come for part or all of the time. Tutoring is available.
Visit our website for more information or contact our Graduate Program Coordinator, Erin Strickland, at [email protected] or (406) 994-5314.

National Center for Faculty Development & Diversity members receive a weekly motivational email (the Monday Motivator) and access to the full NCFDD Core Curriculum, guest expert webinars, intensive multi-week courses facilitated by national experts, a private discussion forum, monthly writing challenges, and the opportunity to connect with a writing accountability partner. Learn more about how to register.
Core Curriculum Webinar: Cultivating Your Network of Mentors, Sponsors & Collaborators
Facilitated by: Erin Furtak, PhD, University of Colorado at Boulder
August 12, 2021 at 2:00 PM ET
Register Here

Guest Expert Webinar: Supporting Trans* Scholars
Facilitated by: D-L Stewart, PhD, Colorado State University
August 24, 2021 at 2:00 PM ET
Register Here
NCFDD Programs offered for a fee
Fall 2021 Faculty Success Program
Program Dates: August 28 - November 20, 2021
Registration: Closed

WriteNow Access Fall Session
Program Dates: September 20 - November 12
Registration: July 14 - September 2

Spring 2022 Faculty Success Program
Program Dates: January 16 - April 9, 2021
Priority Registration: September 20 - October 13