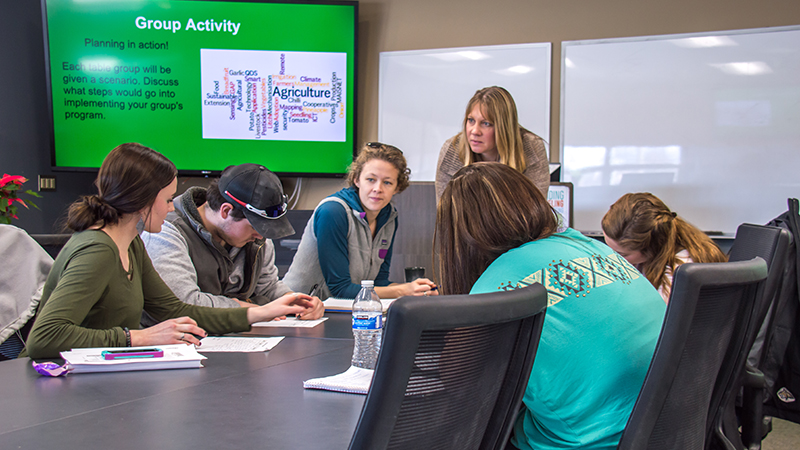 MSU prepares students to graduate equipped for careers and further education. Working alongside world-class faculty mentors, students discover new knowledge that helps to improve quality of life around the globe. This supportive and collaborative learning environment helps students succeed in competing for national and international scholarships and awards.
The Office of Diversity and Inclusion at MSU provides faculty with a number of resources , including this Guide to Inclusive Teaching.
Guided by the faculty on the Teaching Excellence Action Committee, the Center provides faculty with resources for achieving excellence in teaching.


Teaching Tips
Communicating with your students, accessibility and universal design
For a Mid-Semester Energy Boost:
These tips provide some really good advice on teaching hyflex or simulcasting a course as well as tips for engagingstudents in Zoom and teaching in a virtual classroom:
For the first week of a new semester:
Early Week Classroom Activitie This article provides ways to build community and connections between students at the beginning of the semester and each week in the course
From the National Center for Faculty Development & Diversity (NCFDD):
Empowered Teaching Toolkit: Beginning to Prepare for "Difficult" or "Controversial" Conversations Watch the video Now

Empowered Teaching Toolkit: Beginning to Strategize for Classroom Incivility Watch the video now

Empowered Teaching Toolkit: Beginning to Find Joy as an Academic Watch the video now

Synchronous Online Discussions: Preparation, Facilitation & Wrap Up This short teaching blog post talks about how to provide some structure to live, synchronous online discussions to make them more effective and engaging for the students.
Encouraging Student Engagement During Synchronous Meetings: Preventing Midterm Drop-Off This short article offers tips and strategies if students begin to drop off in course with live, synchronous online sessions.
Creating Magic in Your (Online) Classroom This short article offers 6 ways to connect better with your students in an online setting.

Making the Most of Synchronous Sessions in Problem-Based Learning (PBL) This article discusses ways to adapt project-based or problem-based learning to live, synchronous meetings in a blended or online course.

7 Ways to Assess Students Online and Minimize Cheating This article offers advice on how to assess students online and minimize cheating. Note that you may need to register or login with your MSU access to view this Chronicle of Higher Education article.

6 Tips for Teaching Online and In-Person Simultaneously: The article, 6 Tips for Teaching Online and In-Person Simultaneously, outlines two approaches and offers 6 tips for when students are learning simultaneously online and in-person for the same class.

Using Blogs for Online, Hybrid or HyFlex Teaching:

The teaching professor in this article,

Using Blogs for Online, Hybrid or HyFlex Teaching

, offers an online activity or assignment using blogs for ongoing reflection in an online or blended course.

Who Is Missing from College During the Pandemic? A Lot of Students, Actually:

You may have noticed that attendance in your courses this fall has been down. While this

article and associated podcast

from EdSurge does offer some strategies for intervening when students drop off or stop attending courses, it can help put low attendance in context and perspective for you.
Managing and using the chat tool in online classes: As students and instructors rely more on video conferencing platforms to replace interaction that takes place in the classroom, this article from FacultyFocus, "

Managing the Chat in Online Teaching: What We Can Learn From Live Streamers

," offers some strategies for managing and using the chat tool within WebEx, Zoom, or Microsoft Teams.

Using student-centric words to motivate your students: The words we use to frame our assignments and assessments can impact our student's levels of engagement with them. The following article from Edutopia, "

How to Choose Words That Motivate Students During Online Learning

" shows how framing our assignments and assessments with the right student-centric words can help increase motivation to complete them.

Spotting Fake News:The Library offers this online tutorial on spotting fake news. Use these instructions to embed the Spotting Fake News Tutorial in Brightspace for your students.
How Technology Can Trick Us: In the Science, Technology, Ethics and Society Blog, Kristen Intemann, Professor of Philosophy, Department of History & Philosophy asks how technology can trick us.
The Online Teaching Survival Guide: Follow these steps to access The Online Teaching Survival Guide: Simple and Practical Pedagogical Tips through the Library:

Follow this link: https://ebookcentral.proquest.com/lib/montana/detail.action?docID=4659728
Login with your NetID and password.
Read the book online or download it as a PDF (if you download the book of any chapters, you will need to install Adobe Digital Editions or Bluefire Reader).
If you have a teaching tip related to teaching in a blended or online format to share in this section, please send a description and any related resources or examples to [email protected]