Background
Montana community access to locally-grown fresh fruit is limited due to challenging weather conditions that limit the ability to produce certain common fruit crops, such as blueberries. Novel small fruits and berries such as haskaps, saskatoons, and dwarf sour cherries grow well in Montana's climate. This project focuses on mapping consumer interest and diversifying income streams by considering value-added food products.
Project Objectives
Define cold hardy small fruit and berry industry in Montana and conduct consumer acceptance tests
Analyze instrumental properties of fresh fruit and discover what drives consumer interest
Evaluate fresh market potential and consumer interest for value-added products
Assess the needs and interest of the western small fruit and berry industry in value-added product development
Examine market trends and develop prototypes using market insight and producer input. Ideate and prepare formulation for berries which require processing.
Compare selection of formulations with instrumental methods, obtain consumer input, and disseminate findings to growers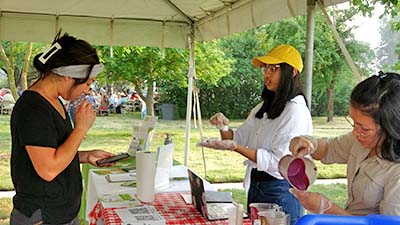 Smoothie sensory evaluation at WARC Field Day
Student researchers have collaborated with MSU's Western Agricultural Research Center (WARC) in Corvallis to obtain berry samples for product prototyping and for conducting product sensory testing. Most recently, graduate Sumedha Garg and Genesis Chavez discussed their work on value-added local agricultural products at WARC's annual Field Day and offered samples of berry-hemp smoothies for public feedback. Learn about and participate in future MSU-FPDL food sensory studies by joining our Facebook Group.
Media
View a video summary of this project by master's student Sumedha Garg.
Participatory action research to co-create a design thinking product development toolkit with berry growers. Poster presented at 2022 EUROSENSE by Sumedha Garg.