Farm to Table on the Flathead Reservation
The MSU-Food Product Development Lab is working with members of the Confederated Salish and Kootenai Tribes (CSKT) to establish a culturally-sensitive, value-added Native food initiative by integrating Indigenous wisdom with current practices in food science research, instruction, and outreach.
Background
Native Americans have a 50% higher obesity rate than non-Hispanic whites1 and are three times as likely to die from diabetes than the national average2. Such a high prevalence of chronic illness is contributed by the disrupted food heritage and by the highly processed non-Native foods of the Commodity Food Programs3. The recent food sovereignty movement to access healthy Native foods is however restricted by the low food security, the limited funding of Commodity Food Programs4, and the lack of tribally-owned food processing resources on reservations5.
A 2020 publication based on the dietary survey of the Flathead Reservation revealed the high household prevalence of diet-related non-communicable diseases including obesity (73.7%), diabetes (50.0%), and/or cardiovascular conditions (7.9%)6. Under the COVID food security stress this year, Tribal members of the Flathead community become even more vulnerable to the negative health outcomes of an unbalanced diet with ultra-processed foods.
Current Work
Members of the Confederated Salish and Kootenai Tribes are interested in a product based on dried bison meat due to its connection to traditional Indigenous foodways and relative high popularity among Tribal members across age groups. This project will integrate traditional knowledge in bison meat handling with current food safety guidelines in developing a commercializable bison dried meat to support the food heritage and nutritional health of the Tribal families.
The objectives of this project are to:
Conduct an annual Native food assessment using surveys and focus group interviews to gather Tribal members' interests and challenges in value-added Native foods.
Develop value-added bison products based on traditional Indigenous food processing knowledge and evaluated for safety and quality. Scale-up trials will be accompanied by assessments in food safety, marketability, and nutrition.
Build economic and ecological models based on the developed bison products for ranch-to-campus operations.
Innovate business ideas for value-added Native foods with food sovereignty and ecological purposes via collaboration between Salish Kootenai College business students and Montana State University Food Product Development Lab students.
This project will identify the critical components to establish sustainable, Native-owned value-added enterprises to support the 150 CSKT producers. Re-defining value-added using Native sustainability lenses will facilitate the creation of nutritious and culturally-significant Native food products to strengthen the economy, food sovereignty, and ecological resilience of Native communities. The integration of Native values with Western practice in this project can serve as a collaborative model for the food science community to support the Indigenous food sovereignty movement at national and global scales.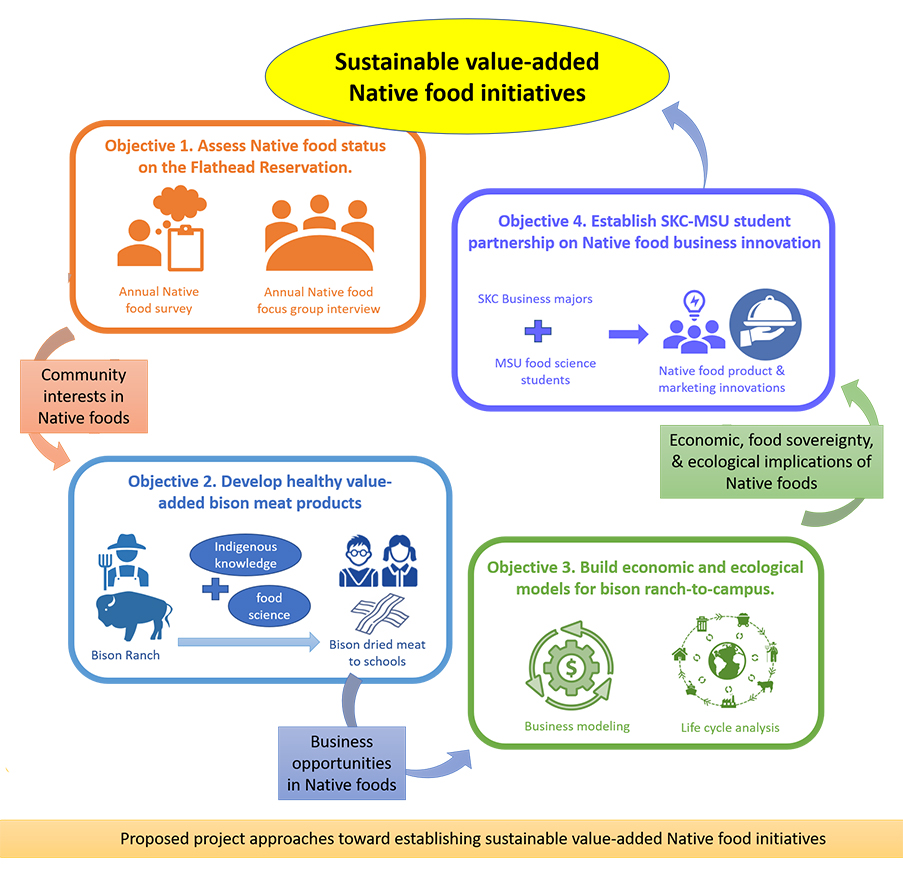 Research showcase
Lab members and partners presented Indigenous food product development research when Chef Sean Sherman, "The Sioux Chef", visited the FPDL on February 28, 2022. Speakers included Patrick Yawakie of the People's Food Sovereignty Program, virtual visits by Chef Pierre Thiam of NOK by Alara (restaurant in Lagos, Nigeria), Amy Vaughn of the Boys and Girls Club of the Flathead Reservation & Lake Co., and student presenters Edwin Allan, Ed Shaw, James Vallie, and Genesis Chavez. The research showcase concluded with a question and answer session with Chef Sherman.
Past work
Students from the Salish Kootenai College Business Program and MSU Food Product Development Lab joined forces in summer 2020 to launch value-added Native food initiatives via student service-learning. The first partnership received a grant from the MSU Undergraduate Scholar Program, and focused on developing and marketing lake trout products to support the conservation efforts of the Tribal fishery.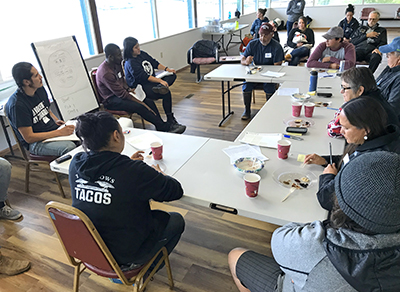 A student-led focus group works with members of the CSKT on developing fish taco recipes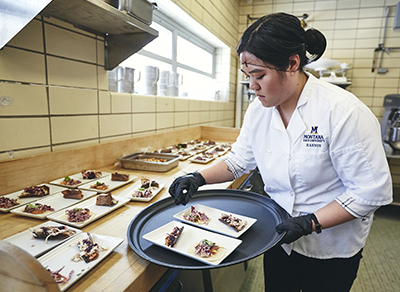 Former MSU-FPDL graduate member Sharon Li prepares the finalized fish taco recipes for serving to event attendees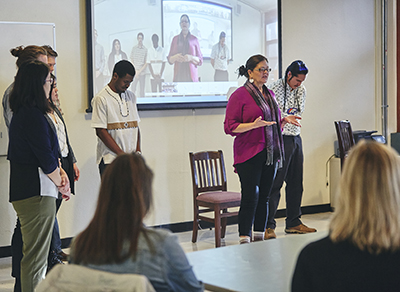 A blessing given by Shelly Fyant, Council Chair of the CSKT, before presenting the tacos for audience evaluation
References
Office of Minority Health Resource Center. Obesity and American Indians/Alaska Natives. Obesity Among American Indians and Alaska Natives 1–165 (2015). Available at: https://www.minorityhealth.hhs.gov/omh/browse.aspx?lvl=4&lvlid=40. (Accessed: 19th May 2020)
Indian Health Service. Disparities. (2019). Available at: https://www.ihs.gov/newsroom/factsheets/disparities/. (Accessed: 19th May 2020)
NIH. Native American foods, dietary habits take center stage. Available at:
https://www.nhlbi.nih.gov/news/2016/native-american-foods-dietary-habits-takecenter-stage. (Accessed: 19th May 2020)
Finegold, K. et al. Background report on the use and impact of food assistance programs on Indian reservations. USDA Contractor and Cooperator Report No. 4ntractor and Cooperator Report No. 4 1–96 (2005). Available at: http://www.urban.org/url.cfm?ID=411133. (Accessed: 18th May 2020)
Howard, L. Moving Toward Food Sovereignty: Assessing Food Systems on Montana's
Indian Reservations. (2014). Available at: https://growmontana.ncat.org/wpcontent/uploads/sites/4/2016/12/LHoward-MT-Native-Food-Sovereignty-Report.pdf. (Accessed: 18th May 2020)
Byker Shanks, C. et al. Perceptions of food environments and nutrition among residents of the Flathead Indian Reservation. BMC Public Health (2020). doi:10.1186/s12889-020-09584-7