Building Indigenous food entrepreneurship with Senegal smallholder women farmers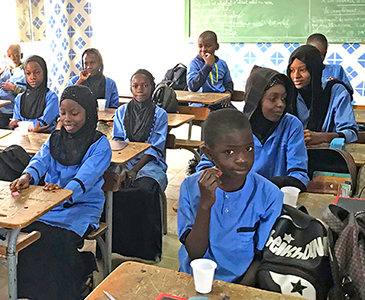 In 2019-2020, a team from MSU-FPDL partnered with Bountifield International to work with women's groups from the Kaffrine region in Senegal to develop a value-added food product that would create opportunities for households to increase their incomes and improve the nutrition of their communities. As a master's student, Edwin Allan led Team PATH (Promoting Agricultural Transformation Holistically)​, which also included Dr. Wan-Yuan Kuo and undergraduates Cullen Kinnare, Emily Raber, Amber Clifton, and Haley Darlinton. The team conducted surveys and focus group discussions on an initial trip to Senegal in 2019.
Team PATH learned that cowpea and peanut harvests had suffered losses due to insect damage, inadequate storage, and late threshing. Based on these and other findings, the team collaborated with smallholder women farmers to develop a culturally-acceptable and nutritious peanut product to reduce the loss of their cowpeas and peanuts. On a second trip to Senegal, the team conducted preliminary product sensory tests with school-age children and the community. Team members also showed farmers how to make the product and discussed product improvements, packaging, and pricing.
The nutrition bar was named Bonbon Bouye by the women who participated in the project. Bonbon Bouye, which translates as "Baobab delight", is made with cowpea flour, corn flour, peanut paste, baobab powder, vegetable oil and other ingredients. It provides all nine essential amino acids, vitamin C and antioxidants from the inclusion of baobab powder and other micronutrients. Schoolchildren can now have a nutritious snack during break to boost their immune system, concentration, and energy levels for the rest of the day.
In the next five years, we plan to:
Co-innovate Indigenous fermented food products with the women and Senegal Food Technology Institute. This will unlock the probiotic potential of Indigenous plants as local healthy dietary sources and justify diversified agricultural landscapes against monocropping.
Facilitate commercializing the Indigenous products by the women's enterprise with Umbrella Support Unit and Chamber of Commerce. This will enhance the socio-economic status of the women and further the value-added economy of the communities.
Build an Indigenous farm to school system with World Food Program to provide high-quality nutrition and sustainable agriculture education. This will empower the children to identify with local foods over imported processed foods. Our team is professionally and social-culturally interdisciplinary, applying participatory action principles to integrate traditional ecological knowledge with Western sciences. Such will synthesize a scalable and transferrable model for agricultural professionals to invent culturally compatible solutions to multi-dimensional food system challenges.
Current core Team PATH members include Edwin Allan, MSU PhD student; Aliou Ndiaye (Senegal); Dr. Wan-Yuan Kuo, MSU-FPDL Director; MSU undergraduates Edward Shaw, Olivia Schwintek, and Sage Stevens; Chidimma Ifeh, prospective MSU PhD student; Mohammed Fall (Senegal); Anton Angelich, recently retired as Group Vice President Marketing at Virginia Dare Extract Co.; Donna Rosa, Chief Entrepreneurship Officer at EFour Enterprises LLC; Dr. Brent Peyton and Dr. Paul Gannon, professors in Chemical and Biological Engineering at MSU.
---
Learn more about this program:
Institute of Food Technologies (IFT) 2020 Developing Solutions for Developing Countries Product Development Competition