Graduate Assistantship for Outreach & Marketing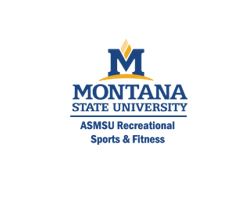 Recreational Sports and Fitness (RSF)
Graduate Assistantship (GA) for Outreach & Marketing
The below listed application materials must be submitted to Ty Atwater at [email protected] by Jan. 21, 2022. We will continue to accept applications until the GA position has been filled.
Description of Opportunity
This Graduate Assistant will join a team of dedicated professionals at the Montana State University's Recreational Sports Department and work closely with a second Graduate Assistant and undergraduate student staff.
Position Duration
This position requires a commitment of 19 hours/week, including office hours, for 10 months.
Position dates: August 1- May 31.
Position Description – GA for Outreach and Marketing
Act as the lead manager of a dynamic team supporting the Outreach and marketing efforts for all RSF programs
Oversee a group of student staff made up of

Graphic Designers
Social Media Managers
Outreach Specialists

Schedule and assign work for the Outreach and Marketing team to support the needs of all RSF Programs
Support the department's program planning process by developing marketing timelines workflows
Assist in the planning, development, and delivery of outreach and marketing campaigns that engage the whole MSU campus community in campus recreation activities
Build and foster relationships with campus partners to promote and support RSF programs and services
Actively participate as the RSF representative for campus wide outreach events such as MSU Debut and MSU Fridays
Assist in the overall administrative and management of the Recreational Sports and Fitness Department, including regular participation in committee work
GA's will enroll and be accepted to an MSU Graduate program.
The GA is intended to be a 2-year assistantship

The GA will be evaluated and reviewed each semester
RSF and/or the academic department may terminate the assistantship at any time with proper cause
Required Skills/Qualifications
Undergraduate degree (preferred course work in marketing, graphic design, recreation management, business, education or related field)
2-3 years' experience in working with college students/young adults in a creative or events role
Proven experience managing a team of student staff
Demonstrated experience communicating via a variety of digital platforms.
Excellent written and verbal communication skills
Competence with the Microsoft Word Suite of tools
Current CPR/AED at the time of hiring (can be taken internally)
Preferred Skills/Qualifications
Demonstrated competency with Website design and management
Experience growing a social media presence for a program or business.
Two years working with a campus recreation department or other similar organization
Graduate School Qualifications
Enroll in 6 or more credits at the 5xxx level each semester, be degree-seeking in a graduate program at MSU Bozeman
Cumulative and program of study GPA of 3.00 or better
Make progress toward the achievement of the graduate degree as judged by annual academic performance review
*This position is part of the Graduate Student Union. As such, the student must pay either monthly union dues or representation fees. If workplace issues arise, the student in the position will need to take concerns to their supervisor or the University's Human Resources department.
Transferable/Portable Skills
Candidates will:
Gain experience as both a staff and faculty member within the field of university administration
Apply planning, scheduling and marketing skills
Learn leadership and management strategies to work with a wide variety of college students
Work with a variety of campus professionals
Develop management and business skills transferable to any industry
Learn how to be a team player on a very dynamic, visionary, and fast moving RSF team
Supervision
Direct Supervisor: Ty Atwater, [email protected]
The GA will have the opportunity to interact closely with the entire team of professionals throughout RSF
Works Primarily With
Undergraduate Students
Staff
GA Focus
College students and their development
Higher education leadership, administration, and organization
Institutional and program evaluation, assessment, and accreditation
Performance and Feedback
Each GA will receive a formal evaluation each semester. This is important to make sure both the assistant and the supervisor are achieving the goals set out at the beginning of the semester
We believe that regular feedback is critical. This will come in the form of personal 1:1 meetings as well as staff meetings
Compensation
Stipend: Minimum of $1,400/month for an appointment requiring no more than 19 hours a week
RSF will cover the cost of 9 credits tuition/semester for GA's accepted into this program. University fees and other fees are the responsibility of the student
Additional payment by RSF: Mandatory additional payment of $160 per month for health insurance or other living expenses, as per the Collective Bargaining Agreement (CBA)
Professional development is very important to us: RSF will provide compensation to attend a limited number of regional professional development conferences and workshops. There are also funds available to attend national or international conferences, but the Assistant must apply for these funds as they are available
GA Conduct
Exercise a sense of responsibility, judgment, and integrity on and off campus. This includes, but is not limited to, compliance with all RSF and MSU policies; the Student Conduct Code; local, state, and federal laws
Know, understand and adhere to University policies. Be well versed in the rationale behind them so that you can inform students of this information properly
Application materials must be sumbitted to Ty Atwater at [email protected] by Jan. 21, 2022. We will continue to accept applications until the GA position has been filled.
Current resume or CV
Three professional references
Letter of interest for this position to address:
(Please limit responses to no more than 500 words per question)
Why are you interested in this position? What aspects of the position interest you the most?
How will this position help you reach your personal and/or professional goals?
How do you see yourself in this position contributing to the MSU community?
What steps would you take to promote RSF programs and services to underrepresented communities on campus?