Brassicas - K-12 School and Afterschool
This month's Harvest of the Month is Brassicas! There are 3700+ species of Brassicaceae, or the Brassica plant family, ranging from cauliflower to kohlrabi! Use the materials below to showcase winter squash this month.
Materials
Poster (18"x24")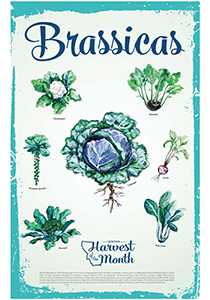 Newsletter Content & Social Media Posts
Illustrations: cabbage, broccoli, turnip, kohlrabi, wild mustard, bok choy, Brussels sprouts, cauliflower, and plant parts diagram
Afterschool Lesson - Coming soon
MSU Extension Food Fact Sheet
Recipes
Winter Vegetable Soup with Noodles – Single Recipe Card – Printable 2 Recipe Cards
Gingered Cabbage Salad – Single Recipe Card – Printable 2 Recipe Cards
Additional Activities
Coming soon
Resources
Need ideas for how to conduct taste tests or a checklist to help guide you through Harvest of the Month throughout the year? Go back to the K-12 Portal page for these resources and many more.
Share
Have a great recipe, activity, or Harvest of the Month story? Share online and help us improve the Harvest of the Month program!