Accelerated BSN Application
Welcome!
We are very excited that you are considering joining the Bobcat Nursing family. We strive to make our application process as easy as possible. Please read the information below, and if you have any questions don't hesitate to reach out to an advisor. We look forward to hearing from you soon!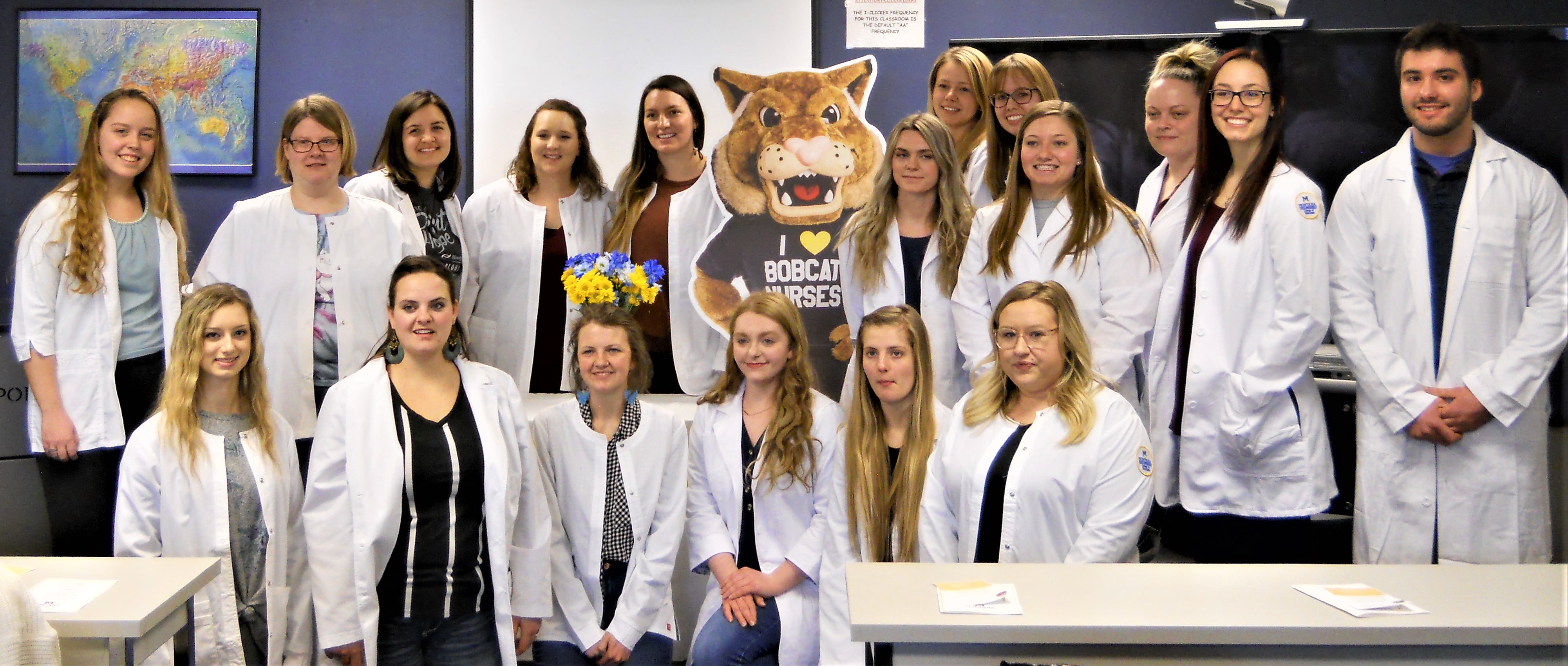 Accelerated BSN nursing students are placed into campus cohort groups in May of each year and advance through four accelerated semesters (summer, fall, spring, and summer) of nursing courses together before graduation the following August. All accelerated BSN applicants must have received a bachelor's degree in a field other than nursing prior to the beginning of classes in May. For any questions on timeline, please contact an advisor.
Timeline
August 31 – The NursingCAS Application will be open for placement the following May
October 15 – NursingCAS will be closed at 10pm MST time and urine, drug screen, and background check are due
November 15 – Official transcripts are due through NursingCAS. Grades for classes completed prior to October 15 will be counted.
December 15 – Notification regarding placement sent to students
Requirements for Application
A calculated GPA of 3.0 or higher in required prerequisite courses.
Be on track to complete all prerequisites prior to placement start date, with a grade of C- or better (prerequisites must have been completed within the last 15 years). No more than 2 repeats total across the required prerequisite courses. A grade of "W" counts as a repeat. If you are interested in appealing, please contact an advisor.
At least 3 of the 5 required natural science courses must be completed with a grade of C- or better to apply to the nursing program. Those courses are: BIOH 201**, BIOH 211, BIOM 250, CHMY 121 and CHMY 123.
**BIOH 201 (Anatomy and Physiology I) MUST be one of the three completed science courses in order to apply.
All students must have completed a bachelor's degree in a field other than nursing prior to the beginning of the program in May.
Campus cohort placements will be based on your campus ranking in the application. If you are not offered your 1st campus choice, you may decline your guaranteed placement and request placement on the wait list for the desired campus. If you are not offered initial placement, you may also request a spot on the waitlist. If you are not placed from the waitlist, you may re-apply during the next application period.
Application Process
There are two required steps to the application process for placement into nursing courses.
1) NursingCAS:
To apply to the ABSN Program at MSU you must use the NursingCAS portal, the nursing profession's online application service. The ABSN application will be available beginning on August 31.
Please refer to the MSU NURSINGCAS APPLICATION INSTRUCTIONSfor assistance while filling out the application.
2) Clinical Compliance Tracking:
The second part of the BSN application is fulfilling requirements for clinical compliance. This requires creating an account and submitting documents through the clinical compliance tracking portal. The requirements are done at time of application and annually, thereafter:

a urine drug screen – due by application deadline
background check- due by application deadline
e-learning **
Immunization **
CPR - must be American Heart Association (AHA) BLS for Healthcare Providers **
Proof of Health Insurance **

Portal link:

http://portal.castlebranch.com/MV83 Use package MV85 (Incoming Accelerated BSN student)
**These items may be completed after campus cohort placement decisions are made, but must be completed prior to the start of the program in May.