On-Campus vs. Off-Campus
Moving off-campus is absolutely a personal choice. How much extra will you be paying? Who would you be able to live with? Have you considered how much time it will take to maintain your off-campus residence? Mowing the lawn, cleaning bathrooms, and commuting all adds up.
Many students want to know if living off-campus is cheaper. The answer is: "It depends." The residence halls have a lot of great amenities that can translate into extra costs when living off-campus.
Factors to consider when deciding to live off-campus:
Eligibility. First-year students are required to live on campus their first year at MSU. For more information, contact Residence Life.
Budget. When looking to live off-campus, many students do not consider the entire costs associated with renting a property. There are deposits, monthly rent, utilities, cable, internet, phone, food, transportation, furnishings, cleaning supplies, renter's insurance, and trash, to mention a few of the costs. These items need to be included in your budget. Before you look at housing options, you need to create a realistic budget that you are able to afford.
Roommates. Are you looking for a place to share with one or more roommates, or would you prefer to live alone? Do you already know who you are going to live with? Have you set up expectations of who will be responsible for what in the rental? Roommates can be a great way to supplement some of the costs associated with living off-campus, but it is important to consider your compatibility with potential roommates.
Distance from MSU.

Are you looking to live within walking or biking distance, or would you prefer to drive to campus? If you choose to drive, you must purchase a parking permit to park your vehicle on campus. The Streamline bus service also exists to offer fare-free rides to and from campus throughout the Bozeman community.

Pets. Many people choose to live off-campus in order to have a pet. Be aware that not all landlords allow pets, and those that do may require an extra deposit. Some of these are non-refundable, along with a "pet rent" to be added to the regular rent rate. Also, there are city ordinances in Bozeman that could affect your pet.

Renter's Insurance. MSU suggests that all students purchase renter's insurance to protect their valuables in case of a disaster. This service is not provided by landlords, and many landlords require tenants to purchase renter's insurance.
Shopping for a Rental
Making the decision of where to live is a big step, so it is important to spend time visiting properties and gather as much information about the property, landlord, and neighborhood as possible to aid you in your final decision.
It's a good idea to look early and often, especially in Bozeman's tight rental market. Many rentals are "handed down" to friends of friends by word of mouth. Some property management companies offer new listings in the spring for summer rentals. Looking early and taking a tour of potential rental options can give you a better idea of what you would like to see in a rental.
Here are some places to look for housing: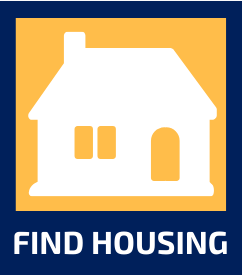 Facebook Marketplace
Craigslist (be careful with Craigslist - if it looks too good to be true, it probably is)
The classified ads section of the

Bozeman Daily Chronicle
Friends who currently have a lease that is ending, or are looking for roommates
Message boards across campus, including in the SUB
Once you have narrowed your search to a couple properties that fit your needs and your budget, you should have a list of questions to ask landlords to find out additional information not listed in the announcement. It is also beneficial to do some research on the landlord and surrounding neighborhood.
Questions to Ask Property Managers
Before signing the lease, be sure to ask the property manager the following questions:
When is rent due? Is there a charge for late payments? How is rent paid (cash, check, electronic payment)?
What deposit and fees are required? How much of that is refundable?
Does a deposit guarantee you the unit for when you want to move in?
What lease terms (length of lease) are available?
Who pays for utilities (A/C and heat)?
What do utilities usually run in summer and winter? Is it gas or electric heat?
Who pays for cable and internet?
Who pays for hot water? How many hot water heaters are in the unit, and is it adequate for the number of people living in the unit?
It the unit furnished?
Is parking space available? Does parking require a permit?
Is the location near a bus stop?
What are the rules for guests and visitors? What are the restrictions, if any?
Is there storage space?
Is painting needed or permitted? Who is responsible for this?
If repairs are needed, is the property manager willing to make them before you move in?
Are pets allowed? What are the restrictions? Is there an extra deposit and/or rental fee?
Are there laundry facilities in or near the building?
Who is responsible for yard maintenanace and snow/ice removal?
How safe is the area? Is security provided?
Is there 24-hour emergency service, if needed?
Is subletting permitted? Is there a fee for subletting?
Best Practices
Never rent a property sight unseen. It is important to get in contact with the rental property manager/owner to see the property before signing a lease.
Be aware of safety issues. Make note of smoke alarms, carbon monoxide alarms, egress windows, exposed wires, and evidence of water damage. Ask the potential landlord about who is responsible for fixing these safety issues. Make sure all batteries for alarms have been updated before moving in and ensure there is a fire extinguisher in the kitchen.
Rental Applications
A rental application may be required to verify credit, income, background information and rental history. If an applicant is deficient in one or more of those areas, a co-signer may be required. The co-signer will need to apply and undergo a credit check, as well. There will likely be an application fee for each application you submit.
Property management firms will have different policies concerning the specifics in their applications, so make sure to ask how long an application is valid.
The Importance of Credit Reports
When the rental company processes your rental application, they will likely pull your credit report. A credit report is a history of one's bill-paying habits and credit-worthiness. Items that appear on a credit report include, but are not limited to: utility and medical bills, rent payments, credit cards, car and school loans, and mortgages. Credit reports are used by financial institutions, courts, creditors, landlords, insurance companies, and some employers.
Credit is a representation of an individual's financial reliability. Credit is useful because it allows us to purchase goods and services that one may not be able to purchase otherwise, including attending college, purchasing vehicles or other large ticket items, and buying a home. Good credit leads to more borrowing ability, while bad credit leads to no borrowing ability. Not only do creditors use credit reports to determine loan qualification, they also use it to determine the loan interest rate. Thus, the better the credit rating is, the lower the interest rate will be.
Getting Your Credit Reports
Montana residents are able to get a credit report for free. The amendment to the federal Fair Credit Reporting Act (FCRA) requires each of the nationwide consumer reporting companies to provide you with a free copy of your credit report, at your request, once every 12 months. This means that you can get three credit reports each year, one from each company. For example, you could send for Equifax in January, Experian in May, and Trans Union in September.
To order your free annual report, go to annualcreditreport.com, call 877-322-8228, or complete the Annual Credit Report Request Form and mail it to:
Annual Credit Report Request Service
P.O. Box 105281
Atlanta, GA 30348-5281
What to Look for on Your Credit Report
Your name
Your correct address
Your correct phone number
Your correct social security number
Your marital status
Your employment information
Your credit accounts
Your account histories