MSU Family Advocate
Information and Resources
MSU's Family Advocate position was established in 2009 with support from the President's Office, the Provost's Office, and the Women's Faculty Caucus. First titled "Parent Advocate", the name changed in 2011 to better reflect the diversity of family issues experienced by faculty, students and staff across the lifespan.
The role of the Family Advocate is to:
Help parents and other family members navigate the University System and learn about MSU's policies and programs available to meet their individual and family needs.
Serve as a "first stop" for faculty, students, and staff to receive information regarding who to contact with questions about current programs such as:

Family and medical leave across the lifespan
Child-birth and adoption
Breastfeeding
The Family Care Room
Child Care on Campus
Check out the Family Advocate brochure (PDF)!
Student Family Support is now available through the Return-to-Learn Program Manager, Megan Young – Email: megan.young5@montana.edu.
The Family Care Rooms are HERE!
Hamilton Hall 123 - There is a sign up sheet in this room. A reserved parking space is also available for room users.
Jabs Hall 440
3rd Floor Leon Johnson Hall
1st Floor SUB (right across from the Bookstore)
Reid Hall 316

Barnard 386
Download the Family Advocate Program Facilitator Guide (PDF)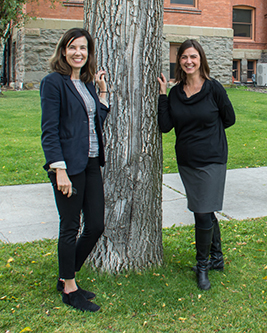 Faculty Job Candidate Family Advocates:
Bridget Kevane, Associate Dean, Letters & Sciences, Professor, Modern Languages & Literatures (left), and
Michelle Miley, Director, Writing Center, Assistant Professor, English (right)
Don't forget to check out the Work-Life Resource Guide! (PDF)
Looking for a Partner Accommodation? Download the worksheet here (Word doc)
Contact the Family Advocate for details:
Faculty Family Advocate: Sara Rushing
Associate Professor of Political Science
2140 Wilson Hall 994-5165