The primary function of the Office of Sponsored Programs, Proposal Services Program exists to serve all researchers at Montana State University so that they may be grant successful and advance on their career paths.
Under the direction of the Vice President for Research, the Office of Sponsored Programs has developed an informal research network, the MSU Research Network, comprised of programs on campus that share the mission of supporting faculty research by providing proposal development assistance, facilitation of research teams and research mentorship and training. Faculty may access expert service providers who will work with them to plan and complete a successful grant proposal submission. By removing administrative obstacles, clarifying expectations, and sharing the document workload, faculty may focus more time and energy on the primary research narrative. Faculty may choose one or multiple services depending on their particular needs.
Proposal Services Support Process
The following diagram shows the Proposal Services Support Process, which is also described in the following sections. Click on the diagram to see a larger version.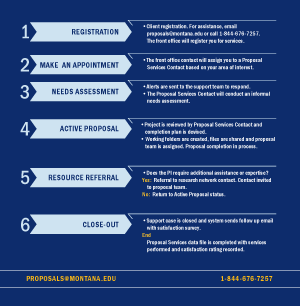 By accessing Proposal Services, faculty can expect to engage in part or all of the following process (click to expand):
Timeline and Responsibility Chart
Click on the image to see a larger version.
Available Services
Finding Funding for Research
Get familiar with funding databases on and off campus.
Receive help locating funding opportunities.
Networking: Mentors, Collaborators and the Proposal Team
Assemble a proposal team that will help develop your proposal.
Connect with mentors and collaborators.
Enroll in writing groups for peer review.
Planning Your Proposal Submission
Receive need-to-know information about agency and MSU requirements.
Map out a plan that accounts for all required proposal elements.
Structure working files and checklists with your Proposal Services contact.
Document Completion
Access an investigator toolkit with document templates and examples.
Receive help with forms and other background material such as the eProposal Clearance Form, SF-424 forms, budget and justification, data management plan, and facilities and resources.
Have your narrative pieces reviewed, formatted, and edited.
Proposal Submission
Receive assistance with submission including the final assembly of your proposal package.
Have your package reviewed for errors or missing elements before submission.
To Sign Up
To sign up for proposals services, contact: [email protected] or call 1-844-676-7257 (toll free) or 994-2381 (local).