2009 Boston Marathon
Monday, April 20, 2009
► 2009 Boston Marathon Diary (.pdf file)
Maher (#11647) at the 2009 Boston Marathon ( www.baa.org), from jimrhoades.com Boston 2009 photos (click to load full size images).
At mile 1 (that's me circled, still wearing a garbage bag poncho for warmth):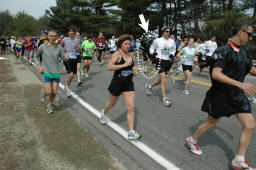 Halfway point: Mile 13.1:

Just past 19.2 miles (31km) at the first pitch of the "Heartbreak Hill" section . Sequence of four shots: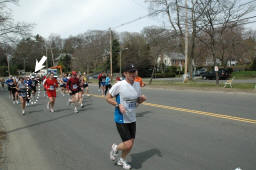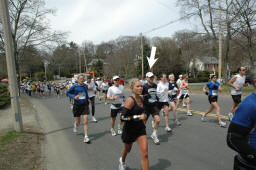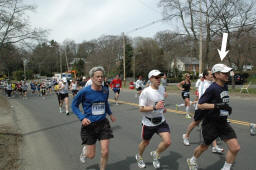 ---
2007 Boston Marathon
Monday, April 16, 2007
► 2007 Boston Marathon Diary (.pdf file)
Maher (#10827) at the 2007 Boston Marathon (yes, the wet, cold, and windy one!) www.baa.org, just after the 30km mark (18.5 miles).
NOTE: that's not my belly, I swear! I have two pairs of spare gloves and a wool headband in my jacket pockets! My finish time under the unfavorable conditions: 3h39m27s.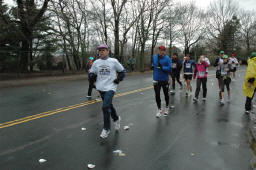 Photo by Jim Rhoades (http://jimrhoades.com/07/boston/30k/image1660.html )
Photos from marathonfoto.com:
| | | |
| --- | --- | --- |
| | | |
| Around mile 13... | Near mile 26... | Finish line! |