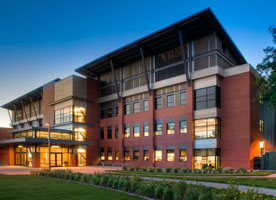 UIT's Instructional Technology Support team maintains the Registrar-controlled Smart Classrooms/Podiums on campus.
Hardware and Software
Smart Classrooms are generally equipped with the following items. Instructors are also encouraged to load their own choice of software.
Hardware
Software

Digital projector (ceiling mounted)
Display screen
Computer or laptop connection

Windows 7
Adobe Acrobat XI

MS Office 2010 minimum

MS Internet Explorer 11
Mozilla Firefox

Google Chrome

TechSmith Relay
VLC Media Player
Instructions & Training
The Podium Audio/Visual guide contains step-by-step operational instructions for using projectors, SmartPodium computers and/or making laptop connections. Individual training is available upon request and can be scheduled by contacting Instructional Technology Support team at 994-7266, or by sending an email to [email protected].
See Using WebEx in Smart Classrooms for information on how to use WebEx video conferencing in a smart classroom and other considerations.
Support
If you are experiencing issues while operating a SmartPodium, please call Instructional Technology Support (994-7266) for immediate assistance.
For questions regarding admin privileges, hardware and software installation requests or related issues please submit a helpdesk ticket by emailing [email protected].