Summer 2021 Tutoring Available
The MSU Writing Center has three undergraduate peer tutors and one graduate peer tutor available for 45 minute online appointments from May 10 through July 30. Appointments are available any day, except Saturdays and holidays. These appointments are limited and summer classes go fast, so sign up early! We're looking forward to working with you this summer!
Now Hiring Fall 2021 Tutors
The MSU Writing Center is now accepting applications from undergraduate students interested in joining our community as a peer writing tutor in Fall 2021. Please visit our employment opportunities page to learn more and apply.
The application deadline for Fall 2021 is Wednesday, April 7 by 5 p.m.
---
Midterms Are Here!
It's officially the middle of the Spring 2021 semester. You may be working on midterm assignments or you may be starting on final projects, but most students are finding that there's suddenly a little more work to do as we move into the second half of the semester.
The MSU Writing Center is here to support any writing you may be doing. Peer tutors are available to work one-on-one with MSU students in hour-long appointments either online or in-person in the Wilson Hall Writing Center. More information about how to make appointments can be found on our FAQ page.
If you have any questions, please email us at [email protected] or call (406) 994-5315. We're looking forward to working with you on the downward slope of Spring 2021!
---
MSU Writing Center National Day on Writing
Tuesday, October 20th marks National Day on Writing 2020, and we're inviting the MSU community to celebrate with us. We're always focused on writing around here—after all, it's our job—but on October 20th we'd like to draw your attention to writing, too.
With writing we can create new worlds and participate in conversations that span hundreds of years. Writing can keep us safe, make us feel loved, and help us get jobs. We can communicate ideas with writing, both simple and complex, and it can help us to organize our thoughts. It's really pretty amazing when you stop to think about it.
So, stop for a moment and think about it: Why do you write?
Follow us on Instagram, Facebook, or Twitter and share your answer to this question with us. We'll be following #whyIwrite and #msuwrites all day, and we'd love to hear from you.
We also encourage you to make an online or face-to-face appointment with one of our undergraduate peer writing tutors. If you're a graduate student, you may also make an appointment to work online with Erin Strickland, our Graduate Program Coordinator. All appointments can be made by clicking the "Schedule a Session" button on the top left side of this page.
If you enjoy writing and talking about writing, please consider applying to work as a peer tutor with us in Spring 2021. We're currently accepting applications until Oct. 28 at 5 p.m. Or, if you know someone who you think would make a great tutor, encourage them to apply. Visit our employment page for more information.
Finally, to celebrate National Day on Writing, sit down and do some writing! Find a friend and write together! Write alone! Share your writing! Write just for yourself! Write because your assignment is due today!
---
Integrating Writing into STEM Teaching Grants Program
2020-2021 Call for Proposals
The MSU Writing Center with funding from a private donor welcomes additional proposals for the Integrating Writing into STEM Teaching Grants Program, Spring 2021. To learn more about this opportunity, please see our Integrating Writing into STEM Grants CFP.
---
Second Annual WAMSU Showcase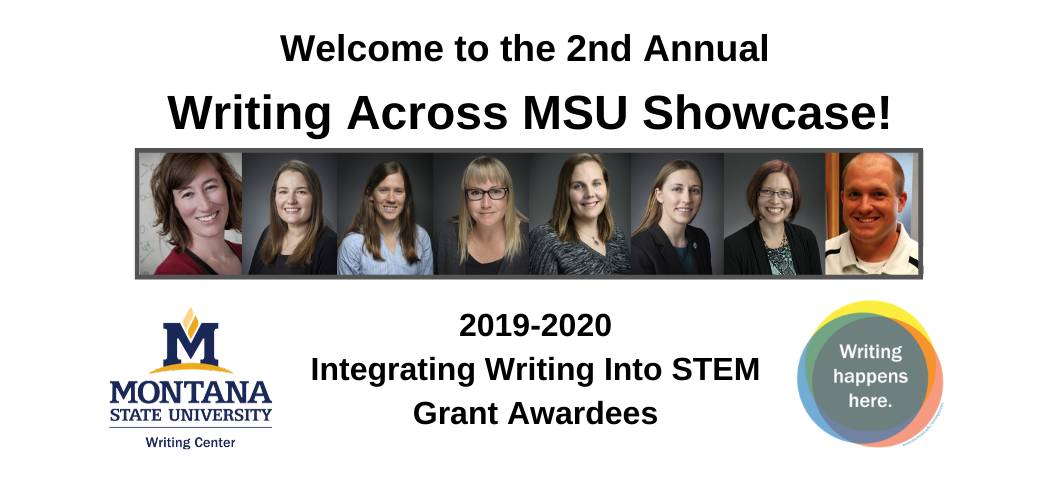 The Writing Across MSU Showcase brings together diverse faculty to share and celebrate the work of the recipients of the 2019-2020 Integrating Writing into STEM Grant awards that were made possible by a generous donation from Ann Jackson and Ken Wilson.
Over the past year, we have studied the teaching of writing across disciplines, discussed our common and divergent purposes for writing, shared experiences about integrating writing into our curricula, and partnered together to develop what we believe are meaningful writing experiences. Bringing expertise from Chemical, Industrial, and Environmental Engineering, as well as, Microbiology, Statistics, Animal and Range Sciences, awardees will describe their motivations in seeking partnership with the Writing Center, their goals for integrating writing into their courses, and their processes for doing so.
Due to the Covid-19 pandemic, we're showcasing this year's faculty partners online. Please visit our WAMSU Showcase page.
The showcase gives you an opportunity to learn more about how you might partner with the Writing Center to integrate writing into your curricula through next year's Integrating Writing into STEM and Integrating Writing Across MSU grant programs.
Please direct questions to Michelle Miley at [email protected] or Aaron Yost at [email protected].
---
MSU Writing Center in the News