Stephanie Wettstein & Jennifer Brown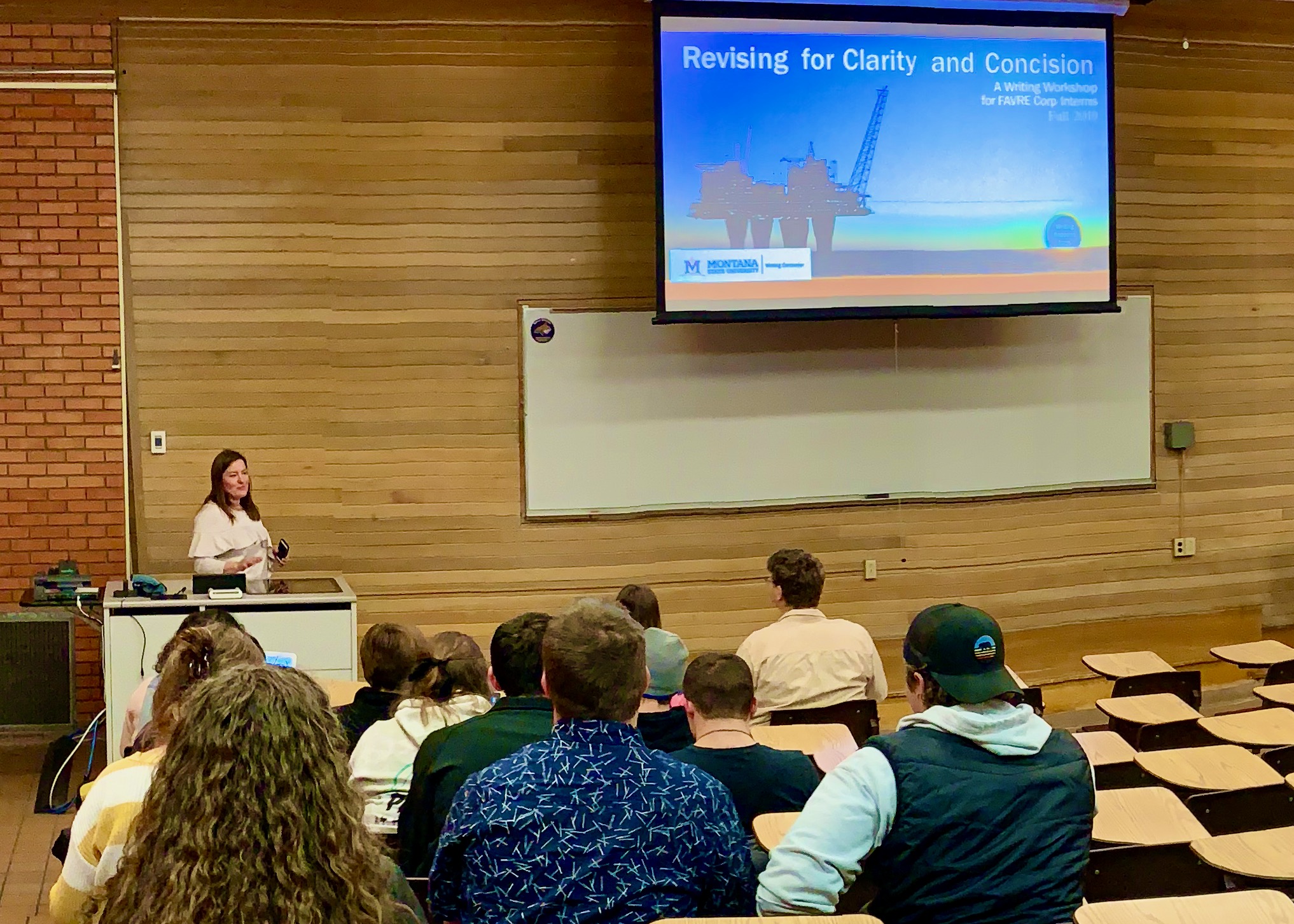 Improving Report Writing in Chemical and Biological Engineering
For Drs. Stephanie Wettstein and Jennifer Brown, both associate professors in the Chemical Engineering Department, the two senior-level Chemical Engineering Unit Operations laboratory courses (ECHM442-443) were the perfect site to imagine improvements to the way writing was integrated into their program. The lab series enrolls almost 100 students in consecutive semesters each year, and effective communication is the primary learning outcome of the course sequence.
They knew they needed to integrate more effective technical writing assignments into the course design in order to better meet the Accreditation Board for Engineering and Technology (ABET) assessment and course learning outcomes. More importantly, they wanted their students to be better prepared for the communication demands of their careers.
Students were offered extra credit throughout the fall semester to book sessions with Writing Center tutors as a group to clarify the purposes of their experimental plans and seek feedback on the effectiveness and execution of their experimental reports. In the spring, individuals were required to book at least one session with a Writing Center tutor, who offered them tools for giving and receiving effective feedback and facilitated a peer review. Many groups and individuals scheduled repeat sessions after the initial required visit.
We in the Writing Center have learned immensely from our partnership with Drs. Wettstein and Brown. We asked them to reflect on their experience and have included their answers to our questions below.
Writing Center: What motivated you to integrate writing into your STEM course?
Stephanie Wettstein: I wanted to better understand what [the Writing Center] offered. In the fall of the year I offered extra credit, someone from the Writing Center came in, and I felt like I was only scratching the surface of what there is to be offered. In the end, it was partly to benefit me in the sense of understanding what kind of resources [the Writing Center] had.
Jennifer Brown: The course is a senior level required laboratory course with a primary objective to improve communication skills in chemical engineers. We felt the course was not serving our students as well as it could, especially since they were soon to enter the workforce. We wanted their writing and communication skills to be directly relevant to skills they would need in their careers. As faculty in engineering, however, our training is not in teaching or assessing writing. Collaboration with the Writing Center was an ideal way to help us effectively integrate writing skills into the course.
WC: Describe the writing assignment/experience you designed for your class.
SW: We have to write reports. That's what all chemical engineers have to do in [graduate] programs and undergrad. I thought, "but why?" Industry doesn't want a fifteen-page report, so let's start thinking about having very targeted reasons for why we're doing what we're doing. The one thing I felt [I gained from our faculty workshops that] was really useful was the realization of "why are you having them do this?"
JB: Effective communication is a primary outcome of the course, so there are several writing assignments. In this laboratory-based course, the students are expected to design experiments, collect data, analyze data, and draw conclusions. To mirror their future professional lives, we created a scenario where the students are employees at a consulting company and each experiment is a project for a client. After designing an experiment, the students are required to write and orally present a proposal, explaining their design to their supervisor and asking for approval to move forward. Once approved, they run the experiment and write a technical report. With these assignments, they have to be aware of the purpose of the writing and write to the correct audience. After reflection on what we as instructors valued in the writing (what we wanted the students to learn), the rubrics were completely revised. We created rubric categories and point distributions to reflect the values of clarity, concision, accuracy and precision in technical writing as well as an ability to identify relevant information. In addition, several homework assignments, tied to workshops facilitated by the Writing Center, were designed to further develop the valued skills.
WC: Why did you decide on that particular writing experience?
JB: Due to the nature of the laboratory-based required engineering course and the associated learning outcomes, the technical report is a required component. However, the course structure and format of the report had not been updated in over twenty years. In addition, as instructors we had traditionally focused on teaching the students how to design and run the experiment rather than how to effectively communicate. We wanted to redesign the writing assignments to be more effective and improve how we taught and assessed writing in order to better meet our learning outcomes of improving communication skills.
WC: What have you learned about integrating writing into your curriculum from this experience?
SW: For me, I've changed the focus to teaching [the students] to write so they are better set for industry and future careers. Writing has always been integrated into this class, but I wanted to focus on purposeful writing.
JB: Through the collaboration with the Writing Center, I have been able to identify what I truly want my students to learn with respect to technical writing, i.e. what I value in communication and what skills will be valuable in their careers. With the Writing Center's support, I feel better equipped to effectively teach these valued skills and assess based on these values.
WC: What else should faculty know about your experience?
SW: The year I got involved in the Writing Center, I realized I was never trained in writing, so we should send [our students] to someone who is trained in writing. I felt like that's where I thought, "Okay, how do I sell this idea or how I am thinking about writing?" That's where this grant, Integrating Writing into STEM, really helped me out.
JB: This was a great opportunity for interdisciplinary collaboration. I learned a lot about technical writing and my own writing process through this experience. I feel that what I've learned will be relevant beyond an individual undergraduate course. I see applications not just in my teaching but also in activities around scholarship and graduate education.