Thank you for joining us in celebrating our 125th anniversary at the Bobcat Birthday Bash. Here's to another 125 years of empowering people and transforming the world at Montana State University.
---
Schedule of Events
Friday, February 16 - 12pm to 10pm
Activities

Time

Location

Opening Prayer Ceremony and Welcome at the Future Site of the American Indian Student Center

12pm-1pm

Hannon Lawn

Open Skate

12pm-10pm

Hannon Ice Rink

Open Ski

12pm-6pm

Dobbie Lambert Fields

The Past, Present and Future of Computing panel discussion

12:15pm-1:45pm

Procrastinator Theatre - SUB

Abraham Lincoln Statue Unveiling

2pm

SUB North Entrance
*Reception following in Leigh Lounge

Big Sky Tuner Track & Field Meet

3:30pm
Brick Breeden Fieldhouse

Awards for Excellence

(Invitation Only)
5pm-7pm
SUB Ballrooms
125th Opening Ceremony & Fireworks
7pm
Spirit Plaza
Ferris Wheel
7:30pm-10pm
Centennial Mall - West

Wagon Rides by Yankee Creek Carriage

7:30pm-10pm
Centennial Mall
Attraction

Time

Location

Snow Globe Photo Booth
12pm-10pm
Montana Hall - Southeast
Community Food Trucks:


Fork in the Road, Chef's Table,

Sauce, Grill 406, Thai Basil
12pm-10pm
Centennial Mall
Hospitality Tents: food, drink
12pm-10pm
Centennial Mall, Spirit Plaza
MSU Bookstore Tent
12pm-10pm
Centennial Mall
Live Music

12pm-1:45pm

3pm-6:45pm

Hamilton Lawn
Music DJ
8pm-10pm
Hannon Lawn
Bobcat Beverage Tent
8pm-10pm
Centennial Mall
Saturday, February 17 - 10am to 8pm
| | | |
| --- | --- | --- |
| Activities | Time | Location |
| Curling | 10am-10:45am | Hannon Ice Rink |
| Costume Cross Country Ski Race (1K) | 10am-11am | Lambert Fields |
| Coffee, Cocoa, Cookies | 10am | Outdoor Rec Building |
| Human Bowling | 10:45am-11:30am | Hannon Ice Rink |
| Fat Tire Bike Races | 11am-12pm | Lambert Fields |
| Figure Skating Demonstration | 11:30am-12pm | Hannon Ice Rink |
| MSU Club Hockey Alumni Game | 12pm-1pm | Hannon Ice Rink |
| Open Skate | 1pm-6pm | Hannon Ice Rink |
| Tailgate Games | 12pm-6pm | Hamilton Lawn |
| Ski Demos/Lessons | 12pm-6pm | Lambert Fields |
| Fat Bike Demos/Lessons | 12pm-6pm | Lambert Fields |
Live Music Provided by Student Groups -
Hamilton Hall Lawn

Set Time

Featured Instruments

Emma & Samantha

10am-11am

Guitar, Mandolin

Cooper Tedford

11:15am-12:15pm

Guitar, FX Board

Samuel Buenrostro

12:30pm-1:30pm

Guitar

SwingCats

1:35pm-2pm

Wind & the Willows

2:15pm-3:15pm

Guitar, Banjo, Mandolin, Trumpet

Jacob Rountree

3:30pm-4:30pm

Guitar, FX Board

Marty Anderson

4:35pm-5pm

Guitar

PermaFunk

5:05pm-6pm

Guitar, Bass, Vocal, Drum, Congas, Keyboard,

Flute, Saxophone, Trumpet
Club Demos - Centennial Mall

Time

Thrive on Plants & Sustainability Now - Sample smoothies mixed on a blender bicycle
10am-12pm
Big Sky Timber Sports - Wood cutting demonstrations
12pm-2pm
Tactical Action Gaming (Humans vs. Zombies) - Observe practice drills that will engage
the public in a game of tag. Who will be the humans and who will be the zombies?!
2pm-3pm
European Martial Arts - Showcase fighting styles from the 1300s-1700s. Spectator sport only!
3pm-4pm
Attraction

Time

Location

Innovation Road Show: 10-minute Faculty Lectures
10am-8pm
SUB Ballroom A
Free Bowling & Billiards
10am-Midnight
SUB Rec Center

Wagon Rides by Yankee Creek Carriage

11am-4pm
Centennial Mall
Champ's Birthday Party
Wear your Cat colors for $5 admission! Free for Champ's Kids Club
members. Includes ticket to basketball game.
1pm - 2pm
Brick Breeden Fieldhouse -
Westside Bleachers
MSU Women's Basketball v. Eastern Washington University
2pm
Brick Breeden Fieldhouse
125th Special Dinner - Meal tickets may be purchased at the door for $12
4:30pm-7pm
Miller Dining Commons
Stoneback Sisters Trumpets - $5 students/$10 non-students
7:30pm
Willson Auditorium
Undergraduate Scholars Poster Show
10am-6pm
Leigh Lounge - SUB
Graduate Scholars Poster Galleria
10am-6pm
SUB Ballroom C
ArtCade - Vending machine featuring student artwork

10am-8pm

Outside of Admissions Office
(SUB 201)
Live Music Performed by Student Groups
10am-6pm
Hamilton Hall Lawn
Ferris Wheel
10am-6pm
Centennial Mall - West
Community Food Trucks:


Fork in the Road, Chef's Table,

Sauce, Grill 406, Pad Thai

10am-6pm
Centennial Mall
Snow Globe Photo Booth
10am-6pm
Montana Hall - South
Guest Services Tent
10am-6pm
Outside of Renne Library
Refreshments
10am-8pm

SUB Ballroom B
Ongoing Exhibits
| | | |
| --- | --- | --- |
| Exhibits | Date | Location |
| 125th Anniversary Poster Exhibit | February 5-23 | Exit Gallery - SUB |
| 125 Years on the Hill: Celebrating Montana State University | February-December 2018 | Museum of the Rockies |
Venue Map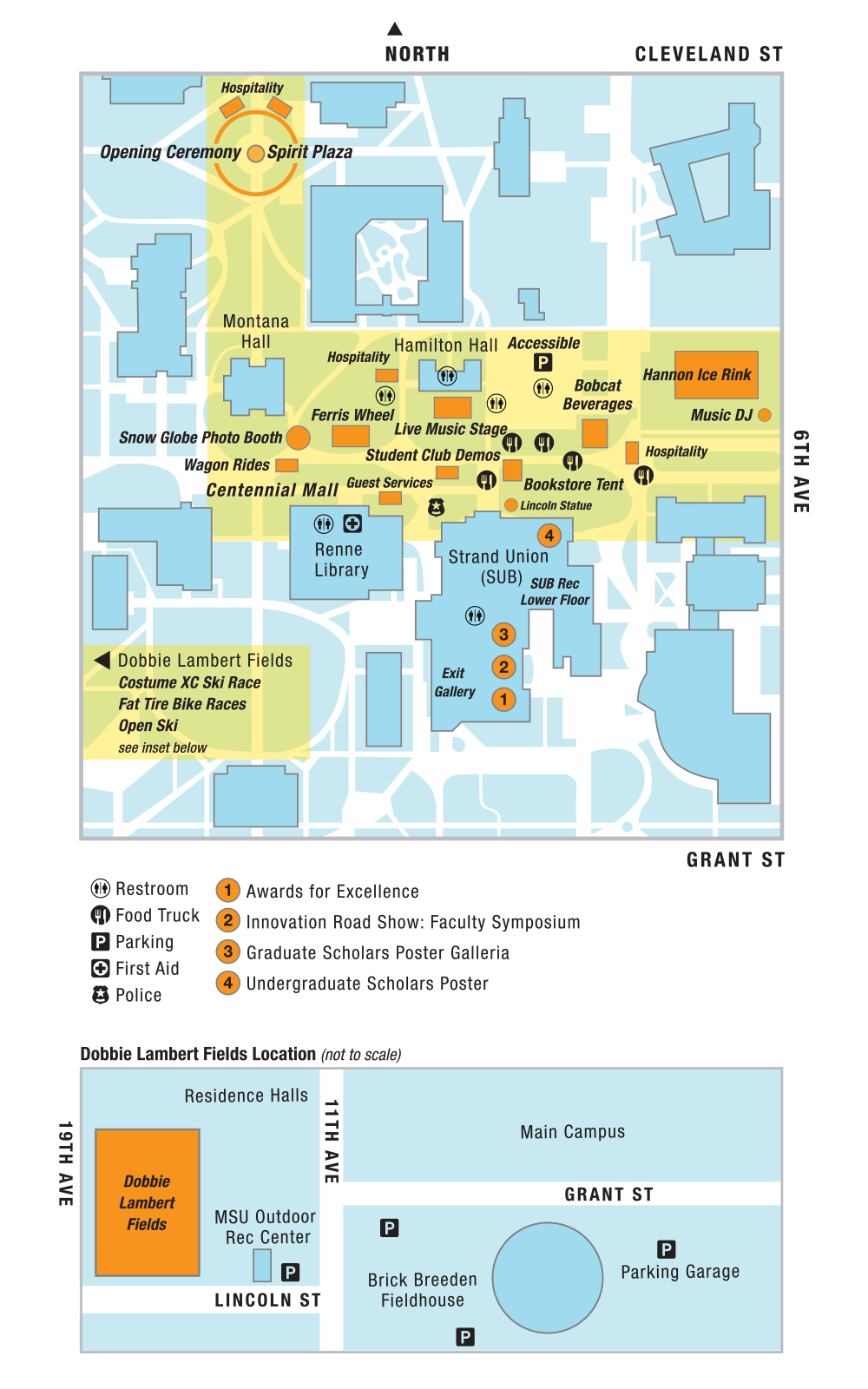 Parking
Parking will be available for free February 16-17 in campus lots labeled S/B, E, F. We recommend parking in the South Fieldhouse lot and parking garage.
Guests needing accessible parking, use the Hamilton lot - enter from Cleveland and 7th.
No parking allowed in service drives or reserved spots.