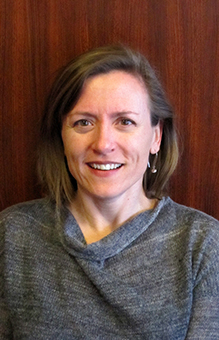 Dr. Graham Austin
Associate Professor of Marketing


Office: 248 Jabs Hall
Email: gaustin@montana.edu
Phone: (406) 994-6193
Courses:
BMKT 325 - Principles of Marketing
BMKT 337 - Consumer Behavior
BMKT 491 - Special Topics: Farm to Market
In the News:
MSU Faculty Win $86,000 Grant to Continue Interdisciplinary 'Farm to Market' Course
MSU Research Team to Produce Documentary About State's Microbreweries
2014 TEDxBozeman presentation

Research Interests
Transformative consumer research
Consumer culture theory
Human-centered design
Strategic empathy
Expertise & Service
Qualitative data collection and analyses
Interdisciplinary research collaborations
Chair, MSU Women's Faculty Caucus, 2012-2014
Member, President's Commission on Status of University Women, 2013-2015
Bio
Graham Austin's research centers on consumer perceptions and emerging strategic marketing paradigms. She is particularly interested in people's use of consumption—and non-consumption—as a means of communication. She focuses on how consumers deliberately use consumption in order to pursue higher-order personal and community goals. As such, she has studied consumer perceptions of gift cards vs. gifts, Montana's craft brewing industry, and the barefoot-running movement.

Dr. Austin has recently worked on interdisciplinary research collaborations related to suicide prevention and intervention in Montana, farm-to-table innovations, and mobile user-centered technologies to help manage Type 1 diabetes.
Google Scholar profile: https://scholar.google.com/citations?user=xGZKKRcAAAAJ&hl=en
ResearchGate profile: https://www.researchgate.net/profile/Caroline_Austin4
Selected Publications
"50 Shades of Grey: Consumers and Conceptual Compromise," co-authored with Justin Wilder Angle, Advances in Consumer Research, Vol. 42. (2014)
"Using Social Media to Cultivate Positive Community Norms," co-authored with Jeff Linkenbach, Sarah Keller, and Jay Otto, Organizations and Social Networking: Utilizing Social CRM to Engage Consumers, Eldon Y. Li, Stanley Loh, Cain Evans and Fabiana Lorenzi, eds. (2013)
"First Choice? Last Resort? Social Risks and Gift Card Selection," co-authored with Lei Huang, Journal of Marketing Theory and Practice, Vol. 20 (3). (2012)
Video Ethnographies:
"The Runners' (R)evolution," Association for Consumer Research, North American Annual Conference, Chicago. https://vimeo.com/76075155 (2013)
Awards
Thomas Nopper Excellence in Teaching Award, 2015
Joe and Sharlene Loendorf Excellent in Teaching Award, 2013
Nominee, MSU President's Excellence in Teaching Award, 2012
Nominee, MSU Teaching Innovation Award, 2012
Education
Ph.D., Marketing, University of Georgia, Athens, GA, 2008

M.A., American Studies, University of Notre Dame, Notre Dame, IN, 1996
B.A., History, Mercer University, Macon, GA, 1994