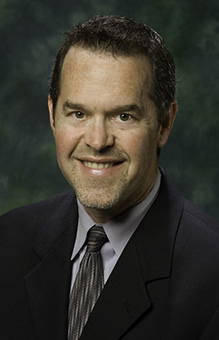 Dr. Eric Van Steenburg
Assistant Professor of Marketing


Office: 238 Jabs Hall
Email: eric.vansteenburg@montana.edu
Phone: (406) 994-2090
Courses:
BMKT 325 - Principles of Marketing
BMKT 343 - Integrated Marketing Communications


In the News:
Marketing professor wins first place in research proposal competition
Research Interests
Nonprofit marketing
Political marketing
Persuasive communications
Brands
Expertise & Service
Faculty Advisor: American Marketing Association (student chapter) at Montana State University
Editorial review board: Journal of Product & Brand Management
National executive committee vice president: Mu Kappa Tau marketing honors society
Bio
Dr. Eric Van Steenburg's research interests center on cause marketing. By focusing on the effects of various messages, he hopes to offer practical applications for nonprofit, social and political marketing practitioners who rely on messaging to drive fundraising, compliance, public policy, and volunteerism. Prior to joining the faculty at Montana State University in 2015, Dr. Van Steenburg was a visiting professor at James Madison University, and an adjunct lecturer at Southern Methodist University. Before embarking on a career in academia, Van Steenburg spent 20 years in corporate, agency and nonprofit environments leading strategic planning and integrated marketing communications to support business objectives and brands.


Google Scholar profile: https://scholar.google.com/citations?hl=en&user=D9ZCDbQAAAAJ&view_op=list_works&sortby=pubdate
ResearchGate profile: https://www.researchgate.net/profile/Eric_Van_Steenburg
Selected Publications
"When Partnership Benefits Mitigate Power Asymmetry," co-authored with Kirsten Cowan and Audhesh K. Paswan, Industrial Marketing Management, 48, 140-148. (2015)
"Self Referencing and Political Candidate Brands: A Congruency Perspective," co-authored with Francisco Guzmán and Audhesh K. Paswan Journal of Political Marketing, 14 (1/2), 175-199. (2014)


"Point of Purchase or Point of Frustration? Consumer Frustration Tendencies and Response in a Retail Setting," co-authored with Nancy Spears and Robert O. Fabrize, Journal of Consumer Behaviour, 12 (5), 389-400. (2013)


"Consumer Recall of Brand Versus Product Banner Ads," Journal of Product & Brand Management, 21 (6), 452-464. (2012)
Awards
AMA Sheth Foundation Doctoral Consortium Selection, 2012
SMA Doctoral Consortium Fellow, 2012
Special Recognition for Exemplary Service to Parks & the Community by the Mayor, City of Dallas, Texas, 2009
Special Recognition for Dedication & Beautification by City of Dallas Council, 2009
Center for Nonprofit Management, Excellence in Communications in Honor of Robert Miller, 2007
Education
Ph.D., Marketing, minor in Communications, University of North Texas, Denton, TX, 2013

M.A., Humanities, concentration in Marketing Communications, The University of Texas at Dallas, Dallas, TX, 2006
B.A., History and Bachelor of Journalism, The University of Texas at Austin, Austin, TX, 1988
Favorite Links
What kind of coffee do you like? Probably a dark, hearty roast. Right? Wrong. Malcolm Gladwell's TED talk on "Choice, happiness and spaghetti sauce" is one of my favorites to show when I discuss Consumer Behavior because it touches on something that everyone can relate to … what it's like to enjoy a good meal (or a cup of weak, milky coffee). https://www.ted.com/talks/malcolm_gladwell_on_spaghetti_sauce?language=en
To really get a sense of how marketing communications can support a brand, watch Seth Godin's TED talk on "How to get your ideas to spread." This is also the subject I like to teach and research. https://www.ted.com/talks/seth_godin_on_sliced_bread
I truly enjoy teaching Integrated Marketing Communications, and particularly like giving the lecture on Theories & Frameworks. Sounds dull? Well, check out this sample I show in class of how marcom professionals use emotions to get you to like aproduct. https://www.youtube.com/watch?v=TeKzE1mahNs