MSU 2018 Convocation | What IS the Right Thing to Do?
Tickets
Convocation is free and open to the public, however members of the community must obtain a ticket through one of the ticket outlets listed. Members of the new freshmen class do not need tickets. Tickets are available beginning June 11 through all Bobcat Ticket outlets including:
Event Information
Handicapped accessible
Thursday, Aug. 23, 2018
7:30 p.m.
Doors open at 6:30pm
Brick Breeden Fieldhouse
Summary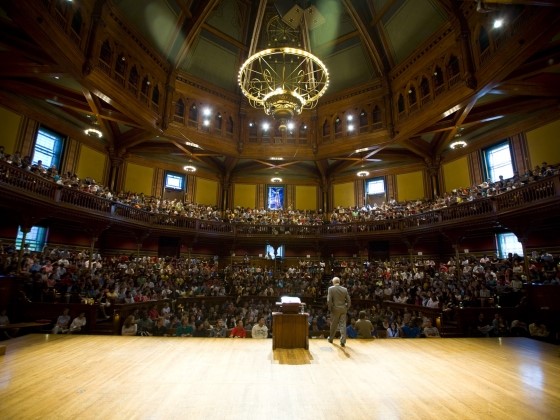 "Rock star" Harvard professor Michael Sandel is known for involving members of the audience in his lectures, even in large crowds. Sandel will lead a highly interactive lecture, "What IS the Right Thing to Do?" at Montana State University's 2018 Convocation set for 7:30 p.m. Thursday, Aug. 23, in the Brick Breeden Fieldhouse. His lecture is free and open to the public, but advance tickets are required. They will be available June 11. Sandel photo used with permission.
A riveting speaker who teaches one of the most popular courses at Harvard University will speak about justice and contemporary moral dilemmas at Montana State University's 2018 Convocation at 7:30 p.m. Thursday, Aug. 23.


One of Foreign Policy's Top 100 Global Thinkers, Sandel has been described as the "most relevant living philosopher." Newsweek called him a "rock-star moralist" and New Republic called him "the most famous teacher of philosophy in the world."
Sandel's writings — on justice, ethics, democracy and markets — have been translated into 27 languages. His popular course "Justice" is the first Harvard course to be made freely available online and on television. It has been viewed by tens of millions of people around the world, including in China, where Sandel was named the "most influential foreign figure of the year" by Chinese Newsweek. A master at bringing the Socratic method to contemporary issues, Sandel's TED talks about "What's the Right Thing to Do?," "The Lost Art of Democratic Debate," and "We Shouldn't Trust Markets with our Civic Life" have had millions of views.
Sandel is also an author of several bestselling books. Among them are "What Money Can't Buy: The Moral Limits of Markets" and "Justice: What's the Right Thing to Do?" The latter book has sold more than 2 million copies worldwide. "Justice" will be MSU's 2018 book for first year students.
A pioneer in the use of new technology to promote global public discourse, Sandel is featured in the BBC series "The Global Philosopher" leading video-linked discussions with participants from more than 30 countries on issues such as immigration and climate change.
Common Reading
In preparation for Montana State University's 2018 convocation, students will read "Justice: What's the Right Thing to Do?"
Master Class
The Master Class with Michael Sandel will allow students the opportunity to interact with this incredible speaker and author in a more personalized, smaller group setting. All students are welcome to participate in the class. Click here for the application link. Deadline for the aplication is Friday, August 17 at 5:00 PM. The Convocation Master Class will take place on Thursday, August 23rd from 3:00-4:00 PM. Students are asked to read "Justice: What's the Right Thing to Do?" by Mr. Sandel in preparation for a lively discussion in the class.
Convocation Guide
Explore information about Michael Sandel and the common read "Justice: What's the Right Thing to Do?" on the MSU Library 2018 Convocation page.
Freshmen
Members of MSU's incoming freshman class have reserved seats and will not need tickets to attend the event.
More Information
For more information, please contact:
Provost Robert Mokwa
Executive Vice President for Academic Affairs and Provost
406-994-4371
julia.tietz@montana.edu
Disabled students wishing to request an accommodation may contact 406-994-2824.


View Convocations: 2017 | 2016 |2015 | 2014 | 2013 | 2012 | 2011 | 2010 | 2009 | 2008 | 2007