2012 Everest Education Expedition
50th Anniversary of the First American Ascent
Montana State University
Everest Research Program: Seafloor to Summit
Scientific research on the geology of Mount Everest will be a significant component of the 2012 MSU expedition, as it was with the first American expedition to Everest in 1963 and all major expeditions before that. Mount Everest is a hostile environment to say the least, and the ability to conduct field work and collect samples is hampered by extremes in elevation, topography and weather. As stated by one highly respected and well-published Everest researcher (Searle, 1999), "For obvious reasons of extreme inaccessibility and danger, most of the rocks on Everest itself above 6000 m have not yet been directly studied…" Indeed, many of the outcrops of interest are in the so-called "death zone" above 25,000 feet (∼7,600 m). Therefore, although previous research in the Everest region has greatly advanced our knowledge of this complex area, much remains to be done.
Mount Everest is an extremely complicated mountain with several major faults that dissect it, tectonically juxtaposed rock successions of dissimilar age (some rock ages are unknown or weakly-constrained), and abrupt vertical changes in metamorphic grade and penetrative strain. It is anything but a simple "stack" of similar or identical rocks. Therefore, the research agenda for 2012 will be directed towards gaining a better idea of the mineral composition, strain and age of rocks that comprise the four-mountain Everest massif (Everest-Nuptse-Lhotse-Khumbutse). This will include collecting a suite of samples to better date and describe the fossil-bearing marine limestones that form the summit pyramid of Everest; studying the major faults that cut through Mount Everest to better understand how and when they formed (in particular, the Qomolangma and Lhotse detachment faults); and, hopefully, measuring a new GPS-based elevation of the summit of Mount Everest with the most modern and accurate equipment available from Trimble.
Specific research objectives include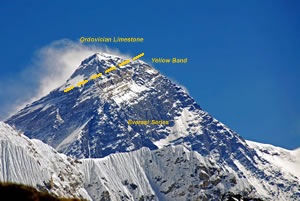 Mount Everest showing the summit pyramid (Ordovician limestone) above the distinctive "Yellow Band" (above the dashed yellow line). Everest Series pelites and quartzites comprise of the bulk of the mountain below the Yellow Band, of uncertain age (Cambrian?)..
The top of Mount Everest is composed of fossil-bearing marine limestone (Mount Qomolangma Formation, the ancient seafloor of the Paleozoic Tethys Ocean) that is believed to be lower to middle Ordovician in age based on a very limited number of "summit grab-samples" from climbers over the years. Published descriptions of rocks from the summit pyramid of Everest vary to some degree, as to be expected given the random nature of grab-sampling and the overall limited number of samples available to geologists. Therefore, many more samples are needed across the entire summit pyramid to confirm this age and assess the lithology, fossil content, depositional environments, and degree of subsequent tectonic-diagenesis, metamorphism and internal strain.
Refine what is known about the overall stratigraphy of Mount Everest ("Tethyan" sedimentary rocks), including the limestone that forms the summit pyramid and the bulk of the mountain from beneath the summit pyramid down to the high-grade metamorphic rocks that form the Greater Himalayan sequence near its base; these low-grade pelites and quartzites (named the Everest Series or North Col Formation) are believed to be Cambrian(?), but more work is needed to refine the age(s) of these rocks and understand their origin and metamorphic/tectonic history.
Attempt to sample across the Qomolangma detachment fault on the West and Southeast Ridges of Everest, if possible; this fault is a major structural element of the Greater Himalaya and, together with the Lhotse detachment fault lower on the mountain, holds the key to the tectonic denudation history of the Greater Himalaya (i.e., South Tibetan Detachment System).
A new geologic/structural map of Mount Everest is being compiled using previously published maps, high-resolution photography, and Google Earth Pro images, with new field mapping planned for the 2012 expedition; of particular interest are the major fracture networks that span the massif, some forming major couloirs, and how they structurally relate to the major detachment faults on Everest.
Reconnaissance of the lower Khumbu Glacier for possible hazards associated with rapid ice recession, as well as impacts of ice recession throughout the Khumbu region on downstream water resources.
Assessing impacts of climate change in the High Himalaya through repeat photography of glacier recession:

Extreme Ice Survey: changing camera equipment & general, on-site maintenance of each station (Conrad Anker and Jim Balog, in charge);
Repeat photography from stations occupied in 1963 by Barry Bishop, a member of the ′63 American Mount Everest Expedition (Bishop went on to be Director of Research for National Geographic)

Compilation of a "geologic field guide for trekkers" from Lukla to Namche Bazaar, Pangboche, Dingboche, Lobuche, Gorak Shep and Everest Base Camp.
Lastly, we are very interested in the "tectonic geomorphology" of the Everest region and Greater Himalaya, as related to long-term climate patterns across the Himalaya, regional uplift and patterns of erosion, and links to tectonic models of mid-crustal channel flow extrusion. Seeing the overall, regional geomorphology first-hand from vantage points near the Everest massif will help define questions and objectives for further research.
Obviously, the above list of research objectives is very aggressive and highly optimistic. Several factors could limit our success with any or all of these objectives. However, we have structured the research objectives to include a mix of studies that can be easily done at lower elevations, with more difficult tasks that can only be done high on the massif. Therefore, there is no doubt that results will be forthcoming from at least some of the research objectives listed above.
Dr. David R. Lageson
Professor of Geology
Department of Earth Sciences
Montana State University
[email protected]