Location and office hours
Location
Montana State University
P.O. Box 172260
400 Culbertson Hall
Bozeman, MT 59717-2260
Tel: (406) 994-4031
Fax: (406) 994-1619
international@montana.edu
General office hours:

The Office of International Programs (OIP) serves as the primary campus contact for international students and scholars. Our professional staff is eager to be of assistance, and we encourage use of this website for information on a wide variety of topics.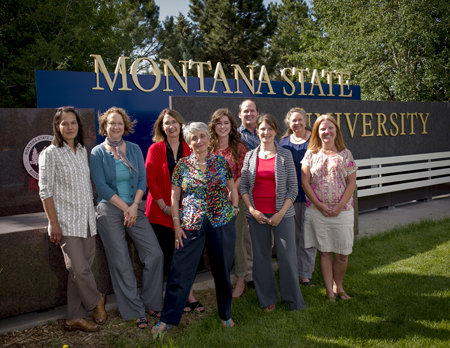 From left to right: May Heriza, Debre De Bode, Susan Reisch, Nathalie Caillaud, Heather Dolan, Brent Leavell, Geraldine Govaerts, Sally O'Neill, Deborah Chiolero (photo: Kelly Gorham)
OIP assists prospective international students with the application process, visa guidance, housing and arrival information. Arrival services include free airport pick-up and a comprehensive orientation program for students. OIP provides visa application documents, pre-arrival information, and an individualized orientation for students and scholars to help assure a smooth adjustment to life at MSU.
Soon you'll be at Montana State University!
We're looking forward to welcoming you to MSU.
Before you come there are several important steps to take for a smooth transition.
Important dates:
Fall 2014 International Student Orientation (MANDATORY—MUST ATTEND)
Monday, August 18th from 8:30 am to 4:00 PM (MSU SUB Ballrooms)
8.30am Check-in in Strand Union Ballroom B&C - breakfast provided.
International student orientation will continue throughout the day until approximately 4pm.
Detailed schedules will be given to each student on Monday, August 18.
Noon Lunch in Strand Union – Union Market- courtesy of OIP.
Orientation programming for new students at the A.C.E. Language Institute, for new undergraduate and graduate students will continue throughout the week.
Classes begin on Monday, August 25.

See you at Orientation!
Information for Incoming Exchange Students
We hope to help you enjoy yourself and benefit from your experience in Montana. We welcome you to contact us at any time!