Engagement is the collaboration between MSU and its local, state, national and global communities for the mutually beneficial exchange of knowledge and resources in a context of partnership and reciprocity (Carnegie Foundation, 2006). Engagement, a form of scholarship that bridges teaching, research and service, brings the university's intellectual resources to bear on societal needs (Association of Public and Land Grant University's Council on Engagement and Outreach).
Goal: Members of the Montana State University community will be leaders, scholars and engaged citizens of their local, national and global communities, working together with community partners to exchange and apply knowledge and resources to improve the human prospect.
Objective E.1: Strategically increase service, outreach and engagement at MSU.
Objective E.2: MSU graduates will have global and multicultural understanding and experiences.
Objective E.3: MSU students, faculty and staff will have increased opportunities for leadership development.
Strategies
Emphasize engagement and outreach in faculty hiring and development
Provide training and professional development opportunities for service learning and engagement
Seed promising engagement projects with institutional funding and learn from ongoing successes in Extension, Museum of the Rockies, Office of Student Engagement and other engagement efforts
Seek out community-defined needs by inviting partners and neighbors to the planning process
Build academic programs that serve the demonstrated needs of Montanans with quality instruction and innovative delivery methods
Expand and improve international curricular and co-curricular opportunities for faculty and students
Underpin leadership and cultural development experiences in curricular, co-curricular and extra-curricular venues
Budget Alignment
(2017-18 investments unless otherwise noted):
Annual expenditures in Extension over $6 million for translational instruction and research for all 56 Montana counties and seven Indian reservations
$1.3 million in new faculty lines (also noted in Learning and Discovery)
Base funding allocated for $20,000 in annual seed grants allocated by the Outreach and Engagement Council for engagement projects proposed by faculty and students, and additional $10,000 annual investment to institutionalize engagement activities
$60,000 increase in international recruiting budget committed for FY19 (also noted in Access)
$70,000 committed in FY19 to develop co-curricular transcripts/e-portfolios to document and assess student engagement activities and learning outcomes outside the classroom (also noted in Integration)
Base budget of $125,000 and reorganization of the Leadership Fellows program to underpin student leadership development
Fifty MSU leaders – faculty, staff and students – invest three days annually to travel across the state listening to and learning from our stakeholders
Successes
Engaging Entrepreneurship and Engineering
Annually, students in The Jake Jabs College of Business and Entrepreneurship and the Norm Asbjornson College of
Students in The Jake Jabs College of Business and Entrepreneurship and the Norm Asbjornson College of Engineering devote a semester or year to creating business plans, processes and equipment for Montana companies and non-profit organizations. MSU Photo by Adrian Sanchez-Gonzalez
Engineering devote a semester or year to creating business plans, processes and equipment for Montana companies and non-profit organizations. The Engineering Design Fair showcases a requirement to earning most degrees in Engineering, in which seniors complete "capstone" projects working in teams to find solutions to real-world engineering challenges, for instance designing a machine to feed plastic bags into filling equipment at Wheat Montana. Business students work on projects like developing business, marketing and financial plans, identifying ways to improve businesses, re-branding, developing websites and social networking sites, market and competition analysis, sales analysis, feasibility studies and assisting with human resources and customer services issues.
International Engagement
The Blackstone LaunchPad at Montana State University hosted 16 female entrepreneurs who were visiting Montana as part of World Montana, an organization that partners with the U.S. Department of State to build stronger ties with international business leaders. The 16 hailed from Bolivia, Cuba, Spain, Macedonia, Bulgaria, Germany, Hungary, Egypt, Cote d'Ivoire, Nigeria, Zimbabwe, Mongolia, Sri Lanka, Thailand, the Philippines and Indonesia.
Boardroom Bobcats
In its second year, Boardroom Bobcats assigned ten Montana State students to internships with local nonprofit organizations. The mission of Boardroom Bobcats is to develop students to become catalysts for change who seek lifelong commitments to community involvement and board service by creating value and lasting impact for nonprofit organizations and the greater community. As a reciprocal partnership, nonprofits gain insights and a fresh perspective from MSU students while training future board leaders. Students gain practical boardroom experience, familiarity with the nonprofit sector, mentee opportunities and lifelong leadership skills.
Expanding STEM Opportunities
Montana State University hosted MSU Explore: Earth and Space Science Camp, a free summer camp for middle school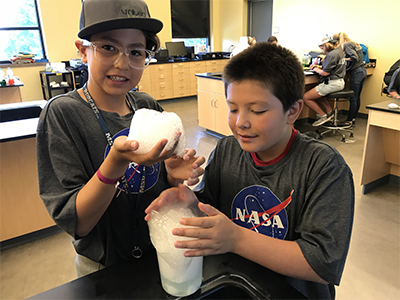 Students explore the STEM fields with hands-on activities during the MSU Explore Camp.
students who are interested in science, technology, engineering and math, or STEM. The organizers encouraged applications from high-potential students who haven't participated in a camp like this, such as those who would be the first in their family to attend college; students who come from low-income families or communities; or youth who live in rural areas where fewer STEM opportunities are available.
Recognizing Engagement in the Community
Serving Skiers Unconventionally
A Montana State University team researching innovative wastewater treatment methods has partnered with Bridger Bowl, where a portion of the wastewater produced by the ski resort's base lodges is diverted to an artificial wetland system designed by MSU engineers to treat the water. The results show that even in the cold, high-elevation climate, constructed wetland technology performs nearly as well as expensive, energy-intensive mechanical wastewater treatment plants and better than other, lower-tech treatment methods, which could have a positive impact on much of rural Montana. Skiing to the experimental site is a side benefit.
Neighbor is a Verb
Some say Montana is a small town with long streets, and in the Big Sky State, the word "neighbor" is a verb. MSU's Red Bluff Ranch employees JT Saunders and Jace Solf neighbored halfway across the state, securing modest university funds to purchase 9,000 bottles of water at a discounted rate and driving overnight in the middle of haying season to help ranchers affected by the nation's largest 2017 fire in eastern Montana's Garfield and Petroleum counties.
Nano-scale
Montana State University's Montana Nanotechnology Facility (known as MONT) partnered with the Montana Manufacturing Extension Center to share nanotechnology capabilities with the Montana manufacturing center. Possible applications include finding single molecules of impurity where rust could take hold in steel, shaping silicon and other materials on a scale invisible to the naked eye, and making reflective coatings that interact with light on the scale of a fraction of wavelength.
Better Bread from Better Varieties
Lanning hard red spring wheat, a new Montana State University-developed spring wheat that's already attracting attention because of its potential for excellent yields and superior bread-making qualities is making its way through the pipeline toward Montana growers. Lanning has higher grain protein and stronger gluten than Vida, the most widely grown spring wheat in Montana from 2010 to 2015. MSU wheat breeder Luther Talbert said the new spring wheat combines the best traits of two varieties known as Glenn and MT0747.
Entreprenticeship Challenge
Teams of Montana State University business students participating in the "Entreprentice Challenge," part of an upper-division class on entrepreneurship in the MSU Jake Jabs College of Business and Entrepreneurship, each turned $25 into more than $7,000 in just three weeks, and the students then donated those funds to three different wildfire-related relief causes. Student teams launched real businesses, in which they worked to be as profitable and impactful as possible. Students raised funds through a variety of creative ventures, including a mobile photo studio, an aircraft detailing service, 3D-printed and handcrafted fidget spinners, apparel, stickers and baked goods.
Supporting Women in Ag
Six professors at Montana State University and Flathead Valley Community College hope to increase the percentage of women agricultural scientists, engineers and policymakers by way of a USDA National Institute of Food and Agriculture grant, "Empowering Women in Agriculture." The central goals of the grant are threefold: integrate research and education to increase the participation of women in agriculture, prepare the next generation agricultural leaders in Montana and bring greater public awareness to the critical role of females in agriculture. According to the USDA, 34 percent, or 15,065, of Montana farmers are women.
Sushi for Soldiers
Montana State University's chapter of the Kappa Sigma fraternity raised more than $11,000 at its third annual Sushi for Soldiers event for the Bozeman-based nonprofit Warriors and Quiet Waters Foundation, which provides post-9/11 combat veterans with therapeutic fly fishing experiences. The fraternity has contributed to the nonprofit for several years, and this donation was the largest charitable contribution raised in Kappa Sigma's 91-year history at MSU.
Farm to Campus
Montana State University's chefs like to know where their local ingredients come from. During a visit to MSU's Red Bluff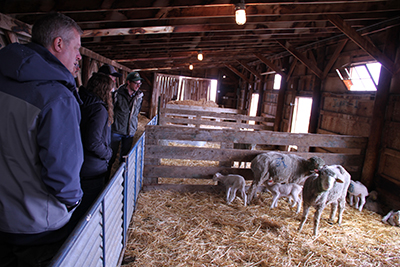 MSU culinary staff tour MSU's Red Bluff Research Ranch to learn more about where they source lamb meat. MSU photo by Marshall Swearingen
Research Ranch and Montana Highland Lamb, 10 MSU culinary staff and administrators got a firsthand look at the barns and pastures where lambs ultimately destined for MSU's Miller Dining Hall begin their days. MSU buys meat, vegetables, fruits and other ingredients directly from more than 100 local producers. Currently, MSU spends more than $1.5 million annually on Montana-sourced foods, or about 25 percent of the university's total food purchases.
Going Somewhere
Montana State University seniors Maria Michelotti and Joey Morrison received the prestigious Benjamin A. Gilman International Scholarship to study abroad during the summer semester. The U.S. Department of State's Bureau of Educational and Cultural Affairs sponsors the scholarship. Michelotti, a cell biology and neuroscience major, will study Spanish language and culture at Letra Hispanica in Salamanca, Spain. Morrison, studying anthropology, pre-medicine and history, will travel to Peru to participate in an MSU faculty-led ethnographic field school.
Engaging Across Jurisdictions
A new partnership between the Montana State University and Bozeman police departments will form a joint Special Victims Unit that will allow detectives from both agencies to work together to investigate major crimes in the city and on campus, with an emphasis on investigating sex crimes. The team approach will help SVU investigators see patterns and trends while improving the thoroughness and consistency of investigations across jurisdictions.