Know Before You Go
Doors & Entrances
The North, South, & West Doors of the Brick Breeden Fieldhouse will be open for the concert.
ALL VIP FLOOR AND GA FLOOR TICKETS MUST ENTER THRU THE WEST ENTRANCE.
A map is provided below for reference.
Even number sections 104-112 & 204-212 – the South Entrance is your closest door.
Odd number secitions: 105-113 & 205-213 – the North Entrance is your closest door.
Doors open at 6:30pm and The Steel Woods take the stage at 7:30pm. If you have VIP tickets, your doors will open at 6:00pm.
Tickets
If utilizing mobile tickets, please download to your Apple or Google Wallet prior to arriving for the concert. There are two ways to download your mobile tickets.
Use the link sent to you via email after the tickets were purchased.
Parking
The South Fieldhouse lot, Football Stadium, Roskie lot, & Parking Garage are the closest parking for the concert.
No Bags Allowed
Bags larger than small clutch purses 4.5" by 6.5" will not be allowed into the Fieldhouse. Carry only those items necessary for your enjoyment of the show.
Metal Detectors in Use
Metal detectors will be used at the entrance doors. Please leave cell phones and keys in your pocket when going through the metal detectors.
MSU Campus Reminders
Montana State University is a Tobacco-free campus.
Parking and Entrance Map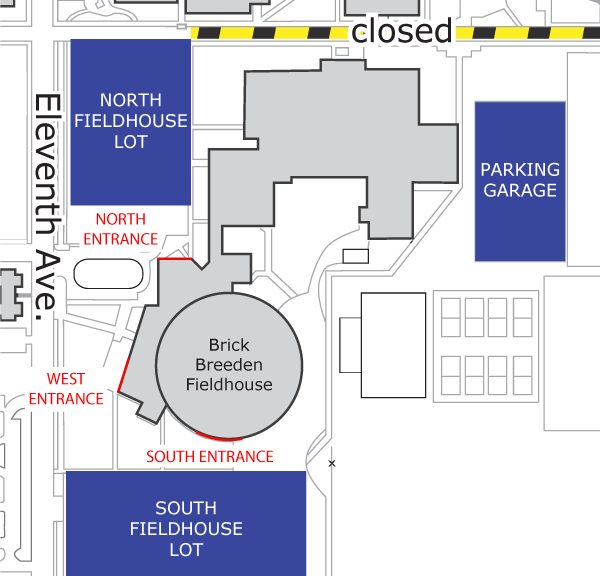 With Special Guests
Randy Houser and The Steel Woods
Exclusive Cody Johnson VIP Experience!
Includes:
Early Entry and dedicated SPECIAL entrance at the west doors of the fieldhouse.
Preferred/Dedicated Viewing Area with a dedicated VIP bar.
Exclusive VIP Cody Johnson Branded Koozie, and Exclusive Cody Johnson Branded Lanyard/ Laminate Pass.
A chance to meet Cody Johnson! 5 Pairs (10 people total) to be drawn from VIP Ticket holders to participate in Meet and Greet.
About Cody Johnson
Cody Johnson is releasing the title track off his sophomore major-label release Human The Double Album to country radio next month, impacting June 6. "Human," written by Tony Lane and Travis Meadow, was triumphed by Bob Oermann in Music Row, "I didn't think it was possible to follow a perfect performance like "Til You Can't", but this ("Human") stunning meditation on frailty and mistakes is just as breathtaking. This man is dusted with the glitter of superstardom." Billboard praised it as a"gut-punch, heart-on-your-sleeve vulnerability" and People Magazine said the song is "a vulnerable ballad about mistakes and forgiveness." "Human" is the second single to be released off the 18-song project following the highly successful two-week #1 hit "'Til You Can't."
Cody introduced "Human" before he performed the song at the iHeart Music Festival in Austin on May 7, "One thing we all have in common not just in the U.S. but across the world; no matter how you feel about politics, no matter how you feel about religion, no matter what race you are, no matter how much money you have in your bank account, whether you dress like me or like you do, one thing we all have in common is the fact we're Human. We are all the same. We've gone through a lot in this country the last two years. We are all doing this together. We all have struggles even though they are different. This is why I chose this song to be the next single." Bobby Bones declared, "Cody Johnson is the winner of #iHeartCountry2022 Festival for his epic performance."
"'Til You Can't" is now certified Platinum by RIAA, bringing his career certifications total to 14, further cementing the tremendous impact of the "roaring barn burner about seizing today, living with gusto and chasing your dreams no matter how big" (MusicRow) song. Cody won one of his two recent CMT Music Awards (Male Video of The Year) for the tune's official music video and he performed "'Til You Can't" on The Tonight Show Starring Jimmy Fallon and The Kelly Clarkson Show. To date the song has logged nearly 275 million global streams.