Chemistry & Biochemistry Bldg
Devoted to research, the Chemistry & Biochemistry Building houses offices, an intimate auditorium, informal gathering spots, and laboratories that are used by faculty, graduate students and many undergraduate students.
Completed in 2007, the four-story building covers 89,613 square feet between Montana Hall and the Johnstone Center. Fourteen-foot ceilings accommodate ducts, water pipes and light fixtures.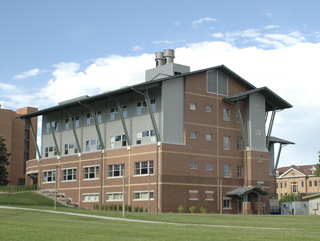 Handicapped accessible
Upcoming events in Chemistry & Biochemistry Bldg
Dr. Paul Galatsis (Vibliome Therapeutics, Bozeman, MT) will present "Discovery and Preclinical Profiling of LRRK2 Kinase Inhibitors for the Treatment of Parkinson's Disease." Abstract Parkinson's disease (PD) is the most prevalent movement disorder and second most common neurodegenerative disease.  Genome-wide association studies... View Details
Join us as a world-renowned organic producer shares reflections on the major challenges and opportunities for scientific discovery, research and technology innovation shaping Montana's food and fuel security. View Details
Prof. Michael Learner (Oregon State University) will present "Graphite – A Review of Intercalation Chemistry and Some New Compounds Using Electride Solutions" Abstract: Graphite is the first and perhaps the most well-studied intercalation host, and this chemistry is important for energy storage. But... View Details