Reno Estimating Competition Prep Course
The Associated Schools of Construction (ASC) supports and orchestrates this annual competition held in Sparks, Nevada. (Note: Sparks is a sister city of the more famous city of Reno.) ASC is the professional association for the development and advancement of construction education, where the sharing of ideas and knowledge inspires, guides and promotes excellence in curricula, teaching, research, and service. The Association's members are groups of schools that offer construction curriculums throughout the United States and Montana falls in ASC Region Six.
There are numerous competition categories including: Heavy Civil, Commercial, Mixed-Use, Design-Build, Integrated Project, Mechanical, Electrical, Virtual Design and Construction, Sustainable Building and LEED, Preconstruction Services, Determining Project Risk, and Concrete Solutions.
The ECIV 492 course utilizes construction engineering principles taught in the CE and CET curriculums to accurately estimate and logistically plan given construction projects over the course of the two semester class. The students work first as individuals and ultimately teams for five months in preparation to compete in the Associated Schools of Construction (ASC) Estimating Competition in Sparks, Nevada each February.
Montana State students prepare for the competition by having a weekly class and three to four weekend workshops. These weekly class meetings include presentations by the team faculty coaches, other MSU faculty, and professionals in the construction industry with various specialties. The workshops include projects built in the last five years and are typically hosted by the company who constructed the project. This allows for guidance and feedback while allowing the students to practice presentation skills in front of a professional audience.
The Reno Estimating Prep course is a two-credit Fall Semester professional elective for Construction Engineering Technology and Civil Engineering students. Students competing at the ASC competition will receive one additional professional elective credit Spring Semester. This course can be taken two times for professional elective credit and allows for veteran leadership to shape the outcome of the future teams.
In the past five years MSU has competed in several of the competition categories, fielding teams in the Heavy Civil, Mixed Use, Commercial, and Concrete Solutions Categories. MSU also fielded teams in the now defunct Marine Structures Category.
The photo below depicts the 2017 Heavy Civil Team that placed second (out of 13 teams) at the February, 2017 Competition.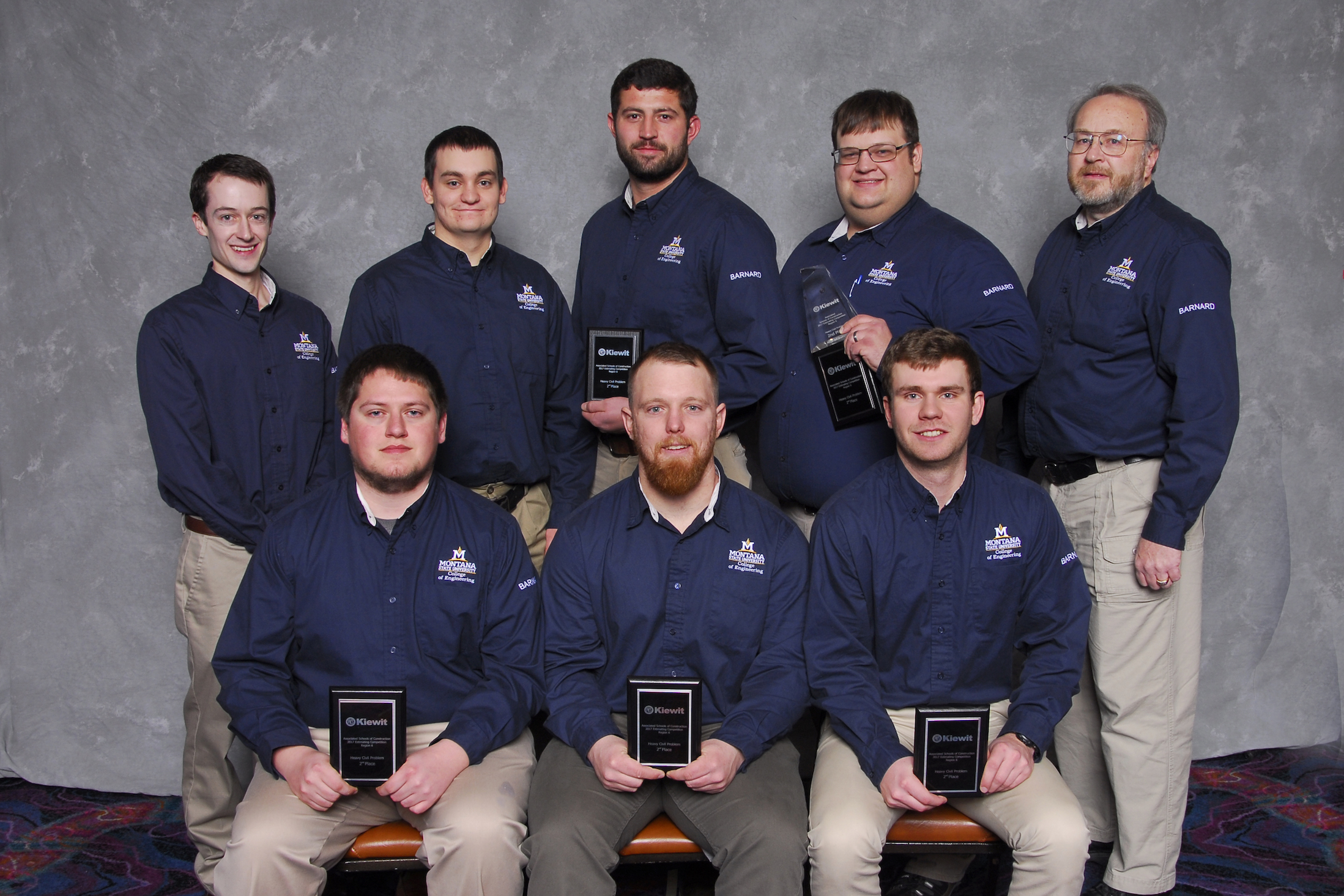 Back Row (Left to Right): Chad Welborn (Faculty Coach), Zach Sullivan, Tyler Pigman, Trevor Kolden, Scott Keller (Faculty Coach)
Front Row (Left to Right): Lonny Greenwood, Tim McDowell (Captain), Brenton Hemp