MSU Extension Mineral County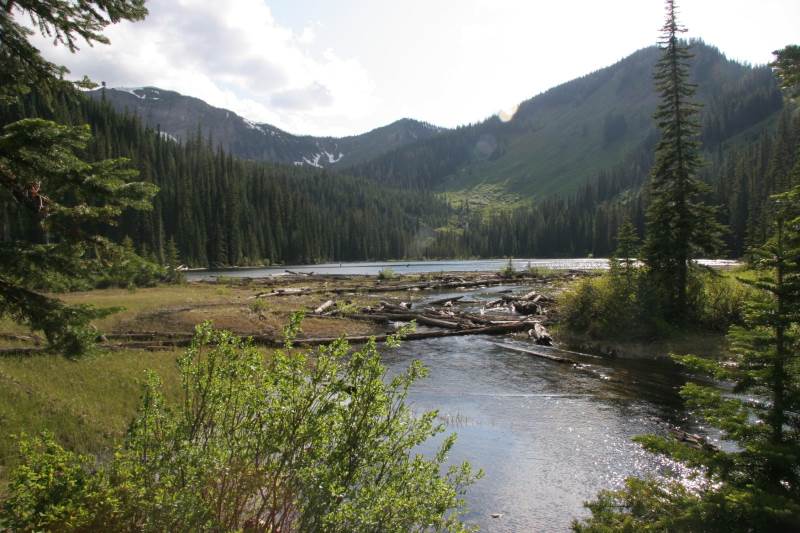 Welcome to Mineral County!
Mineral County is located on the western border of Montana. West of Missoula on Interstate 90, the towns of Alberton, Superior, St. Regis, DeBorgia, Haugan, and Saltese, are nestled in the Middle Clark Fork and St Regis river basins. The county contains 1,223 square miles and a population of ~4,000. 87% of the land area in Mineral County is public forest land, with the majority under the management of the Lolo National Forest. Superior, the county seat, has an elevation of 2,750 with a relatively mild climate . The Clark Fork River carries more water than any other river in Montana. The entire county is heavily forested with ponderosa pine (the state tree), lodge pole pine, fir, larch, white pine and cedar. The area is high in minerals and contains many unpatented mining claims. Mineral County became an independent county in 1914 and boasts a lively history before and since. It has hosted a gold rush, seen the building of two transcontinental railroads, experienced the trauma of the 1910 fire, and witnessed the destruction of several floods of the St. Regis and Clark Fork Rivers, as well as being the home to many Civilian Conservation Corps workers during the Great Depression. The historic John Mullan Road was built here in 1859-60 and the Yellowstone Trail in 1917.
Natural resource industries have historically been the main stay of the local economy. With 8% private land in the valley bottom, there is still adequate land for farming that includes wheat, hay and grazing for cattle and sheep. The county is proud of the schools, hospital and other amenities that provide personal attention and care to the residents.
The County offers extensive recreation areas for hunting, fishing, camping and hiking. Winter activities abound in the area. Cross country skiing, snowmobiling; sledding and good road conditions all winter long assure you of finding the perfect spot for winter fun. A short drive-in just about any direction will put you at some of the finest downhill ski runs in the country. Summertime offers the angler some of the best trout fishing to be found anywhere. Hiking and backpacking will take you into areas with alpine lakes and serene beauty. Rafting, swimming, boating, camping and just about any other outdoor activity are waiting for you to enjoy.
MSU Extension Mineral County is located in Superior, in the library building. In addition to 4-H, Natural Resource, Horticulture, Economic and Community Development, Family and Consumer Sciences, the extension office is home to the Mineral County Weed District, Mineral County Office of Economic Development and the Mineral County Economic Development Corporation (MCEDC). We look forward to serving you.
Moving Forward with Extension - MSU Extension Programs in Mineral County Empower Residents
MSU Extension in Mineral County is about creating local capacity to meet the needs of people who choose to call this rural Western Montana County "home". We provide viable, pertinent information and expertise to assist these residents make informed decisions and "move forward."
Extension facilitates several organizations that address needs in Mineral County. Among those are:
Mineral County Shooting Sports Association provides fund raising support for youth and community shooting sports activities, equipment and locations
Small landowners, forest landowners, ag producers, orchardists and gardeners receive educational opportunities, services and information as the desire for locally produced food increases
Local Governments, State Representatives, Appointed Boards, local Community Foundations, other non-profit entities receive access to information, education, facilitated public forums and contacts.
"Moving Forward" and meeting local needs has always been a primary function of Extension. When combined with a cooperative and service spirit, Extension proves essential by bringing large resources to small rural communities.