University Printing Services'

EZPrint

and

New

EZTemplating


File Submission Service
NOTE: All Network Submissions are "as is". Please proofread carefully. If you find a mistake after submitting your order, please call 994-5708 ASAP.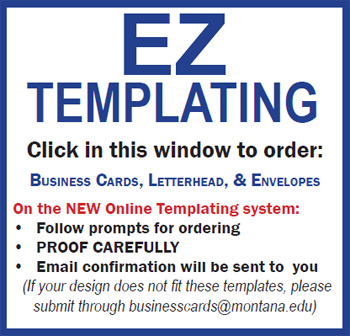 University Printing Services' NEW EZTemplatingService allows you to conveniently create and place electronic orders for Letterhead, Envelopes, and Business Cards.
EZPrint allows you to upload your digital files of any size along with an on-line order form from any web browser in a 24/7 self-service environment. PDF files are preferred, but most file formats will be accepted.
Please call Conrad or Vickie at 994-5708 with questions or problems with this service.

Tips for Submitting Your Electronic Job:
If your job requires special-order paper, please allow extra time for us to order the paper.
Please specify if your job must be laser safe and allow extra time for offset printing.
Be specific on the date that you need your job delivered.
Thank you for your loyal patronage and the opportunity to allow University Printing Services to fulfill your printing needs.