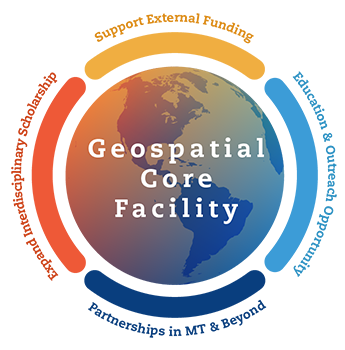 MISSION STATEMENT
The Geospatial Core Facility (GCF) serves as an integrated hub for all things geo-spatial on campus and beyond, and actively supports Montana State University's long-standing commitment to integrating discovery, learning, and community engagement.
The Geospatial Core Facility is a team of geo-spatial professionals that span the human and environmental components of geo-spatial analysis.
The GCF has discipline specific expertise and leverages state of the science analysis, technology, and computing.
The Geospatial Core Facility is committed to four interrelated and complementary components.
Expanding and facilitating interdisciplinary research through geo-spatial data collection, analysis, and visualization.
Supporting external funding along the continuum of the grant process from proposal conceptualization to data collection, analysis, geo-visualization, & dissemination.
Developing new educational opportunities focused on geo-spatial technologies and analysis for students at MSU and MUS campuses, and through outreach across Montana and beyond.
Growing mutually beneficial partnerships that support informed public policy and governance and help financially sustain the longer-term viability of the GCF.
The GCF is designed to advance geo-spatial research while also supporting MSU's Grand Challenge Research Goals. We welcome the opportunity to bolster the university's status as a regional and national leader in its Grand Challenge areas.