Tools for talking when stakes are high!
Whenever you are not getting the results you are looking for, it is likely a crucial conversation is keeping you stuck. Whether it's a problem with poor quality, slow progress, declining stakeholder satisfaction, or a strained relationship on the team – whatever the issue - if you can't talk honestly, you can expect poor results. Therefore, we are offering this course to the campus community. Due to the cost of materials, there is a onetime registration fee in the amount of$325 per person for this course.
When is Curcial Conversations for "Mastering Dialogue" training offered?
The workshop is typically offered through four individual sessions that are 4-hours each so you will want to make sure that you can attend all 4 sessions. Due to the group activities involved, there is a minimum enrollment of 12 participants needed to conduct a Crucial Conversations workshop, with a maximum of 24. It is recommended you complete the courses in order starting with module 1 but if modules are missed they can be made up at a later date. To receive the Crucial Conversations certificate, all modules must be completed in their entirety.
You can register by visiting MSU Registration and searching for the course, "Crucial Conversations". Please plan on registering and attending all 4 sessions in the series.
Upcoming course dates are as follows.
Register for all 4 Modules before September 8th (space will be limited).
| Course | Date | Time |
| --- | --- | --- |
| Crucial Conversations - module 1 | Tuesday, September 13 | Complete |
| Crucial Conversations - module 2 | Tuesday, September 20 | Complete |
| Crucial Conversations - module 3 | Tuesday, September 27 | Complete |
| Crucial Conversations - module 4 | Tuesday, October 4 | Complete |
What would be considered a Crucial Conversation?
A Crucial Conversation is a discussion between two or more people where the stakes are high, opinions vary, and emotions run strong. These conversations – when handled poorly or not at all – lead to strained relationships with dismal results.
---
What does the Crucial Conversations training course cover?
Crucial Conversations is a 16-hour copyrighted course (developed by VitalSmarts) that teaches skills for creating alignment and agreement by fostering open dialogue around high-stakes, emotional, or risky topics – at all levels of the university. By learning how to speak and be heard (and encouraging others to do the same), you will begin to surface the best ideas, make the highest–quality decisions, and then act on your decisions with unity and commitment.
---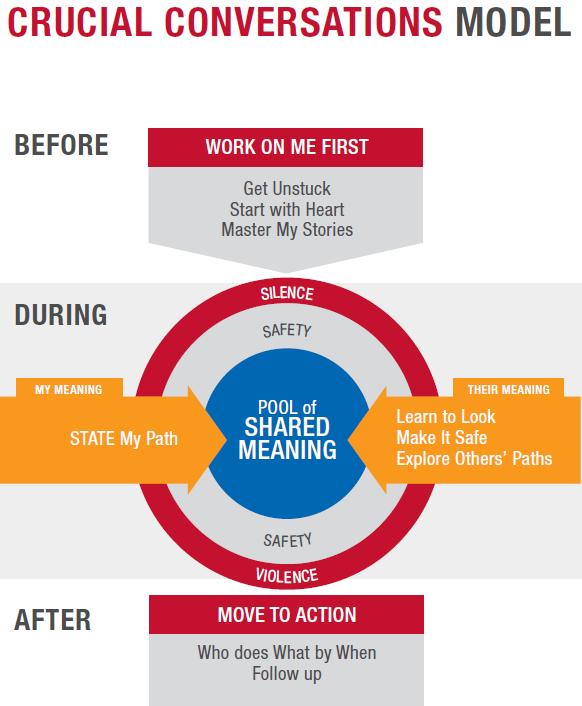 Why is MSU investing in Crucial Conversations Training?
In the spirit of Service Excellence, Crucial Conversations training can improve the safety, reliability, courtesy and competence of the employees working for our university. Through Crucial Conversations, we learn to see issues through the lens of the stakeholder, make it safe to dialogue on important issues, work more effectively as committed team members, and problem-solve in ways that reduce barriers. Crucial Conversations can help team members learn to use their voices to discuss risky topics, have their opinions heard, participate in decision-making, and address challenging situations in the office.
Organizations around the world have used Crucial Conversations Training to improve results in productivity, quality, teamwork, relationships, performance and efficiency. Crucial Conversations training is an investment in the professional development of our human capital and will lead to more effective teams and informed decision-making.
---
The Crucial Conversations course teaches participants how to:
1. Speak persuasively, not abrasively
2. Foster teamwork and better decision-making
3. Build Crucial Conversation acceptance rather than resistance
4. Resolve individual and group disagreements
---
Why is there a fee?
The $325 fee per participant covers the proprietary VitalSmarts materials required for the course and for catering provided during the sessions. Participant materials include:
Crucial Conversations Participant Toolkit
Cue cards for each lesson in a desktop display case
Crucial Conversations model card
A copy of the New York Times bestselling book, Crucial Conversations: Tools for Talking When Stakes are High (2nd Edition)
Crucial Conversations Audio Companion MP3 Download
A course completion certificate
If you were to enroll in a Crucial Conversations training outside of MSU, the fee for the 16-hour course would be approximately $1350.
---
What course graduates are saying about Crucial Conversations:
"It made me reflect on how I respond and act during crucial conversations. I will be able to use the training directly in my job."

"The training creates a framework that can be applied in a wide variety of situations. It is comprehensive not just a quick fix."

"The training gives specific advice and clear tools to use."
Want to learn more about Crucial Conversations and how to get you or your team signed up? Get in touch with your PD&T team for more information. Contact Terry Bishop at: [email protected].