Available Virtual Learning Opportunities!
NEW WEBINAR SERIES
WEBINAR REPLAY Navigating Through Mental Stressors (45:23)
This workshop will explore the anxiety and overwhelm that we're all experiencing as the semester begins in the landscape of covid-19 and other societal stresses. Attending to your own mental health is critical to successfully navigating all that is on your plate. Learn ways to recognize and manage what you are experiencing to protect yourself from burnout and energize you for the semester.

Exploring Physical Wellness
Due to the current pandemic situation our world is constantly changing and the way we adapt to this change can help support our wellness. Learning how to continue to support our wellness is something that will make us more connected to our life, work and those people in it. This workshop will provide you with tools to support your physical wellbeing in and out of the office. We will look at modalities of fitness, breathing techniques and creating a schedule that supports your needs.
To register for these webinars please access this link: MSU Registration
Please note: The Webinar login information will be sent before the start of each session to those that registered, and it will be available below on the PD&T Web Site and on the MSU Today calendar.
| | | |
| --- | --- | --- |
| Navigating through Mental Stressors | Wednesday, August 19, 2020 | completed |
| Exploring Physical Wellness | Wednesday, August 26, 2020 | completed |
| Navigating through Mental Stressors | Wednesday, September 2, 2020 | completed |
| Exploring Physical Wellness | Wednesday, September 9, 2020 | completed |
| Workshop Topic | Date | Time |
---
WEBINAR REPLAYS

Mental and Physical Wellbeing
Part I
- Mental Wellbeing (57:14) May 2020
Our MSU community has experienced many changes in the past few months due to COVID-19, and more changes are yet to come as people gradually return to work on campus. During this workshop, we will discuss how COVID-19 has impacted work culture; how it presents an on-going, current significant stressor; and strategies for coping given these challenging conditions. Join this one-hour interactive seminar with licensed psychologist Mariah Hill, Psy.D., to learn, ask questions, and identify resources to sustain us as we begin to return to campus.
Part II
- Physical Wellbeing (54:19) May 2020
When things become uncertain in our lives, we typically lose track of our normal routines and patterns that support our wellbeing. Join this one-hour interactive seminar with ACSM certified personal trainer and 200 certified yoga teacher Jocelyn Larson to learn tools, ask questions and develop a plan for sustaining a wellness plan during these uncertain times. Participants will reflect on their optimal wellbeing and learn about the barriers to sustaining their personal wellbeing. Participants will create an actionable goal.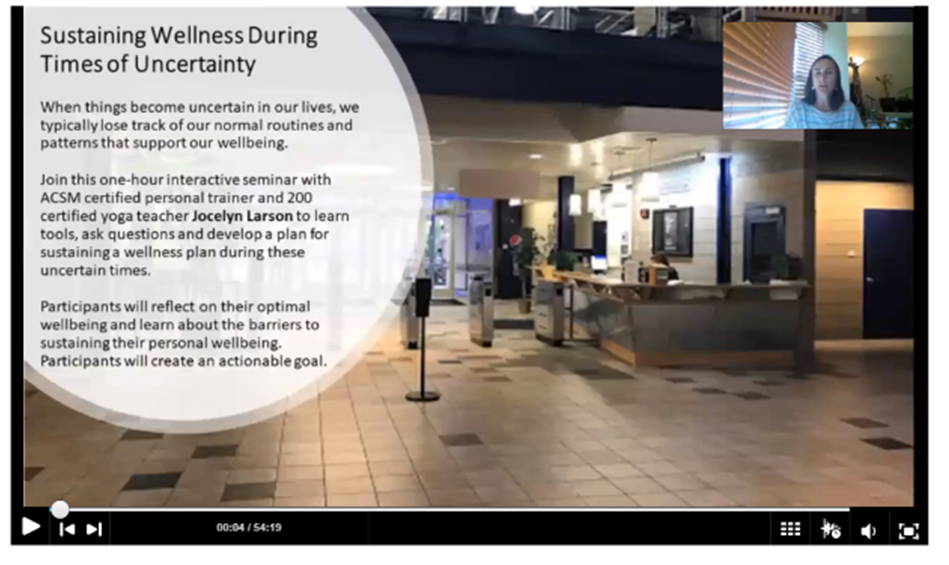 ---

WEBINAR REPLAYS How to Lead Through the COVID-19 Crisis and its Aftermath.
Motivated by VitalSmarts mission to help people change behavior in crucial moments, they would like to share valuable skills with you at a time when they will have the most impact on individual lives, relationships, communities, and organizations.
When accessing the link below you will be brought to a web page, then scroll down and view the five prerecorded Webinar selections and select VIEW NOW to watch.
Influence the Vital Behaviors You'll Need in the Post-COVID World - Presenter: Joseph Grenny (52:58)
Crucial Conversations in Crisis: How to Create a Threat Adaptive Culture - Presenter: Joseph Grenny (53:59)
200% Accountability: How to Succeed in an Ongoing Pandemic - Presenter: Joseph Grenny (47:23)
Stress-Free Productivity During Times of Stress: Skills to Regain Control - Presenter: Justin Hale (54:50)
Habits: How to Adapt Your Workplace Routines for At-Home Success - Presenter: Emily Gregory (49:22)