RESEARCH OVERVIEW: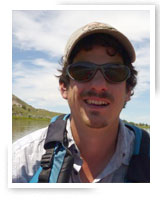 Plant-soil feedbacks, methods of cover crop termination, integrated crop-livestock systems, and weed-crop dynamics in organic and conventional dryland agroecosystems.
Agriculture is faced with many challenges ahead including the establishment and preservation of ecosystem services, minimizing tillage and the use of inputs, nitrogen and water use efficiency, and the integration of diverse cropping and livestock systems.
Our research is focusing on these factors in organic and conventional dryland agriculture systems. We are looking at approaches to terminate cover crops under two organic systems (with tillage and minimizing tillage with sheep) as well as conventionally and the effects on subsequent crop growth. We also hope to better understand the dynamics of weeds under these different systems and their relative impacts on yields, as well as the multi-trophic services they provide. This is extended into better understanding the larger ecological impacts of different management systems through long-term plant-soil relationships, and how low diversity and high diversity systems might differ in their plant growth and crop-weed interactions through plant soil feedbacks.
Click on an image to view as a slideshow.