College Costs & Student Debt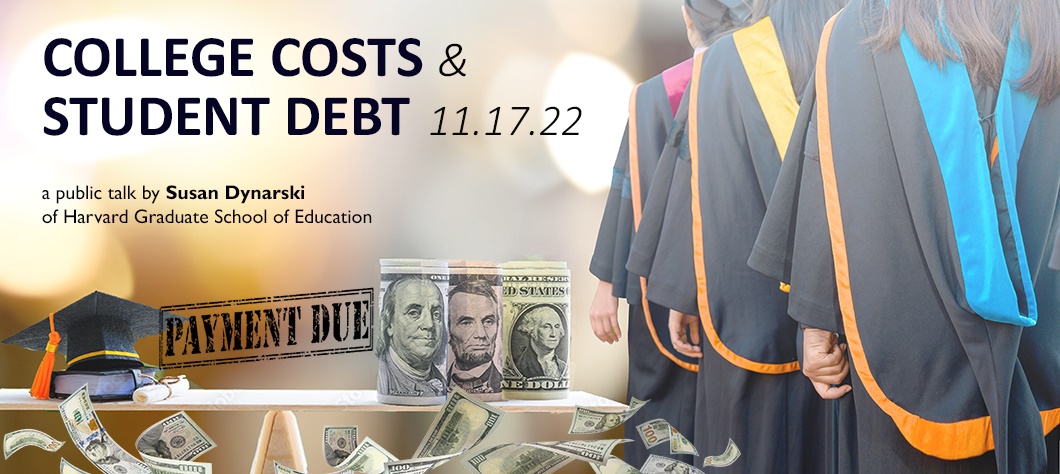 Free Public Event Featuring Professor Susan Dynarski, Patricia Albjerg Graham Professor of Education at Harvard University
Susan Dynarski is Patricia Albjerg Graham Professor of Education at Harvard University.
Until 2021 she was professor of public policy, education and economics at the University of Michigan, where she was affiliated with the Gerald R. Ford School of Public Policy, School of Education, Department of Economics and Institute for Social Research. At UM she was a founding co-director of the Education Policy Initiative and the Michigan Education Data Center.
She is a faculty research associate at the National Bureau of Economic Research and past president of the Association for Education Finance and Policy. She is a member of the National Academy of Education and the American Academy of Arts and Sciences. Dynarski has been a visiting fellow at the Federal Reserve Bank of Boston and Princeton University as well as an associate professor at Harvard University. Dynarski earned an A.B. in Social Studies from Harvard, a Master of Public Policy from Harvard and a Ph.D. in Economics from MIT.
Dynarski's research focuses on inequality in education, the effectiveness of charter schools, the optimal design of financial aid, and the effect of high school reforms. Dynarski has testified about education and tax policy before the US Senate Finance and HELP Committees, the US House Ways and Means Committee and the President's Commission on Tax Reform. She has consulted broadly on student aid reform, including at the Federal Reserve Bank of New York, the Federal Reserve Board of Governors, Consumer Financial Protection Bureau, White House, Treasury, Department of Education, and the Council of Economic Advisers.