Undergraduate Research Scholarship Program
The Initiative provides funding for research scholarships for undergraduate students from a wide-range of disciplines who participate in faculty-led research projects that address issues relevant to our mission. Undergraduate Research Scholarships are awarded on a semester-by-semester or academic year basis for research to be carried out in the fall and spring semesters. A small number of awards are also available for students involved in research over the summer. Depending on funding availability, additional support may be provided to enable a student to attend a regional or national conference at which
the student
presents the results of the sponsored research project.
With IRAEA undergraduate research scholarships, faculty and students have the opportunity to explore academic interests beyond the classroom. Students get hands-on experience with research and acquire academic and professional skills and credentials, and faculty get help with their research projects.
A member of the MSU Bozeman faculty must apply on the student's behalf. In addition to their research activity, Requests for proposals are typically announced in late-fall (for spring and summer scholarships) and mid-late spring/early fall (for fall and academic year scholarships).
The Undergraduate Research Scholarship grant cycle for Spring 2021 has closed.

Alumni Spotlight
Joseph Peoria: "Integrating Neighborhood Voice into Policies, Plans, and Regulations: A Synthesis of Bozeman's Northeast Neighborhood"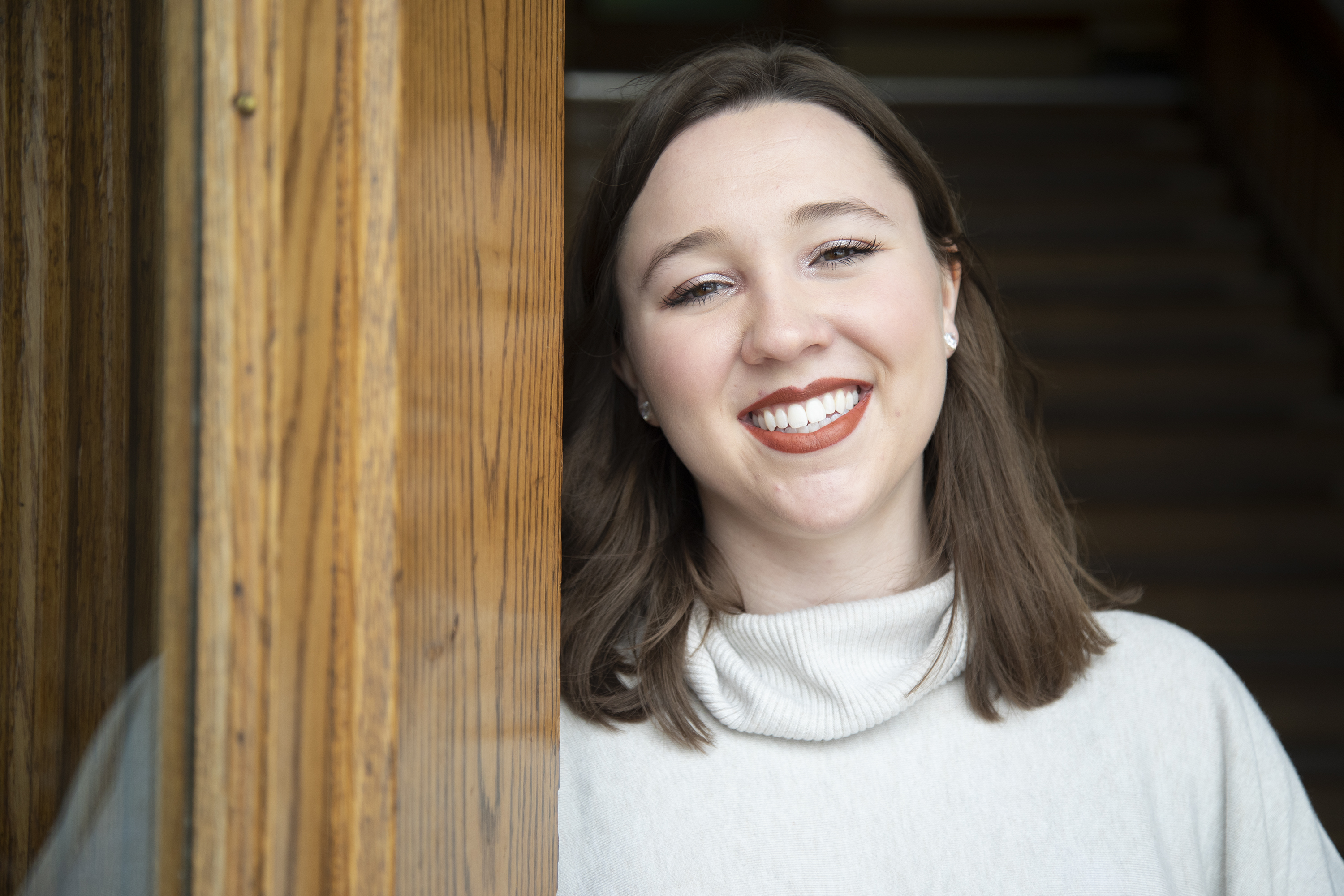 B.S. Economics, 2020:
"The Establishment of a Charter Schoolm" under the direction of Vincent Stock, DAEE
Athena Erickson, a 2020 economics graduate, said she chose her major "on a whim."
"As I entered college I was aware of the statistic of how often the average student changes their major," Erickson, 22, said. "I'm not sure what it is currently, but I think it was three times when I entered college. With this in mind, I figured I would just choose one major randomly that I had very limited knowledge of. This landed me in economics. I was hooked after my first year in econ and never changed my major once."
Erickson said she found that economics is intertwined with every decision made.
"At its core, economics is simply the comparison of costs and benefits," she said. "Applied economics is woven into society, into every decision we make, and therefore any study of policy implications may be considered applied economics research."
Throughout Erickson's undergraduate career, she received undergraduate research scholarships through MSU's Initiative for Regulation and Applied Economic Analysis each year of her expedited degree from 2017-2020 to research under IRAEA co-director Vincent Smith the establishment of charter schools and their effects on students, families, traffic flows, state funding, and student outcomes.
"I think undergraduate research gives students the ability to explore applications of their studies in a way that is missed by classroom learning," Erickson said. "Dr. Smith had an incredible impact on my educational experience and he pushed me to the best student and researcher that I could be."
Since graduating in May, Erickson is living in her hometown of Tualatin, Ore., where she recently was hired as a subcontractor coordinator for a small company where her economics degree is valued and applicable, "just not at the forefront," she said.
"I hold a position where I have to be familiar with the ever-changing labor laws of Oregon. My research into charter schools legislation has allowed me to navigate the state and federal labor legislation pages with ease."
Erickson said her next step is applying to graduate schools to pursue her master's degree.
"Like many recent college graduates, I have no clue what my dream job is yet," she said. "I just know I want to keep learning and would like to help people."
Vimeo: Athena Erickson reflects on her economics degree, IRAEA undergraduate research

IRAEA Undergraduate Research Scholarship Opportunities

Questions? We can help! Don't hesitate to contact us if you are having trouble with your application, identifying a faculty sponsor or deciding whether to apply.
Dr. Wendy Stock, Co-Director of the Initiative for Regulation and Applied Economic Analysis
Tel: 406-994-7984
Email: [email protected]
Post an Undergraduate Research Opportunity
The Initiative is committed to engaging undergraduate students participate in MSU's world-class, ground-breaking research under the guidance of faculty mentors. Faculty at MSU must apply on behalf of student researchers. Listing your research opportuities or indicating your willingness to be an IRAEA undergraduate research mentor is a great help in this work. Thank you for your dedication to undergraduate learning and IRAEA's mission to engage students in faculty-led research.
IRAEA Undergraduate Scholars
2021 Spring Semester Scholars
Student

Research
Faculty

Isaac Birdwell, Industrial Engineering

Katiana Carestia, Financial Engineering

Tristan Jones, Financial Engineering

"Weather Damage Reporting, Selection Bias, and Voting"

Justin Gallagher

Agricultural Economics and Economics

Norris Blossom

Industrial Engineering, Economics

Renewal: "The Impacts of Paid Leave on Retirement, Mortality, Morbidity, and Other Outcomes for Caregivers"

Wendy Stock

Department of Agricultural Economics and Economics

Nick Cornwall

Finance, Economics

Renewal: "A Survey of Montana Community Banks"

Gary Caton (with Tim Harvey and Ed Gamble)

Jake Jabs College of Business & Entrepreneurship

Maxwell Ellingsen

Economics

"Charter School Policies and Special Education Outcomes"

Wendy Stock

Department of Agricultural Economics and Economics

Nicholas Power

"Medical Error, Physician Work Hours, and Mortality Outcomes"

Isaac Swensen

Department of Agricultural Economics and Economics

Quinn Sanderson

Economics

"Do Antidiscrimination Laws Change Women's Marital Decisions?"

Wendy Stock and Pamela Meyerhofer

Department of Agricultural Economics and Economics

Landon Sielaff

Financial Engineering

"What Does Price Volatility in Agriculture Commodities Mean for Producers? Counter-Cyclical Pattern Might be the Answer"

Joseph Atwood

Department of Agricultural Economics and Economics
Student

Research
Faculty

Norris Blossom

Industrial Engineering, Economics

"The Impacts of Paid Leave on Retirement, Mortality, Morbidity, and Other Outcomes for Caregivers"

Wendy Stock

Agricultural Economics and Economics

Nick Cornwall

Finance, Economics

"A Survey of Montana Community Banks"

Gary Caton (with Tim Harvey and Ed Gamble)

Jake Jabs College of Business & Entrepreneurship

Molly DeMarco

Education

"Impacts of the Vocational Rehabilitation Program"

Wendy Stock

Department of Agricultural Economics and Economics

Emiliano Hernandez

Microbiology and Immunology

"Optimization of Laboratory Assays to Quantify Influenza D Virus

Agnieszka Rynda-Apple

Department of Microbiology and Immunology

Kathryn Hilburn

Chemical Engineering

"Identifying Gaps in Intellectual Property Management in Tribal-University Agricultural Collaborations: A Case Study on the Confederated Salish and Kootenai Tribes and Montana State University Toward a Culturally Sensitive and Equitable Partnership"

Wan-Yuan Kuo

Department of Health and Human Development

Rachel Kepl

Early Childhood Education & Child Services

"Families' Experiences of Transitions for their Children with Delays and Disabilities"

Kalli Decker

Department of Health and Human Development

Joseph Peoria

Geography

"Integrating Neighborhood Voice into Policies, Plans, and Regulations: A Synthesis of Bozeman's Northeast Neighborhood Vision and City Policy"

Sarah Church

Department of Earth Sciences

Kyle Rutten

Computer Science, Data Science, Economics

"The Heat Is On: Enforcement of Occupational Health Heat Violations"

Sally Moyce

College of Nursing

Finn Vaughankraska

Financial Engineering

"An Assessment of Potential Methodologies to Incorporating Risk Assessment and Control in Marine Fisheries Regulation"

Joseph Atwood

Department of Agricultural Economics and Economics

Logan Yates

Economics and English Writing

"Telehealth and Mental Health During the COVID-19 Pandemic"

Mariana Carrera

Department of Agricultural Economics and Economics
Student

Research
Faculty

Norris Blossom, Industrial Engineering, Economics

"Occupational Licensing in the Behavioral Health Industry"

Wendy Stock

Agricultural Economics and Economics

Benjamin Moscona-Remnitz, Economics
"Foreign Land Ownership in U.S. Farmland Markets: A Descriptive Analysis"

Daniel Bigelow

Agricultural Economics and Economics

Kyle Rutton, Statistics

"A Hot Debate: Are Occupational Health Policies Effective?"

Sally Moyce

College of Nursing
Student

Research
Faculty
Kyra Adamson, University Studies
"Human Trafficking: The Impact of Policy on Identification and Prosecution"

Wendy Stock

Agricultural Economics and Economics

Norris Blossom, Industrial Engineering, Economics

"Occupational Licensing in the Behavioral Health Industry"

Wendy Stock

Agricultural Economics and Economics

Danielle Daley, Economics

"Do State-Level Financial Literacy Policies Impact Diversity in Economics"

Wendy Stock

Agricultural Economics and Economics

Daniel Flavin, Environmental Science

"Application of Ecological Portfolio Theory to Inform Socio-environmental Incentives to Guide Salmon Conservation in a Low-regulatory Environment"

William Kleindl

Land Resources and Environmental Sciences

Grace Pannell, Economics
"Data Trends in Enrollment and Other Outcomes for Special Education Students"

Wendy Stock

Agricultural Economics and Economics

Kyle Rutten, Mathematics
"A Hot Debate: Are Occupational Health Policies Effective?"

Sally Moyce, College of Nursing

Wendy Stock, Agricultural Economics and Economics

Alec Truax, Economics
"Medical Error, Physician Work Hours, and Mortality Outcomes"

Isaac Swensen

Agricultural Economics and Economics

Hailey Webb

"A Web-Based Story Map to Explain Sensitivity Analysis of Riparian Wetland Assessment to Disturbance Gradients within SW Montana"

William Kleindl

Land Resources and Environmental Sciences
Student
Research
Faculty
Norris Blossom, Economics & Industrial Engineering

"Data on Trends in Enrollment and Other Outcomes for Special Education Students"

Wendy Stock

Agricultural Economics and Economics

Taylor Blossom, Chemical Engineering, Economics, Interdisciplinary Studies

"Data on Trends in Enrollment and Other Outcomes for Special Education Students"

Wendy Stock

Agricultural Economics and Economics

Emily Buschini, Elementary Education

"Impact Study and Evaluation of K-5 School Practices and Schedules"

Tina Cusker and Tricia Seifert, Department of Education

Danielle Daley, Economics

"Do State-Level Financial Literacy Policies Impact Diversity in Economics"

Wendy Stock

Agricultural Economics and Economics

Athena Erickson, Economics

"Food and Development Aid Policy" and "Charter School Legislation and Regulations"

Vincent Smith

Agricultural Economics and Economics

Kenny Evans, Economics

"Physician Incentives, Advanced Care Planning, and Health Care Costs"

Mariana Carrera

Agricultural Economics and Economics

Zachariah Fighter, Environmental Science
"Assessing Profitability of Wheat Production Under Heavy Losses Due to Wheat Stem Sawfly: Existing Regulatory Constraints and Options"

David Weaver

Land Resources and Environmental Sciences

Daniel Flavin, Environmental Science
"Application of Ecological Portfolio Theory to Inform Socio-Environmental Incentives to Guide Salmon Conservation in a Low-regulatory Environment"

William Kleindl

Land Resources and Environmental Sciences

Tyler Foster, Economics
"The Effect of Unemployment Insurance on Marital Outcomes, Domestic Violence, and Suicide"

Isaac Swensen

Agricultural Economics and Economics

Tory Johnson, Agricultural Business

"The Effect of Unemployment Insurance on Marital Outcomes, Domestic Violence, and Suicide"

Isaac Swensen

Agricultural Economics and Economics

Jake Kaminetzky, Political Science and Economics

"Is the Lottery a Tax on the Nation's Poorest? Evidence from Lottery Participation, Jackpots, and Food Stamp Distribution"

Isaac Swensen

Agricultural Economics and Economics

Lindsay Kimball, Exercise Science
"Data on Trends in Enrollment and Other Outcomes for Special Education Students"

Wendy Stock

Agricultural Economics and Economics

Sarah Montalbano, Economics
"Data on Trends in Enrollment and Other Outcomes for Special Education Students"

Wendy Stock

Agricultural Economics and Economics

Hailey Webb, Environmental Science
A web-based story map to explain "Sensitivity Analysis of Riparian Wetland Assessment to Disturbance Gradients within SW Montana"

William Kleindl

Land Resources and Environmental Sciences