Winter Traction Aid Program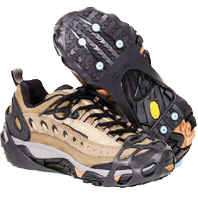 As MSU is located in Montana, we have a long winter season, which results in snowy and icy walkways. To help MSU personnel stay safe, while walking in the winter time, Safety & Risk Management provides free winter traction aids to employees. Winter traction aids are the equivalent for studded tires for your feet. These devices are similar to slippers that slide over the outside of your shoe and can be easily put on and removed.
Eligibility
Must be an MSU employee (anyone who receives a paycheck from MSU).

Eligible every three years for a new pair.

*If your winter traction aids are worn out or missing studs, even if it's within three years, return to SRM for possible replacement (at the discretion of SRM).
If you're uncertain about your three year eligibility,
please email [email protected] for verification.
Request your pair
(also for replacement studs and winter traction aid evaluation)
The Winter Traction Aids sizes run small - we recommend that you order one size up. Winter Traction Aids should be snug but not too tight - we can certainly exchange if need be.
denotes required fields.