Statistical Consulting and Research Services
Welcome to Statistical Consulting and Research Services (SCRS - pronounced "scissors")! SCRS is currently funded by the College of Letters and Science, Department of Mathematical Sciences, Montana INBRE, and the Mountain West CTR-IN. Investigators associated with these grants are given priority. If resources allow, we offer statistical consultation to MSU students and faculty, as well as non-affiliates.
We offer assistance and collaboration through the entire research process, including general discussions regarding the role of statistical inference in your research:
Research Planning/Design: Refining of research questions and objectives; study design (experimental, sampling, survey, observational, …); analysis planning; planning for data organization and management; assistance with developing research proposals; etc.
Analysis: Aligning statistical methods and models with research questions and design; exploratory data analysis and creative visualization of data; assistance in understanding and translating assumptions underlying models and methods; interpretation of statistical results.
Dissemination: Assistance with graphical and tabular displays of data and analysis results; interpretation of results in the research context; wording related to design, methods, analysis, and interpretation; writing about statistical inference used in the research; communicating about the benefits and limitations of the use of statistics in scientific research; etc.
The level of involvement can range from a few hours of assistance to long-term collaborations resulting in co-authored publications. The depth and extent of collaboration is developed on a case-by-case basis depending on the project, researcher requests, statistician availability, and funding. Our funding sources must be acknowledged in publications and presentations for any amount of effort. Please see our Frequently Asked Questions page for answers to common questions.
For questions about expectations and details regarding payment for services, please contact Greta Linse directly.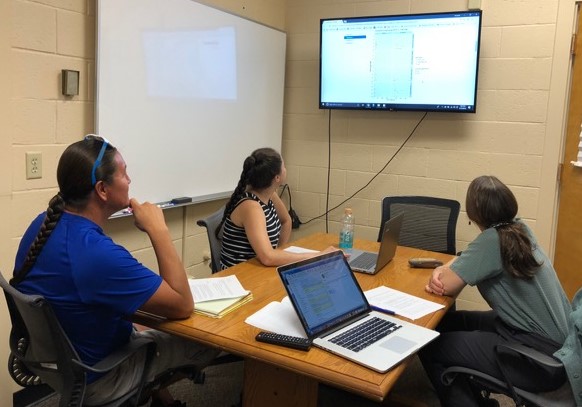 NEW!!! - Drop In Office Hours - Fall 2023
New for Fall 2023 - SCRS is now offering drop in office hours for short statistical analysis, data wrangling, or coding questions. The SCRS office will be open and staffed with one of the SCRS team. If a question is too complex or unable to be answered during the office hour, you will be asked to submit a request for assistance and schedule a time for a longer meeting. Drop in office hours are free and open to undergraduates (not working on a class project or in a class that can get help from the Math and Stat Center), graduate students (working on a research project), faculty, and staff of Montana State University.
Days and Times:
Mondays: 12-1 PM

Tuesdays: 11-12 PM

Wednesdays: 12-1 PM

Thursdays: 11-12 PM & 12:10-1:10 PM
Location:
AJM Johnson 103 - The SCRS office
Request Assistance
To request statistical consultation, please submit a Request Form. Please fill out the form as soon as you think you may want to work with us, preferably early in the research process before the design is finalized and data are collected. NIH IDeA program grants listed above are currently given priority for assistance but we have some capacity for assistance on other projects. We encourage you to submit a request form and we will try to help you or connect you to other resources.
Interim Director of Statistical Consulting and Research Services: Greta Linse
Current Advisory Council: To be determined.
Past Advisory Council Members: Alexandra Adams, Ann Bertagnoli, John Borkowski, James Burroughs, Steve Cherry, Mike Franklin, Mark Greenwood, Michele Hardy, Megan Higgs, Andrew Hoegh, Kathryn Irvine, Mary Leonard, Andrea Litt, Sara Mannheimer, Scott Myers, Tricia Seifert, Jovanka Voyich-Kane, Donna Williams.
Current Statisticians (Fall 2023): Sally Slipher (Research Staff), David Lartey (PhD Statistics student), Dennis Moritz (PhD Statistics student), McBeth Ahortor (PhD Statistics student), Addison Marcus (MS Data Science student).
Past Directors: Dr. Mark Greenwood, Dr. Megan Higgs, Dr. Lillian Lin
Past Associates and Consultants: Caroline Hardy, Devin Goodwin, Braden Scherting, Meaghan Winder, Priscilla Bacino, Dr. Christopher Barbour, Dr. Katharine Banner, Noah Benedict, Lisa Bowersock, Dr. Nicole Bohme Carnegie, Dr. Kenneth Flagg,Bridgett Foran, Leslie Gains-Germain, Dr. Megan Higgs, Dr. Michael Lerch, Kelly Loucks, Andrea Mack, Maya Marchese, Sarah McKnight, Elizabeth Mery, Dr. Elijah Meyer, Dr. Moses Obiri, Kayode Oyeniran, Christopher Peck, Michaela Powell, Jaley Priddy, Claire Rasmussen, Laurie Rugemer, Jordan Schupbach, Jeremy Tate, Dr. Tan Tran, Dr. Allison Theobold, Rachel Ulrich, Dr. Stephen Walsh, Dr. Jennifer Weeding, and Huafeng Zhang.
Statistical Consulting Seminar: Graduate students in Statistics M.S. Program take the hands-on Statistical Consulting Seminar Course (STAT 510) as a part of their graduate program. SCRS and the Statistical Consulting Seminar work together to provide consulting services to clients through this class. Typically, the Statistical Consulting Seminar serves graduate students in other departments (as the clients) who are willing to work through the slower and free-of-charge process offered through this avenue. This is a great opportunity for graduate students from different departments across campus to participate in cross-disciplinary collaboration (the course, however, is only for Statistics graduate students).
Last updated: 2023/09/08