Transportation and ITS Lab
The Transportation Lab was established in 2004-2005 to support research and instruction in the traffic engineering and the broader transportation engineering area. The lab is equipped with state-of-the-art data collection equipment, ten work stations, and a multimedia conference room. Below are some of the featured laboratory capabilities that are made available to graduate and undergraduate teaching and research. For further information, contact the lab director, Dr. Ahmed Al-Kaisy at [email protected].
The Wireless Mobile Traffic Monitoring and Data Collection System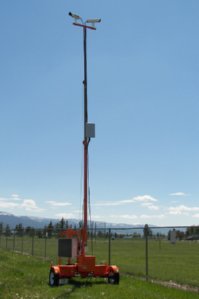 Trailer Deployed at 7th Ave. & Kagy Blvd.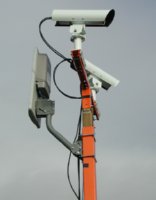 The Camera Wireless Radio
Assembly at Top of Mast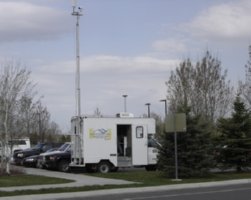 Testing the Wireless Radio System using the WTI Mobile Lab at College & Main Intersection
This system, which is an integral part of the transportation lab, is aimed at building ITS capacity in the new transportation lab at the MSU Civil Engineering Department. The system utilizes advanced technologies to enable students and researchers investigate traffic operations and driver behavior at various locations in urban and rural settings.
The system consists of two mobile trailers and a wireless communication system which would allow online traffic monitoring from the transportation lab or any other location within the Campus Ethernet network. The wireless communication system was developed by Doug Rust and Kyle Lyson who were seniors in the Electrical and Computer Engineering (ECE) Department under the supervision of Dr. Al-Kaisy of the CE Department and Dr. Richard Wolff of the ECE Department. The trailers are equipped with state-of-the-art surveillance cameras and video image processors. Each trailer has a hydraulic mast which could be extended up to 35-ft high and is intended to support the cameras and the wireless radio unit [see figure]. The trailers energy system consists of set of batteries and solar panels that will enable the mobile trailer to operate 24/7 under different weather conditions.
The Hardware-in-the-Loop Simulation for Signal Control Studies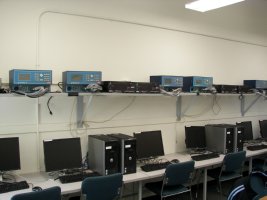 Hardware-in-The-Loop Simulation Equipment Setting
Another important instrumentation in the transportation lab is the hardware-in-the-loop simulation. The instrumentation involves six modules of Econolite traffic signal controllers that are connected with work stations via Controller Interface Devices (CID). This featured lab component would allow the investigation of signal operations using state of the practice traffic signal control equipment at isolated intersections or in a small corridor with multiple signalized intersections.
Volume, Speed, and Other Conventional Traffic Studies
Installation of Automatic Traffic Recorders
in the Field
The transportation lab is also equipped with state-of-the-art data collection equipments that are used for traffic studies. Those mainly include:
GPS vehicle tracking equipment
Traffic analyzer (on-pavement sensor) for count and speed measurements
Automatic traffic recorders
Hand-held traffic data collectors
Radar speed guns