Snow and Avalanche Lab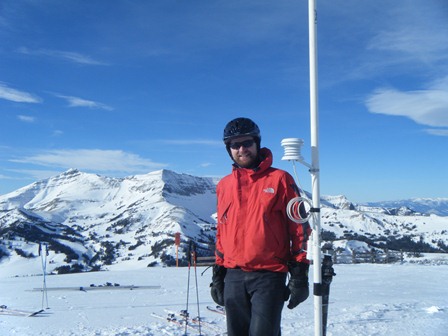 Jordy Hendrikx next to his mini-temperature & relative humidity sensor. 15 of these sensors have been deployed around the Yellowsotne Club in SW Montana to assist in a project which aims to examine spatial variability of surface faceting and their associated meteorological variables.
Contact Information
Office: Traphagen Hall #126
Phone: (406)994-6918
Email: snowscience@montana.edu
Website: http://www.montana.edu/snowscience
Website: http://www.montana.edu/snowscience/tracks
Overview
The snow and avalanche lab is the home of snow science at Montana State University. The lab is a new purpose built graduate research space for snow and avalanche research and is under the direction of Dr Jordy Hendrikx. It is located in the south eastern corner of the Traphagen Building, Room 126, immediately below the main Earth Sciences office. We are affiliated with, and work in association with the Engineering faculty in the Subzero facility.
We have a strong graduate program focused on snow, as both a resource and a hazard. We also offer an undergraduate degree in snow science, which includes several snow specific courses, including one with weekly snow based field lab classes (ERTH450 Snow Dynamics and Accumulation). This undergraduate degree is a strongly quantitative geo-science degree with an emphasis on snow science.
Our setting in Bozeman, Montana is an ideal natural laboratory, with four different ranges within an hour (some as close as 20 minutes), all of which can exhibit different snow characteristics. This is combined with good access, varied terrain and great snowfall. If you are looking for more information on the undergraduate snow science degree then click here.
Research
Our research focuses primarily on snow as a hazard and as a resource. Most of our work has a strong process based, observational, field component. We have graduate students working on projects related to the spatial variability of snow water equivalence through to the effect of explosives on the snowpack. Please click on the links below to see what we are working on.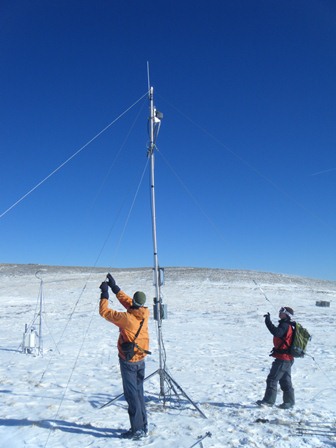 Helping set up an experimental laser
scanner installed by NCAR on a recent trip
up Niwot Ridge, Colorado.
Faculty
Jordy Hendrikx
Karl Birkeland
Jerry Johnson
Graduate Students

Holt Hancock
Ryan Scanlon
Wieland, Matt
Kyle VanPeursem
Lauren Yokley
Recently Finished Graduate Students
Matt Borish
Ian Hoyer
Alex Marienthal
Jason Welz
Karl Wetlaufer
Robyn Wooldridge
Equipment
The lab is equipped with:
Basic snow safety equipment (e.g. Shovels /probes / transceivers etc.)
Snow science equipment (e.g. Shear Frames / Density cutters / Federal Samplers)
Hand held & survey grade GPS units (2x Trimble GeoXh)
15 compact RH and Temp sensors
Two fully portable remote weather stations including radiation balance
Steam drill and Kovacs augers
Three Snowmobiles (2 x Yamaha Nytro; 1 x Skidoo Scandic)
A tandem box trailer
A 4x4 field vehicle (Ford Explorer)
A purpose built storage and drying facility
A modeling / GIS computer (Precision T7500 with 32GB ram. New in 2012)
A large format printer
Access to the Subzero facility (with co-supervision in Engineering) as needed
Easy access to several different mountain ranges with world class snow and terrain for field based studies

Opportunities
Each year we accept applications for new graduate students. The deadline is 1 February of that year. More details about the graduate application process can be found here. Interested students are encouraged to contact Dr. Jordy Hendrikx to discuss their ideas before submitting an application.Please email him at snowscience@montana.edu
Jordy Hendrikx on one of the Snow and Avalanche Laboratory's
new YamahaNytro snowmobiles on a recent trip up Buck Ridge to
assist with Karl Wetlaufers Master project.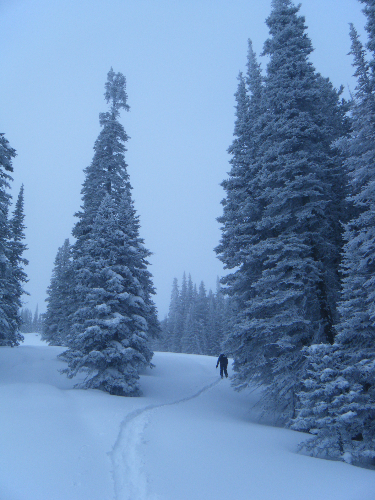 Starting out on a day in the field at Lionhead,
WWest Yellowstone.
New Resources
The ISSW Proceedings database project was a joint development effort of Montana State University Library Digital Collections and the ISSW Steering Committee. MSU has recently made the Proceedings of the International Snow Science Workshops (ISSW) available electronicallyAdditional funding for the Project was provided by the Canadian Avalanche Association and the American Avalanche Association. The ISSW Proceedings Project objective was to find, convert to pdf, compile, and then deliver online all previous years of the ISSW Proceedings and then add proceedings from future ISSW Workshops.
The ISSW Proceedings Project was started in 2010 with the papers from the ISSW 2008 Whistler, BC, Canadian Workshop. During 2011 and 2012 the ISSW Proceedings papers from 1976 through 2010 were added.
New Trailer gets a face lift:
To protect our two new snow mobiles (Yamaha Nytro's) and to raise awareness of the snow science program and MSU, we have had our new tandem-axle snowmobile trailer "wrapped" by local experts SCS Wraps (link to: http://scswraps.com/). The MSU design team and SCS Wraps have done a great job of using two of our local mountain ranges - the Bridger Range, which is on our doorstep, and Lone Peak, Big Sky, which we frequently visit as part of our teaching and research field work.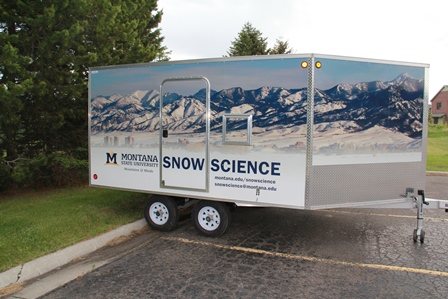 Past Graduate Students from the Snow Science Program:
Karl Wetlaufer (MS, 2013). The Effect of Physiographic Parameters on the Spatial Distribution of Snow Water Equivalent in Mountainous Terrain: A Case Study of the West Fork of the Gallatin River Basin, Montana.
Hydrologist for the USDA-NRCS Snow Survey and Water Supply Forecasting Program in Boise, ID
Robyn Wooldridge (MS, 2013). The effects of Explosives on the Physical Properties of Snow.
You can read Robyn's thesishere (4.530 MB PDF)
Zach Guy (MS, 2011). The influence of terrain parameters on the spatial variability of potential avalanche trigger locations in complex avalanche terrain.
He is currently working as a forecaster for the Crested Butte Avalanche Center and a guide forIrwinand Crested Butte Mountain Guides in Crested Butte, CO . You can read Zach's thesis here (12MB PDF)
Tara Chesley-Preston (MS 2010). Patterns of natural avalanche activity associated with new snow water equivalence and upper atmospheric wind direction and speed in the mountains surrounding Gothic, Colorado.
She is currently a GIS Specialist with the Montana State University, The Montana Institute on Ecosystems at Montana State University but she works for theU.S. Geological Survey . You can read Tara's thesis here (3Mb PDF)
Eric Lutz (PhD 2009). Spatial and temporal analysis of snowpack strength and stability and environmental determinants on an inclined, forest opening.
He is currently a Postdoctoral Research Associate in the Glaciology Research Group of the Department of Earth Sciences at Dartmouth College. You can read Eric's thesis here (28Mb PDF)
Erich Peitzsch (MS 2009). Water movement in a stratified and inclined snowpack: Implications for wet slab avalanches.
He is currently avalanche forecaster and physical scientist with the USGS in Glacier, MT. You can read Eric's thesis here (5.5Mb PDF)
Mike Cooperstein (MS 2008). The effects of slope aspect on the formation of surface hoar and diurnally recrystallized near-surface faceted crystals.
He is currently the owner/operator of Montana Alpine Guides. You can read Coop's thesis here (21Mb PDF)
Simon Trautman (MS 2007). Wet loose snow avalanching in southwestern Montana.
He is currently an avalanche forecaster with the Sawtooth National Forest Avalanche Center. You can read Simon's thesis here (21Mb PDF)
Spencer Logan (MS, 2005). Temporal changes in the spatial patterns of weak layer shear strength and stability on uniform slopes.
He is currently an avalanche forecaster with the Colorado Avalanche Information Center. You can read Spencer's thesis here (5.5Mb PDF)
Chris McCollister (MS, 2004). Geographic knowledge discovery techniques for exploring historical weather and avalanche data
He is currently an avalanche forecaster for the Bridger-Teton National Forest Avalanche Center and a consultant for an infrasonic avalanche detection project. You can read Chris's thesis here (2.8Mb PDF).
Jeanette Romig (MS, 2004). March wet avalanche prediction at Bridger Bowl Ski Area
She is currently an environmental consultant for Oasis Environmental in Livingston, Montana. You can read Jeanette's thesis here (2Mb PDF)
Jeff Deems (MS, 2003). Topographic effects on the spatial and temporal patterns of snow temperature gradients in a mountain snowpack.
He is currently a Research Scientist at the National Snow & Ice Data Center. You can read Jeff's thesis here (2 Mb PDF).
Chris Landry, (MS, 2002). Spatial variations in snow stability on uniform slopes: Implications for extrapolation to surrounding terrain.He is currently the director of the Center for Snow and Avalanche Science in Silverton, Colorado.You can read Chris' thesis here (1Mb PDF)