Doug Downs
Associate Professor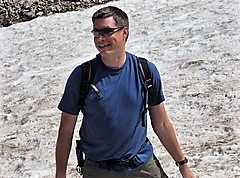 Ph.D. University of Utah, Salt Lake City
Rhetoric and Composition
Office: Wilson 2-272
Phone: 406-994-5193
E-Mail: doug.downs@montana.edu
Office Hours: T 12:30-2:00
I earned my Ph.D. in Rhetoric and Composition from the University of Utah in 2004. I'm in my tenth year in the English Department at MSU and my fifth year as Director of Composition in MSU's Core Writing Program. I teach several of the courses in the department's broad-field Writing major, which I founded. (I leave teaching fiction and poetry to those who can actually write them, though!) I currently serve as Editor of Young Scholars in Writing, the national peer-reviewed journal of undergraduate research in rhetoric and writing studies. And I am co-author of Writing about Writing, now in its third edition.
I've been teaching nonfiction writing of all kinds for nearly 20 years. Some of my current favorites to teach are WRIT 371 Digital Rhetorics and Multimodal Writing, WRIT 372 Science Writing, and WRIT 374 Magazine Editing and Production. As Director of Composition, I also teach our ENGL 505 Teaching Composition workshop for new graduate student instructors each fall.
My research interests within Rhetoric & Composition (Writing Studies) include writing-about-writing (WAW) composition pedagogy, research pedagogy and undergraduate research, reading practices in screen-literate cultures, writing instructor preparation, and writing in the disciplines—which are all more closely related than they may first appear. (All hinge on assessing and shifting both individual and cultural conceptions of writing.) My preferred research methodologies include critical discourse analysis, corpus-based textual analysis, and observational process analysis. Examples of my recent research are linked below.
I'm a techie-gearhead whose personal interests include music (listening, writing, and keys and guitar), A/V systems, technology, woodworking, cars, and boats. Like so many in Bozeman, I'm an outdoor kid, enjoying mountain biking, hiking and backpacking, skiing (nordic and alpine), snowshoeing, off-roading, and boating.
Current Research Projects
Next Steps: New Directions for / in Writing about Writing. Edited collection (120,000 words, 55 contributors) co-edited with Barbara Bird, Moriah McCracken, and Jan Rieman. Contract with Utah State University Press. In peer review.
CCCC Research Initiatve Grant: "Learning Transfer from Metacognition-Enhancing Writing-about-Writing FYC Courses: A Longitudinal Study." (2015).
Selected Publications
Writing about Writing: A College Reader. 3e. With Elizabeth Wardle. Bedford/St. Martins: 2017.
"Crafting Collaboricity: Harmonizing the Force Fields of Writing Program and Writing Center Work." With Michelle Miley. Writing Programs and Writing Center Collaborations: Transcending Boundaries, ed. Myatt and Gaillet. Palgrave McMillan, 2016.
"Threshold Concepts in First-Year Composition." With Liane Robertson. Naming What We Know: Threshold Concepts in Composition, ed. Linda Adler-Kassner and Elizabeth Wardle. Utah State UP, 2015.
"Looking into Writing-about-Writing Classrooms." With Elizabeth Wardle. First-Year Composition: From Theory to Practice, ed. Deborah Coxwell-Teague and Rob Lunsford. Parlor Press, 2014.
"What Is First-Year Composition?"A Rhetoric for Writing Program Administrators, ed. Rita Malenczyk. Parlor Press, 2013/2016. 50-63.
"Reflecting Back and Looking Forward: Revisiting 'Teaching about Writing, Righting Misconceptions' Five Years On." With Elizabeth Wardle. Composition Forum 27 (Spring 2013).
"Reimagining the Nature of FYC: Trends in Writing-about-Writing Pedagogies." With Elizabeth Wardle. Exploring Composition Studies: Research, Scholarship, and Inquiry for the Twenty-First Century, ed. Kelly Ritter and Paul Kei Matsuda. Utah State University Press, 2012. 123-44.
"Teaching First Year Writers to Use Texts: Scholarly Readings in Writing-About-Writing in First-Year Comp." Reader: Essays in Reader-Oriented Theory, Criticism, and Pedagogy 60 (Fall 2010): 19-50.
"Writing-About-Writing Curricula: Origins, Theories, and Initial Field-Tests."WPA-CompPile Research Bibliogrpahies, No. 12. (Sept. 2010.)
"Students' Texts Beyond the Classroom: Young Scholars in Writing's Challenges to College Writing Instruction." With Heidi Estrem and Susan Thomas. Teaching With Student Texts: Essays Toward an Informed Practice. Ed. Joseph Harris, John Miles, and Charles Paine. Utah State University Press, 2010. 118-28.
"What Can a Novice Contribute? Undergraduate Researchers in First-Year Composition." With Elizabeth Wardle. Undergraduate Research in English Studies. Ed. Laurie Grobman and Joyce Kinkead. Utah State University Press, 2010. 173-90.
"Teaching About Writing, Righting Misconceptions: (Re)Envisioning FYC as Intro to Writing Studies." With Elizabeth Wardle. College Composition and Communication 58 (2007): 552-84.
Resources
Disclaimer: The links, opinions or statements expressed herein should not be taken as a position or endorsement of MSU-Bozeman or its affiliates.