Susan Kollin
Professor, and Director of the Center for Western Lands and Peoples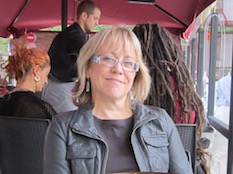 Ph.D. University of Minnesota
Office: Leon Johnson Hall 319
Phone: 406-994-5184
E-Mail:susan.kollin@montana.edu
Fall 2018 Office Hours: M W F 3:05-3:45
Susan Kollin is Professor of English and a CLS Distinguished Professor. She received her MA and PhD in English from the University of Minnesota at the Twin Cities and her AB in English from the University of Michigan at Ann Arbor. Her research and teaching interests include western American literature and film, transnational American Studies, environmental humanities, and feminist theory. Professor Kollin was a Fulbright Scholar at the American University in Cairo and is a former President of the Western Literature Association. She is currently the Director of the Center for Western Lands and Peoples.
Books
A History of Western American Literature, ed. Susan Kollin. Cambridge: Cambridge University Press, 2015.
Captivating Westerns: The Middle East in the American West. Lincoln: University of Nebraska Press, 2015. (Winner of the Thomas J. Lyon Book Award from the Western Literature Association).
Postwestern Cultures: Literature, Theory, Space, ed. Susan Kollin. Lincoln: University of Nebraska Press, 2007.
Nature's State: Imagining Alaska as the Last Frontier. Chapel Hill: University of North Carolina Press, 2001 (Named a 2002 Choice Outstanding Academic Title).
Recent Articles and Book Chapters
"Postwestern," Western American Literature 53.1 (2018): 59-62.
"The Free and the Fallen in Willy Vlautin's Western Fiction." Under the Western Sky: Essays on the Fiction and Music of Willy Vlautin. Ed. Neil Campbell. U of Nevada P. 2018. 191-210.
"Arctic Exposure: Nature, Race, and Regional Representation in Hollywood Film." Critical Norths: Space, Nature, Theory. Ed. Sarah J. Ray and Kevin Maier. U of Alaska P, 2017. 253-68.
"Environments in Western American Literature." The Oxford Research Encyclopedia of Literature. Editor-in-Chief, Paula Rabinowitz. Oxford UP, 2016. 1-29. (online, 11,000 words) DOI: 10.1093/acrefore/9780190201098.013.206
"Writing Nature: The American West and the Literature of Environmental Consciousness," The Cambridge Companion to the Literature of the American West, ed. Steven Frye. Cambridge: Cambridge University Press, 2016, pp. 59-72.
"Alaska Native Literature," The Routledge Companion to Native American Literature, ed. Deborah L. Madsen. New York: Routledge, 2016, pp. 28-38.
"Not Yet Another World: Ecopolitics and Urban Natures in Jonathan Lethem's Chronic City," LIT: Literature, Interpretation, Theory 26: 4 (2015): 255-75.
"Sergio Leone in Piazza Tahrir: Riconfigurazioni del Western prima e dopo la Primavera Araba," translation of "Sergio Leone at Tahrir Square: Reframing the Western Before and After the Arab Spring," Ácoma: Rivista Internazionale Di Studi Nordamericani.Special issue on"'Impero Seduttore': Il soft power nelle relazioni Stati Uniti," ed. Benedetta Calandra and Erminio Corti. (2015), 112-27. www.acoma.it/sites/default/files/pdf-articoli/47.10.pdf
"On the 'Ragged Margins' of History: Burdens of Truth and National Identity in Ana Menéndez's The Last War," Studies in American Fiction 40: 1 (Spring 2013): 131-53.
"North to Alaska and Other Bad Trips in T.C. Boyle's Drop City," Genre: Forms of Discourse and Culture 45: 2 (Summer 2012): 329-50.
Disclaimer: The links, opinions or statements expressed herein should not be taken as a position or endorsement of MSU-Bozeman or its affiliates.