Gretchen Minton
Professor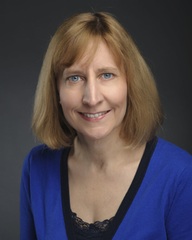 Ph.D. University of British Columbia
Shakespeare and Early Modern Drama, the English Reformation and Renaissance, Christian Late Antiquity, Drama, Textual Editing
Office: Wilson 2-271
Phone: 406-994-5194
E-Mail: gretchen.minton@montana.edu
Website:www.gretchenminton.com
Office Hours: M W 1:00-2:30
My research focuses primarily on Shakespeare and early modern drama. Broadly speaking, I am interested in the intersections between textual theory and performance theory. I have edited Timon of Athens (Arden) as well as Troilus and Cressida(Norton), and I am currently working on an edition of Much Ado About Nothing (Internet Shakespeare Editions) and Thomas Middleton's The Revenger's Tragedy (Arden). I have also recently completed a critical edition of the first commentary on the book of Revelation written in English: John Bale's The Image of both Churches (c. 1545). My scholarly articles cover topics such as early modern drama, the English Reformation, Christian late antiquity, and modern drama.
Another long-term project is a book about Shakespeare in Montana, from the time of Jim Bridger up through Montana Shakespeare in the Parks. I am the dramaturg and academic consultant for MSIP and enjoy working with actors, directors, and audience members at MSIP and also at other Shakespearean companies, such as the Oregon Shakespeare Festival, the American Players Theatre, and the Globe Theatre in London.
Selected Recent Publications
Books
John Bale's The Image of both Churches, ed. Gretchen E. Minton. Studies in Early Modern Religious Tradition, Culture and Society, Vol. 6. Springer, 2013.
Shakespeare's Timon of Athens, ed. Anthony B. Dawson and Gretchen E. Minton. The Arden Shakespeare (Third Series). London: Cengage, 2008.
Articles and Chapters in Books
"Apocalyptic Tragicomedy for a Jacobean Audience: Dekker's Whore of Babylon and Shakespeare's Cymbeline." Renaissance and Reformation 36.1 (2013): 131-54.
"'A marvelous convenient place': Women Reading Shakespeare in Montana, 1890-1918." Women Making Shakespeare. (Forthcoming, Arden Shakespeare, 2013).
"Robert Crowley." The Encyclopedia of English Renaissance Literature, ed. Garrett Sullivan and Alan Stewart. 3000 words. (Wiley-Blackwell, 2012).
"The Afterlife of Timon of Athens: The Palest Fire." Borrowers and Lenders: The Journal of Shakespeare and Appropriation 5.1 (2010): 1-16.
"'Suffer me not to be separated / And let my cry come unto thee': John Bale's Apocalypse and the Exilic Imagination." Reformation: The Journal of the Tyndale Society 15 (2010): 83-97.
Projects
Montana Shakespeare in the Parks
MSU Study Abroad Program: Shakespeare's England, Spring Break 2014
Disclaimer: The links, opinions or statements expressed herein should not be taken as a position or endorsement of MSU-Bozeman or its affiliates.