Summer 2019 Graduate Courses
The following graduate courses can be applied toward an MA in English as well as dual credit licensure requirements. Graduate students in other degree programs should contact their home discipline to verify transferring in credits as elective options. Email Dr. Allison Wynhoff Olsen for more information.
ENGL 550: Shakespeare, Performance, and Pedagogy (3 credits)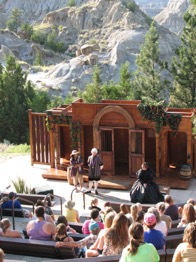 Course Format and Dates
Hybrid course: online + 1 week residency
Online modules: May 15-June 13, 2019
On-site residency at MSU Bozeman: June 14-21, 2019
Course Description
What are the most effective ways to approach Shakespeare in the classroom? How can watching performances and engaging in performance exercises enhance students' appreciation and understanding of Shakespeare's plays?
This course explores these questions in an online platform for three weeks, during which we will discuss Shakespeare and education strategies, especially those involving performance. The course then culminates with a week's residency in Bozeman that includes several days of in-person interaction and workshops surrounding the Montana Shakespeare in the Parks performances of Henry IV, Part 1 and Merry Wives of Windsor.
ENGL 520: Place-based English & Literacy (3 credits)
Course Format and Dates
Online course

July 9-August 2
Course Description
Place-based English & Literacy Curriculum will focus on the relationships between contexts (e.g. rural) and English/literacy curricula and instruction. This course will require participants to conduct a mini-ethnography of their context to ascertain literacy (and other) resources in the community and to establish connections with community members as a way to think about their curriculum "in-place."
Specifically, this course will provide students with the scholarly framework of place-based pedagogy for two key reasons (1) to examine how adolescent learners experience English in middle school and high schools across contexts, and (2) to develop a place-based curriculum to be implemented in their teaching context.
Yellowstone Writing Project Invitational Summer Institute
Professor Aaron Yost and Dr. Kirk Branch
Institute Format and Dates
Hybrid course
2 weeks residency at MSU Bozeman, June 17-28 (Mon-Fri)
Continued online exchanges
Institute Description
The Yellowstone Writing Project Invitational Summer Institute is an intensive professional experience through which participating teachers immerse themselves in their own writing and in the study of writing instruction. Successful teachers from throughout the Yellowstone Region come together for two weeks on the campus of Montana State University to explore strategies for teaching students at all grade levels to write well and for enhancing student learning in general. Teachers work on their own writing, study current research and theory, share teaching strategies, and learn about writing and teaching.
Credit Options
Credit (6) or CEU options