About Us
As a branch of Montana State University's Extension, our mission is to "Disseminate and encourage individuals, families and communities in order to improve and strengthen Montana's families and communities." Read more...

__________________________________________________________________________________________________


What's Happening in Extension Economics:


Ag In Uncertain Times Webinars: 2014 Farm Bill Webinar Series

Solid Finances 2014-2015: Financial education webinars that are held in the fall and winter each year. The goal of these workshops is to provide working Montanans high quality unbiased financial education opportunities. There is no cost to participate in the series and no products or services are sold or recommended during the series. Because the series is webinar based, individuals can participate from the comfort of their home or office.



Challenges of Manufacturing Growth in Montana: This publication highlights the full study conducted in 2013 that explores the concerns of Montana's small manufacturers, develops a profile of them (products, employment, sales, input suppliers, access to credit and other factors), assesses their plans for the next year (employment, capital purchases, inventory and other); evaluates current and future constraints to growth; and identifies key service needs. The study utilized focus groups and a quantitative survey of over 400 small manufacturers. Its findings may be useful to educators, economic development organizations, and policy makers.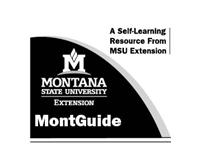 MontGuides:
__________________________________________________________________________________________________


Featured Website:


Montana Saves. All across America, people just like you are proving that building wealth isn't just for the rich. Members of America Saves are reducing their debts and increasing their savings to reach financial goals. Montana Saves will connect you to tips, tools and resources to help you set and achieve your goals. Take the first step by enrolling in Montana Saves today!