Homecoming 2015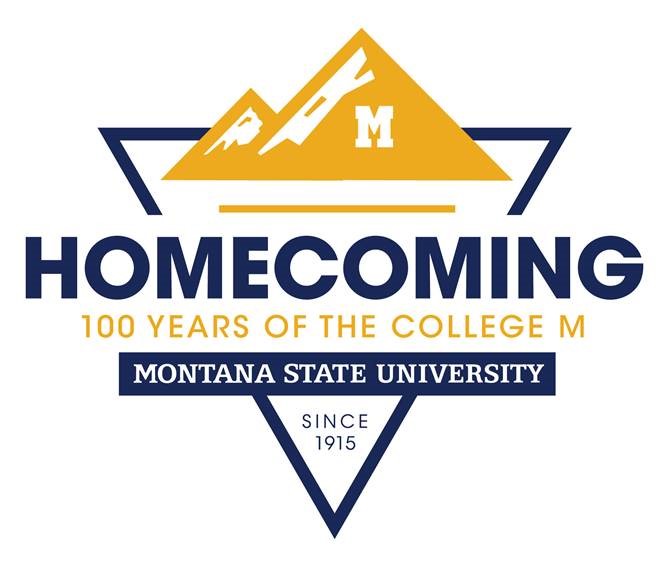 Meet Your 2015 Homecoming Royalty Candidates!
PARENTS:
Calvin and Jodi Christensen
MAJOR:
Agriculture Education
NOMINATED BY:
Agriculture Education Club
Hello my fellow Bobcats! My name is Cali Christensen! I am a candidate for your 2015 MSU Homecoming Royalty court. I am a 3rd generation Montana State student and truly adore this amazing institution! I am and have been involved as an FFA state officer, student ambassador for the MSU alumni foundation, Vice President of the Agriculture Education club, a member of the Student alumni association, inducted into Septemviri, a college of Agriculture Ambassador, a member of the MSU Chorale and The Montanans and overall a passionate Bobcat! In my free time I love being on my family ranch, I'm a country girl through and through! I love everything outdoors, skiing, hiking the M, horseback riding, trips to hyalite and floating the Madison! I love all kinds of animals, welding, country swing dancing and just making people laugh! I am humbled to be selected for the court along side the other incredible candidates. I am looking forward to showing you all my Blue and Gold spirit in the up coming weeks. Homecoming is our chance to gather as Bobcats of all ages to reminisce and make new wonderful memories. Now is our time together to let our Blue and Gold shine bright!
Go Bobcats!!
PARENTS:
Terry and Michelle Terrell
MAJOR:
Psychological Sciences
NOMINATED BY:
Chi Omega Sorority
Hey team! My name is Karly Terrell and I'm a candidate for your 2015 Homecoming Queen. MSU has allowed me to grow in so many ways and I've been fortunate enough to engage with my fellow bobcats through several organizations such as Chi Omega Sorority, Orientation Leaders, Health Professions Club, CRU Ministries, MSUAA, and even research labs on campus! As a Senior, MSU has become a place I've proudly called home over the past three years, so if you're voting, I'd be thrilled to represent you as your Homecoming Queen!
PARENTS:
Mary Therese and Ed Bangen
MAJOR:
Early Childhood Education & Child Services
Hello fellow bobcats! My name is Shannon Bangen and I was nominated by the Advocat organization for your 2015 Homecoming Royalty Court. Throughout my time as a bobcat I have been involved in a number of different organizations and clubs on campus, as well as in the Bozeman community. This past year I served as the Orientation Coordinator and I am currently working as the Advocat Coordinator. Additionally in the Office of Admissions, I work as a Student Representative which has allowed me to engage with prospective and incoming students on a regular basis. I decided to further my commitment to new students by becoming a peer leader for a US 101 course this year. I am also an active member of the Chi Omega sorority, Health Professions Club and two different honor societies.
Montana State has allowed me to grow as a student and leader, engage with alumni and faculty, build lifelong friendships and discover endless opportunity. I am grateful to have a blue and gold state of mind. I would be honored to be your next Homecoming Queen.
PARENTS:
Mike and Nancy Wilson
MAJOR:
Liberal Studio Arts
NOMINATED BY:
Montana State Orientation Leaders
Hey Bobcats! My name is Laura Wilson, and I am honored to be a candidate for your 2015 Homecoming Court! Montana State has had my heart since I was a lil' bobkitten! Growing up, I cheered on the Cats at every home game, and am proud to carry on that tradition as I finish up my last semester as an Art student! Along with being an avid fan, I've had the privilege of being an Orientation Leader for the past two years, a three-time Peer Leader in the First Year Seminar class, a Peer Advisor to University Studies students, the ASMSU Arts and Exhibits Program Director, and the President of Alpha Omicron Pi Sorority. I love making rad art, exploring this beautiful state, and enjoying a good ol' fashioned Netflix binge! Homecoming is all about showing your love for our awesome university, so remember to show your vim and vote! Go Cats!
PARENTS:
Tony and Susan Miller
MAJOR:
Business Management and Economics
NOMINATED BY:
Student Alumni Association
My name is John Miller and I am a candidate for the 2015 Homecoming Royalty Court! I am currently studying Business Management and Economics at Montana State University. I have been involved with many different clubs and organizations during my time at our Land Grant Institution. I am currently a Student Ambassador for the MSU Alumni Foundation, a Board Member of the Montana 4-H Foundation, a Pi Kappa Alpha fraternity brother and an Honors College student. In my recent years at MSU, I have been an ASMSU Senator, the Director of Marketing for IRHA, involved with Forward Montana, and with QSA. Montana State University has helped me grow personally and academically and has shaped me into a well-rounded person. When I was born, my parents expected a Grizzly and were surprised to see a Bobcat Cub! I may not be a fifth generation MSU'er but I sure do bleed Blue and Gold!
PARENTS:
Sheri and Harry Howell
NOMINATED BY:
Associated Students of Montana State University
Hey Bobcats! My name is Cody Howell and I am your candidate for 2015 Homecoming Court. I am a senior from Helena, Montana studying Criminology. I am nominated through the Associated Students of Montana State University where I serve as a student senator for the College of Letters and Science. I am a member of Sigma Phi Epsilon and volunteer for Haven and the Voice Center. I hope to one day do research that will aid in the prevention of sexual and domestic abuse. I am a proud Bobcat and hope you will consider voting for me as your Homecoming royalty! My hobbies include, Netflix, chilling, hiking, camping, and road cycling. To me, Homecoming Royalty is more than just a title; it's about a crown. A crown I would look awesome in. Help me get this crown. I promise to wear it proudly and represent you all while doing so. #crown4Cody2k15. Thanks Montana State University, and as usual, GO CATS!
PARENTS:
Brenda Hayden and Dennis Eddlemon
MAJOR:
Business Management
NOMINATED BY:
Sigma Chi Fraternity
Hey Bobcats! I'm Chris Eddlemon, and I'm a candidate for your 2015 Homecoming Royalty Court. I couldn't think of going to any better school than MSU, hence why I bleed Blue and Gold. I am also very involved on campus. Since my freshman year, I have been a part of the Sigma Chi Fraternity, Rockstar Energy, and an Orientation Leader. In my free time I like to ride unicorns on the beach, fly my hot-air balloon, and surf the stellar waves of Bozeman Beach. I also enjoy camping up in Hyalite, riding four wheelers, and many other outdoor activities we have in our great town of Bozeman, Montana. I am excited for this year's Homecoming events, and would greatly appreciate your vote!
PARENTS:
Bill and Vicki Coffee
MAJOR:
Finance and Marketing
NOMINATED BY:
Sigma Chi Fraternity
Hey MSU, I'm Colt Coffee, and I'm looking for your vote for 2015 Homecoming King. Although I'm only a junior, I've been very involved in my short time here. Since my first year at MSU, I've been an ASMSU senator, President of the Interfraternity council, a summer orientation leader and now the President of my own Fraternity. Through these incredible opportunities I've had the pleasure of meeting many of the people that make this place great, and it is my hope that I can continue to do so with your help. S'GO CATS!!!
Homecoming Weeks Calendar of Events: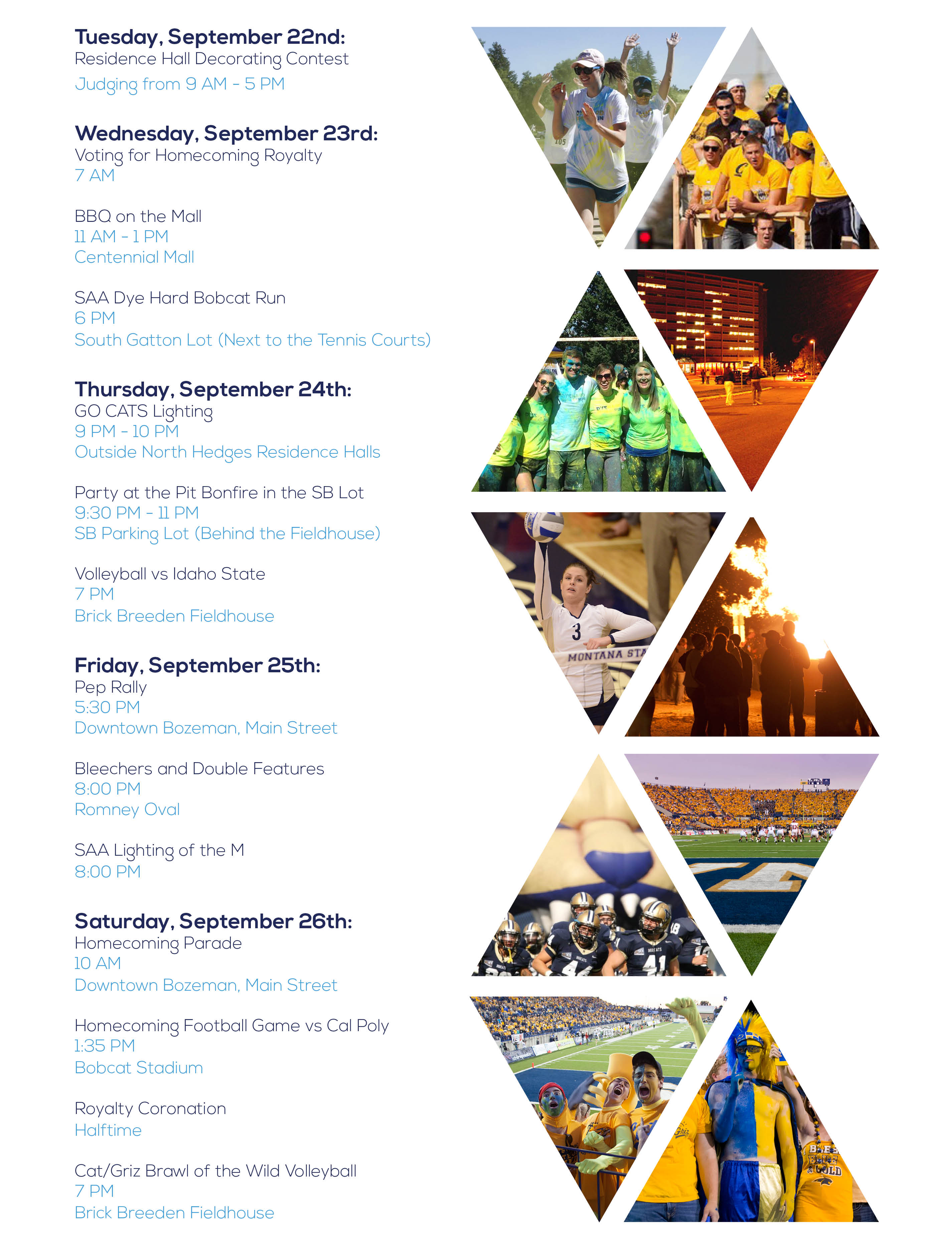 For full event details, please visit the MSU Events Calendar