Homecoming 2016
2016 Theme: Forever Blue and Gold
Thank you for your interest in participating in this year's Homecoming Parade!
Parade Registration is CASH OR CHECK ONLY.
Early-bird discount is $10 - must bring cash in advance to the Office of Student Engagement - SUB 221 or mail check to:
Montana State University
Office of Student Engagement - SUB 221
PO Box 174200
Bozeman, MT 59717
Day of Event is $15 - must bring cash to participate in parade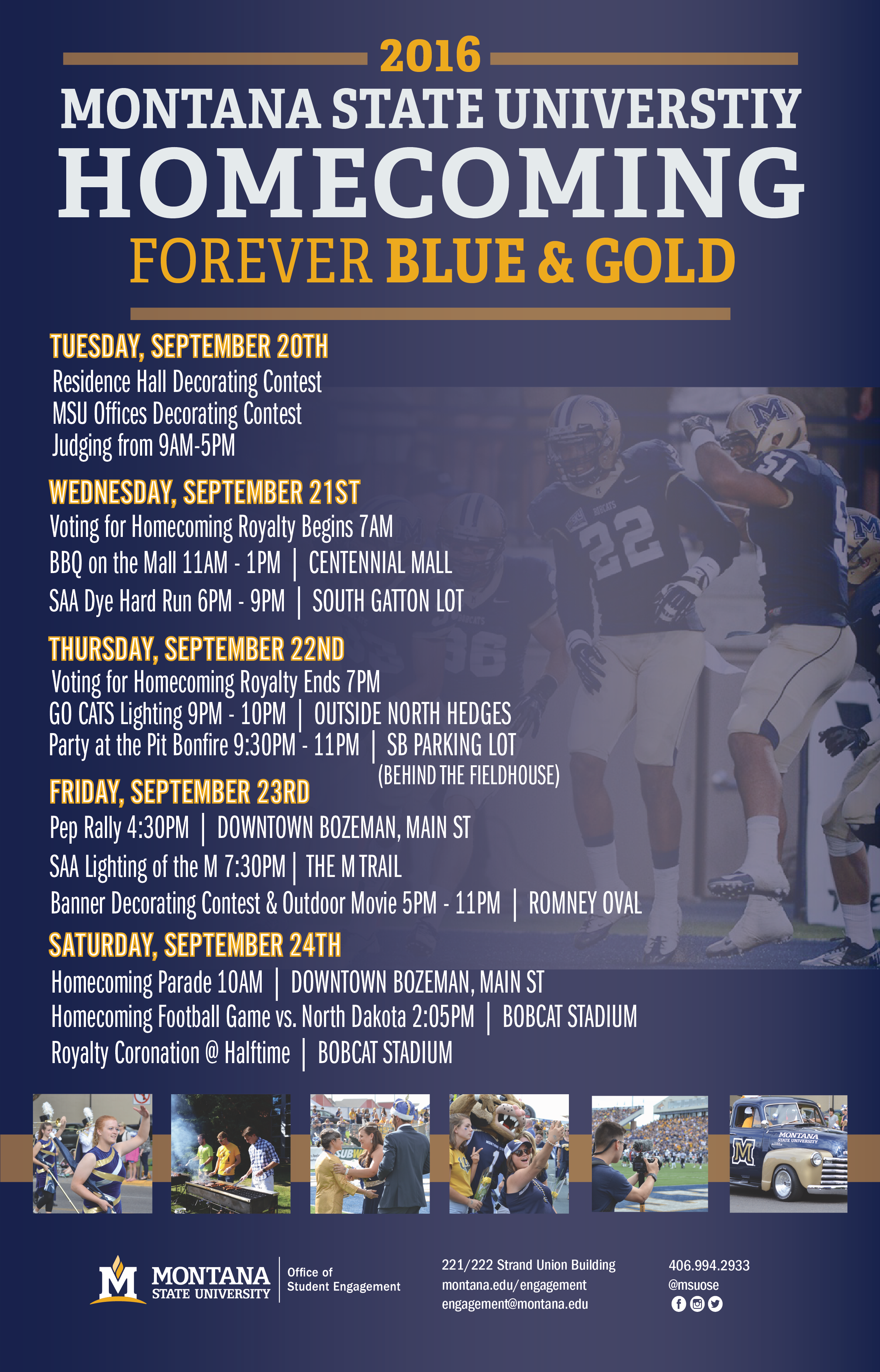 Meet Your 2016 Homecoming Royalty Candidates!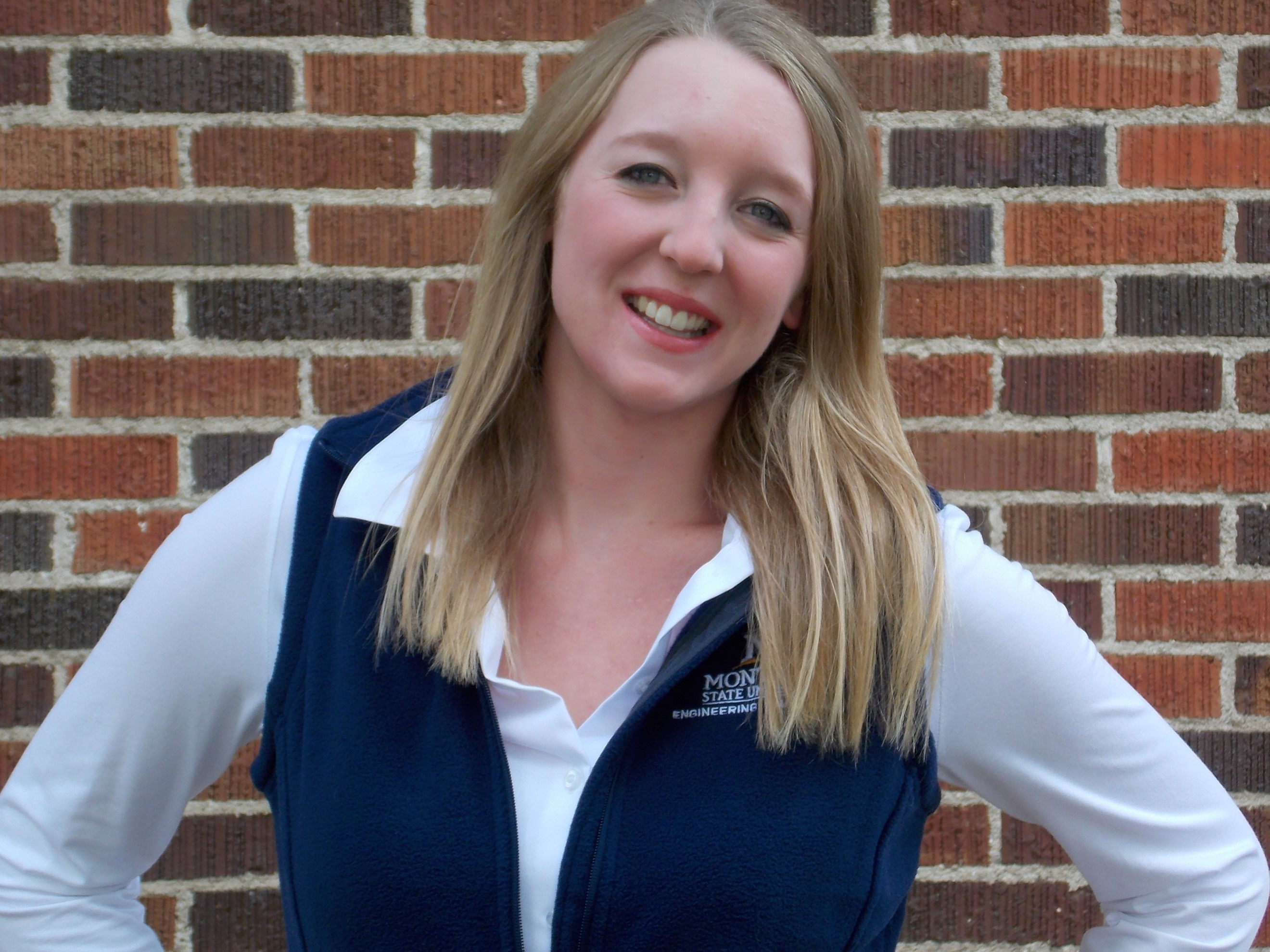 Rachel Gunnink
HOMETOWN: Bozeman, MT
PARENTS: Brett and Elaine Gunnink
MAJOR: Chemical Engineering
NOMINATED BY: Order of Omega Honor Society
Hi Bobcat nation! My name is Rachel Gunnink and I am a candidate for your 2016 MSU Homecoming court! Montana State has been a part of my life as I follow my grandmother's footsteps through academics and campus involvement. I could not imagine being part of a more outstanding university! During my time at Montana State, I am involved as a member and executive officer of Alpha Gamma Delta sorority, the current president of Order of Omega, a College of Engineering Ambassador, a member of the Women in Engineering Advisory board, as well as numerous honor societies. In my free time, I enjoy hiking, spending time with my family and country music. I am honored to be selected for Homecoming Court in addition to the other accomplished candidates. I cannot wait to show you what it means to be a Bobcat to me in the upcoming weeks! Thank you Bobcat nation and GO CATS!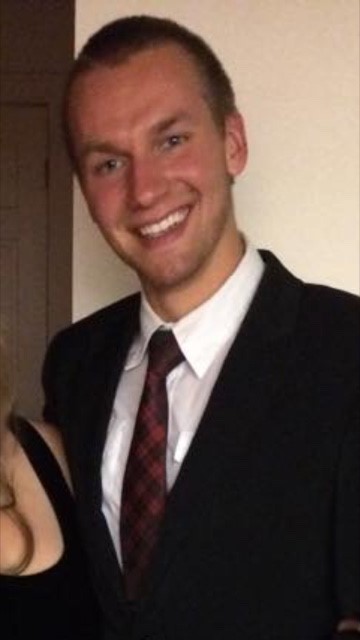 Brady Bollum
HOMETOWN: Northfield MN
PARENTS: Terry and Heidi Bollum
MAJOR: Civil Engineer, Business Management
(And a Leadership Certificate)
NOMINATED BY: The Kappa Sigma Fraternity
Hello Bobcats! My name is Brady Bollum and I am honored to be running for your 2016 Homecoming Royalty Court! I was born in the land of ten thousand lakes and raised in the diverse state of Washington and now I am lucky to call the beautiful state of Montana my home. I have been in leadership roles in clubs like FFA, Key Club, Decca, Relay For Life, ASMSU, and Hall Council. Most recently, I have taken several roles in The Kappa Sigma Fraternity such as House Manager, Grand Master of Ceremonies, and Treasure last year. With of course, my eyes set on being President next year. When I am not studying or planning events for the Fraternity, I like to go on adventures with friends. We like to go out and hike, swim with Brother Michael Phelps, and getting out of my comfort zone with new people and new experiences. I am so lucky to be a part of the Montana State Family and would like to humbly ask for your support in the upcoming 2016 Homecoming election!
Hans Dierenfeldt
HOMETOWN: Anaconda, MT
PARENTS: David and Barbara Dierenfeldt
MAJOR: Business with Options in Finance and Management
MINOR: International Business
NOMINATED BY: Management Club
Hello Bobcat Nation!! My name is Hans Dierenfeldt, and I am a candidate for your 2016 MSU Homecoming Royalty Court. I am a 2nd generation Montana State student, and truly adore this progressive institution! I am and have been involved as the President of Management Club, President of the Human Resources Club, inducted into Pi Sigma Alpha as President of the Mortar Board Chapter, a JJCBE Student Leadership Representative, a member of Toastmaster's International, an inductee of Sigma Alpha Pi National Society of Leadership and Success, and an overall passionate Bobcat that bleeds Blue and Gold!! I am an avid outdoorsmen and can be found yodeling from the Bridger peaks, wrestling fish on the Madison, carving the waves of Bozeman Beach, and slicing the POW on the slopes in my free time. Recently I have led an initiative to foster collaboration between MSU and universities in Cuba, to promote ever-increasing global diversity on campus. Homecoming is our chance to reflect on the continued legacy that is Montana State University. I am humbled by the opportunity to represent you all as we let our Blue and Gold shine bright; and would greatly appreciate your vote!
Go Cats Go!!!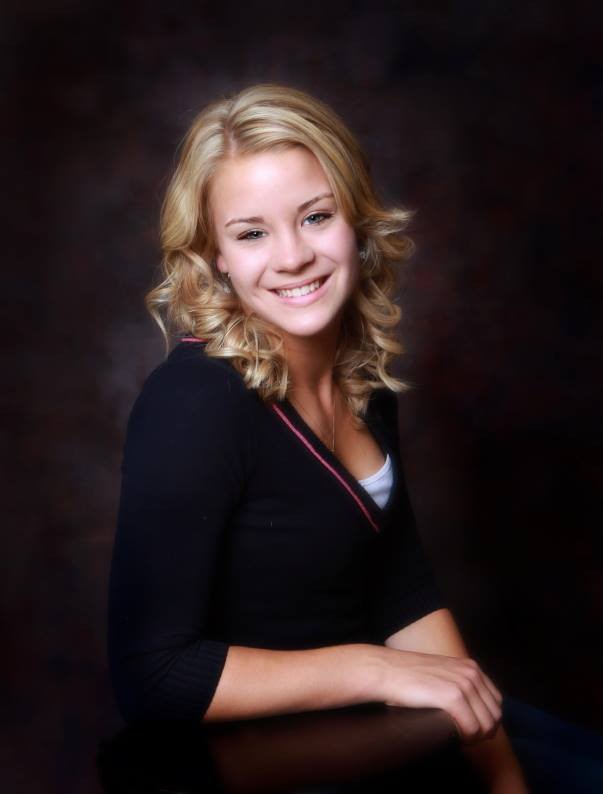 Kensey Mikkelse
HOMETOWN: Hobson, MT
PARENTS: Rod and Traci Mikkelsen
MAJOR: Health and Human Performance
NOMINATED BY: Young Farmers and Ranchers
Hello Bobcats!
My name is Kensey Mikkelsen and I grew up on a ranch in the small town of Hobson, Montana. While still tending to my agricultural roots, I decided to branch out and study Health and Human Performance, focusing on Exercise Science. Previously, I have been a member of the Young Farmers and Ranchers Club, Collegiate Stockgrowers, the Exercise Science club, Service Saturdays, Intermurals and an avid Bobcat! I also enjoy volunteering at the John Deere Ag Expo in the fall for high school FFA students. While campus involvement keeps me busy, I also volunteer in the community through THRIVE as a CAP mentor, HRDC Senior Nutrition Programs and at Eagle Mount in horse therapy. In my free time, I love to go home and work on the family ranch. Now, as a homecoming candidate, I couldn't be more proud, or humbled, representing the Bobcats at Montana State. Our campus is ever evolving, and I believe homecoming reminds us that MSU also has the ability to water its original roots while branching out to reach more sunlight. Homecoming is also a time to rekindle old friendships and make many new ones. I look forward to your vote! Go Bobcats!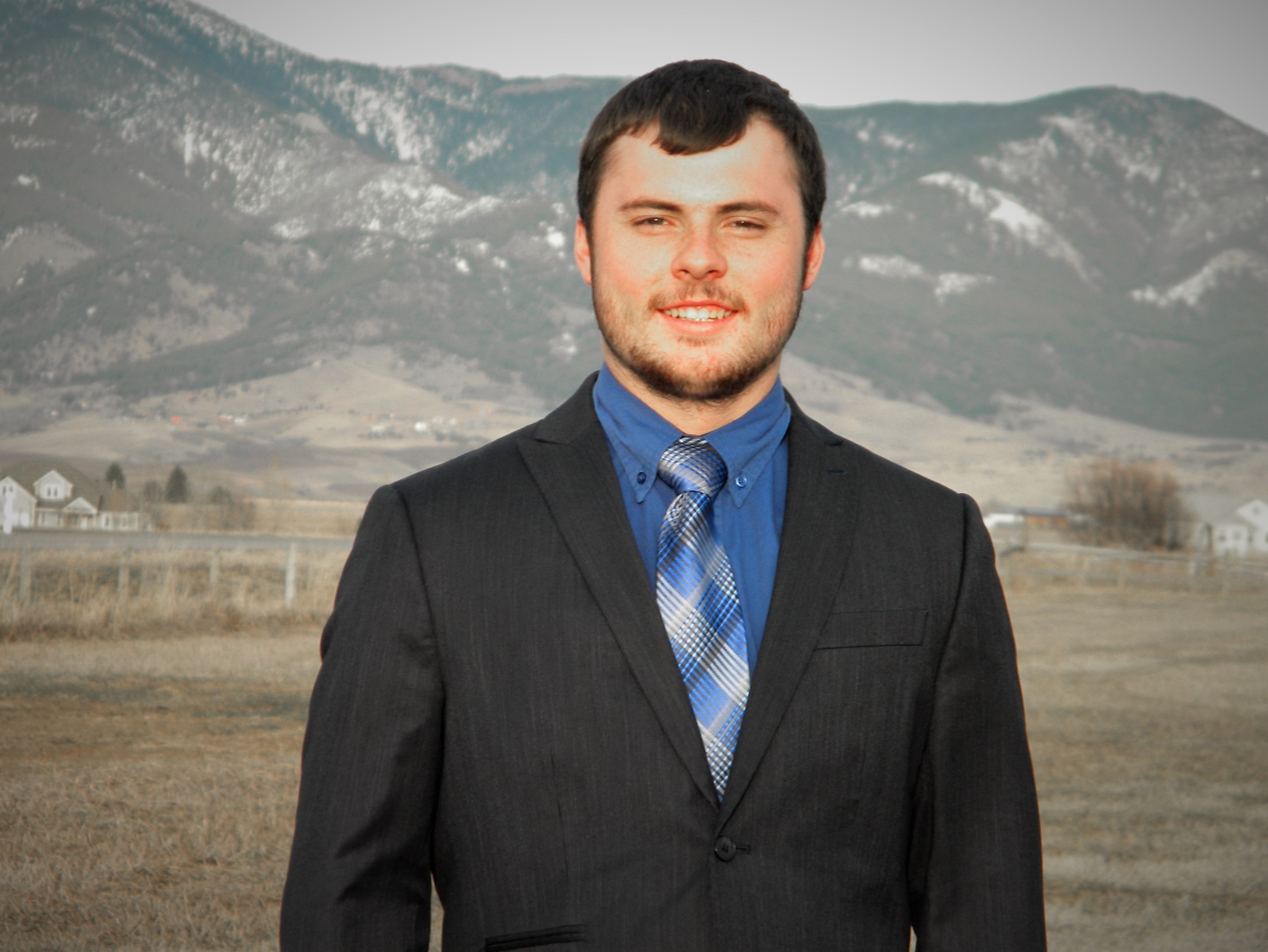 John Walker
HOMETOWN: Livingston, MT
PARENTS: Michelle and Rob Walker
MAJOR: Agricultural Business
NOMINATED BY: Alpha Gamma Rho Fraternity
Hello Montana State Bobcats! My name is John Walker from the Paradise Valley near Livingston, Montana. I am candidate for our 2016 Homecoming Royalty Court. I am a member of the Alpha Gamma Rho Fraternity, the College of Agriculture Senator and am an Ambassador. I wear my Blue and Gold through my many campus organizations such as Young Farmers and Ranchers, Stockgrowers, Alpha Zeta and Range Club. I enjoy the Bozeman outdoors, hunting, fishing and camping in between courses. I appreciate country swing dance and love to teach it! I am very appreciative to be selected for the Homecoming Court and look forward to the events in the next few weeks! As President Cruzado explains, let us let our veins bleed Blue and Gold! Go Cats Go!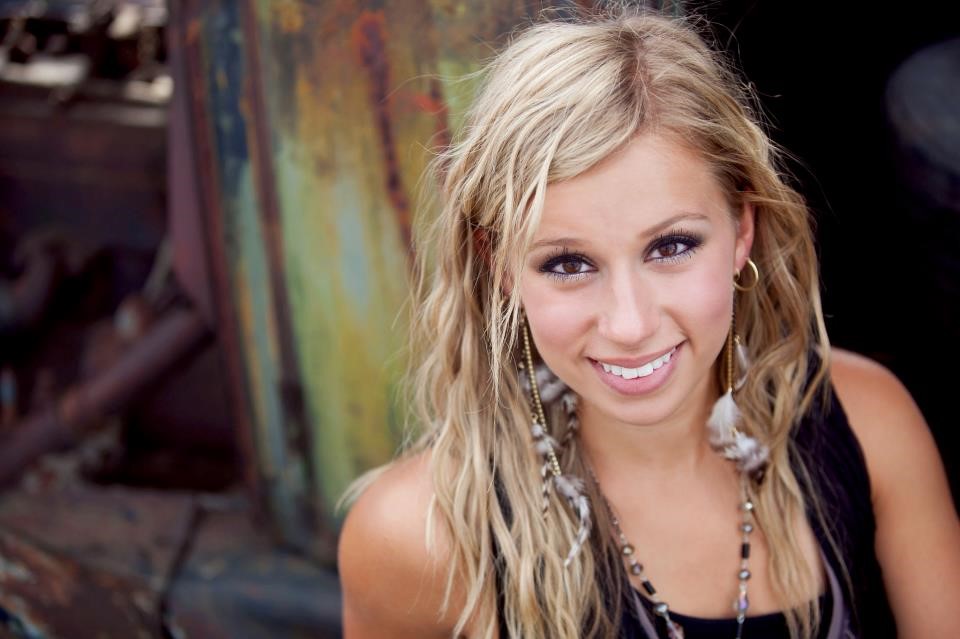 Cassidy Pfingsten
HOMETOWN: Belgrade, MT
PARENTS: Renee and Bill Pfingsten
MAJOR: Industrial Engineering
NOMINATED BY: Alpha Pi Mu
Hi Bobcats! My name is Cassidy Pfingsten and I am incredibly excited to represent Montana State University as your 2016 Homecoming royalty candidate! Since my freshman year I have been involved in a variety of clubs and activities such as our Spirit Squad, Orientation Leading, Advocats, vice president of Alpha Omicron Pi and Alpha Pi Mu, treasurer of Institute of Industrial Engineers, and the American Society for Engineering Management of which I am the current president. I love being a Bobcat and cannot think of a better place to spend my college years. When I have free time some of my favorite things to do are hiking all the wonderful trails we have here in Bozeman, rafting, biking, or visiting one of our local coffee shops. I am a Montana girl who prefers to spend any time I can enjoying the outdoors and supporting our Bobcats at sporting events. Homecoming is a special time to celebrate both the past and present of Montana State as unified Bobcats. I can't wait for these next couple weeks spent alongside the other amazing candidates and I will see you all at Homecoming. Go Cats!!
Charsi Workman
HOMETOWN: Grass Range, MT
PARENTS: David and Cathy Workman
MAJOR: Agricultural Business
NOMINATED BY: AdvoCats
Greetings MSU! My name is Charsi Workman and it is with great honor that I present myself to you as one of your 2016 Homecoming Royalty candidates! As the daughter of two MSU alumni, I've been cheering for the Bobcats for as long as I can remember. Currently, I am a senior studying Agricultural Business and I have no idea what I want to be when I grow up. Throughout my time at MSU, I've been able to get involved in a number of clubs and activities including AdvoCats, Collegiate Young Farmers & Ranchers, the Alpha Zeta Honor Society, College of Agriculture Student Council, Collegiate Stockgrowers, and Collegiate CattleWomen. I am continually amazed by all the blue and gold pride displayed everyday by our students, faculty, alumni, and community members alike. Homecoming is a great MSU tradition that gives us all a chance to celebrate that Bobcat spirit! I am extremely honored to have the opportunity to be involved with a tradition such as this. I hope to see you all cheering for dear Montana State during the homecoming week festivities! Go Cats!
Chad Hertz
Major: Business Finance
Parents: Shawn and Meg Hertz
Hometown: Belgrade, MT
Nominated by: Sigma Chi Fraternity
Hello fellow Bobcats, my name is Chad Hertz and I have the privilege to be nominated for your 2016 Homecoming Royalty Court! Montana State University is more than just a school, it's a place to meet tons of new people and grow as an individual. MSU has given me opportunities to work with new students and show them why our school is the best. I have been involved in freshman orientation, working as a student admissions counselor, and have been an active member in the Sigma Chi International Fraternity. I love to ski, fly fish, bike, go out with friends, sing karaoke with my award winning voice, watch Spongebob, and many more fun activities. I am looking forward to homecoming 2016 and can't wait to see you all at the events held that week. Go Cats!