Current Opportunities
Scholarship Applications Are Due Soon:
Reminder that scholarship applications via the new Cat$cholarship program are due this Friday, February 1st. The process should be very quick, so please take a few minutes and apply.
Upcoming Humanitarian Volunteer Opportunity:
Volunteers will have the opportunity to work with BorderLinks, a humanitarian, non-profit, educational program based in the Arizona-Sonora region. Through dynamic educational experiences, BorderLinks connects divided communities, raises awareness about the impact of the border and immigration policies, and inspires action for social transformation. Students will learn about why people migrate and will be able to walk a segment of the desert trails to understand the journey. Students will assist in humanitarian aid work by providing water and food for migrants with at key locations with No Más Muertes (No More Deaths) and will also meet with community organizers who work to help make the migrant journey safe and humane. Please note that Liberal Studies majors (including Liberal Studies Online), and/or Global Health and Sustainability minors, will be eligible for travel assistance if accepted to this trip. The deadlines are fast approaching, so please apply for this BreaksAway border opportunity soon! Leader Applications are due January 25th, and the deadline for priority registration for all other participatants is February 15th. Please contact us with questions or concerns.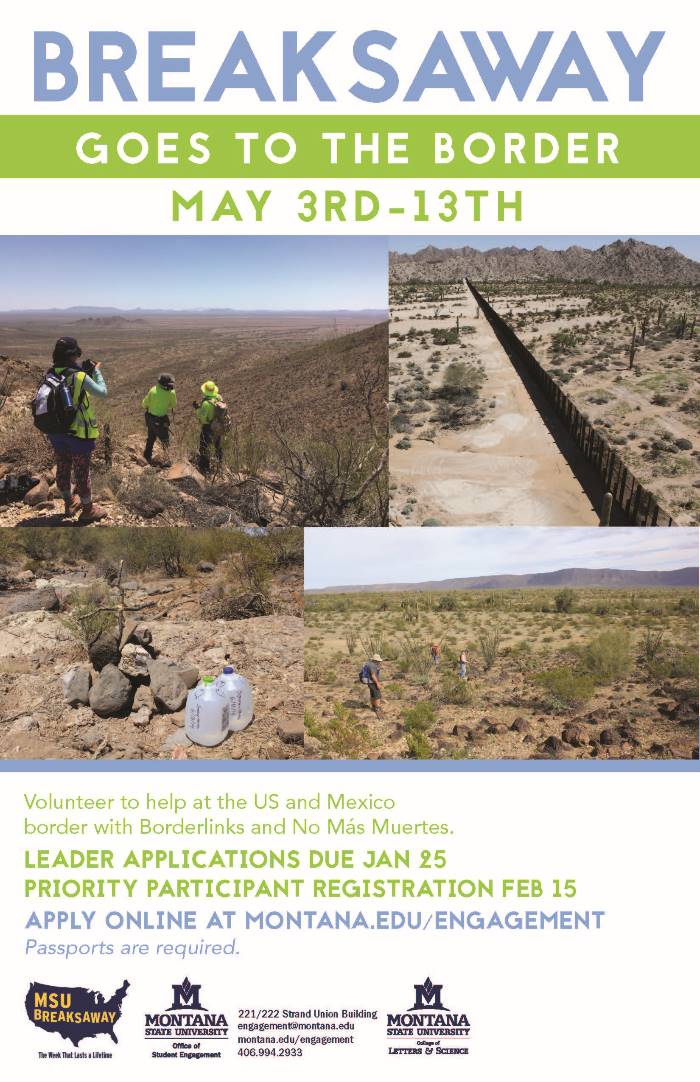 News