History of the Montana Science Olympiad
The first Montana Science Olympiad competition was held on the MSU campus October 15, 1985. Ten events were offered for both divisions: Science Bowl, Pentathlon, Fermi Questions, Titration Race, Rocks to Riches, Qualitative analysis, Password, Facts in Five, Paper Airplane, and Orienteering.
Teams from 17 school districts competed in the first Science Olympiad with seven junior high and thirteen high schools. The schools participating in the junior high division included: Bozeman, Florence-Carlton, Manhattan, Monforton, Poplar, St. Labre Catholic Indian School, and Willson Middle School. The high school division was made up of thirteen schools: Bozeman, Capital, Dawson County, Drummond, Florence-Carlton, Hellgate, Manhattan, Poplar, Sentinel, Sidney, St. Labre Catholic Indian School, Sunburst, and Whitehall. Student participants numbered just under 300.
The top teams in the First Montana Science Olympiad were: Division B--Florence-Carlton Junior High School, Bozeman Junior High School, and Willson Middle School of Bozeman; Division C--Bozeman High, Hellgate High and Sentinel High. The first place teams for each division competed in the National Competition at East Lansing, Michigan on May 16 and 17. Beginning in 1988, a small school champion trophy was awarded in both divisions.
Previous State Competition Winners: 1985-2018

Year

Division B - Middle School

B - Small School

Division C - High School

C - Small School

1985
Florence - Carlton
Bozeman
1986
Bozeman
Helena
1987
Bozeman
Helena
1988
Bozeman
Monforton
Helena
Sunburst
1989
Big Timber
Boulder
Helena
Big Sandy
1990
Bozeman
Bonner
Sentinel
Manhattan Christian
1991
Big Timber
Florence - Carlton
Bozeman
Florence - Carlton
1992
Big Timber
Bozeman
1993
Big Timber
Gallatin Home School
Bozeman
Manhattan Christian
1994
Big Timber
Big Sandy
Bozeman
Manhattan Christian
1995
Big Timber
Big Sandy
Bozeman
Big Sandy
1996
Big Timber
Big Sandy
Bozeman
Valier
1997
Valier
Clancy
Valier
Big Sandy & Manhattan
1998
Big Timber
Clancy
Valier
Big Sandy
1999
Sacajawea
Valier
Valier
Fairfield
2000
Big Timber
Fairfield
Valier
Sunburst
2001
Big Timber
Absarokee
Lewistown
Big Sandy
2002
Big Sandy
Fairfield
Bozeman
Carter County
2003
Big Timber
Clancy
Sidney
Sunburst
2004
Big Timber
Clancy
Fergus
Sunburst
2005
Big Timber
Valier
Big Sandy
Carter County
2006
Big Timber
Big Sandy
Fergus
Sunburst
2007
Big Timber
Roosevelt
Fergus
Carter County
2008
CR Anderson
Clancy
Helena
Sunburst
2009
Big Timber
Roosevelt
Helena
Sunburst
2010
Corvallis
Thompson Falls
Helena
Sunburst
2011
Clancy
Roosevelt
Thompson Falls
Sunburst
2012
Corvallis
Big Sandy
Billings Central
Thompson Falls
2013
Corvallis
Big Sandy
Helena
North Toole
2014
Corvallis
Absarokee
Fergus
Culbertson
2015
Corvallis
Roosevelt
Hamilton
North Toole County

2016

Clancy

TIE: Roosevelt Middle School

AND Absarokee Junior High School

Helena
Culbertson

2017

CR Anderson

Absarokee

Helena

Culbertson

2018

Hamilton

Absarokee

Hamilton

Culbertson
---
2013 Montana Science Olympiad!!
December 5 2013
Eggs falling from great heights? Unraveling a mysterious disease? Launching gliders? All of this happened at the annual 2013 Montana Science Olympiad hosted by MSU's Science Math Resource Center on Tuesday, November 26, at MSU-Bozeman campus.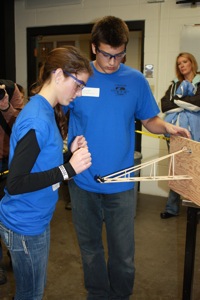 Roughly 1,400 students from 94 middle and high schools throughout Montana participated in the 2013 Montana's Science Olympiad. The competition included twenty eight events related to science or engineering such as: building a cantilevered structure, identifying insects, constructing magnetically-levitated vehicles, identifying rocks and determining mineral hardness, and data analyses using the principles of genetics. Teams competed in either middle or high school division events, and the winning team of each division has the opportunity to participate in the national tournament, to be held on May 16-17, 2014 in Orlando, Florida.

This year, thanks to donations from members of the Bozeman community and the Montana Science Olympiad, the auditorium of the closing ceremony trembled with roars of joy when winning teams received $1,500 each to help with the expenses required to journey to Nationals. In addition, second-place teams received a gift from the Montana Space Grant Consortium (MSGC) to attend the 2014 MSGC Student Research Symposium to be held on Monday April 7, 2014 at MSU-Bozeman.
The Montana Science Olympiad is much more than a competition; it is an invitation to be immersed in the world of science and engineering in a fun and engaging way! A Fun Night launches the Montana Science Olympiad on the Monday evening prior to the tournament at the Museum of the Rockies. This year, 553 participants, including Olympians, coaches, and parents from 28 different schools in Montana, consumed 831 square feet of pizza, engaged with presenters and participated in activities.Thanks to Angela Weikert –Museum of the Rockies Education Director- and presenters, Montana Science Olympiad participants celebrated science with magic, Planetarium shows, live animals, hands-on activities, and impressive demonstrations of robotics, space engineering, architecture, anthropology, astronomy, and chemistry. The exhibits were open to the public, and as a parent said " MOR is better than the Smithsonian museums in D.C." in regards to the quality of the exhibits and programs.
At the 2013 Montana Science Olympiad, Olympians, coaches and parents had the chance to attend some of the 14 talks and tours that showcased cutting-edge research at Montana State University. Subzero Lab, High Altitude Balloon Lab, and Neuroscience Lab tours were packed with public eager to visit the facilities that make it possible to reach new frontiers. The physics of skis, sustainable agriculture, MSU Everest Expedition, honey bees, NASA's new solar missions, how to train your robot, and turning scientists into filmmakers were some of the many talks that the audience enjoyed.
All of the activities, presentations, and events of Montana Science Olympiad resulted from the collective effort of about 100 volunteer MSU faculty, students and Bozeman community members. Their efforts plus the committed work of the Science Math Resource Center staff including: Bruna Irene Grimberg, Montana Science Olympiad State Director, Kiley Eversole, Montana Science Olympiad Coordinator, Jesse Hunter, Montana Science Olympiad Administrative Coordinator, Annie Mollock, Science Math Resource Center Administrator, and Sarah Hendrikx, Science Math Resource Center Data Analyst made this year's Olympiad a great success.
Thank you Bozeman and MSU communities for your dedication and passion, it really makes a difference in the future of Montana and our kids!